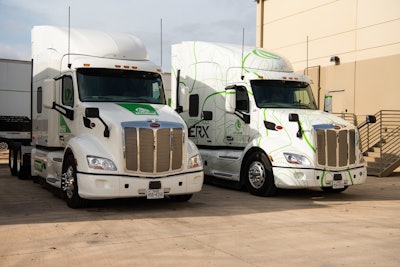 Hyliion
It's not often then you get told to floor it when driving a long-haul tractor but floor it I did in Hyliion's Hypertruck ERX near their headquarters in Cedar Park, Texas.
Things like "exciting acceleration" and "Class 8 truck" don't normally go hand-in-hand, but that's what Hyliion CEO and founder Thomas Healy apparently had in mind when he told me to drop the hammer in the hybrid Peterbilt 579.
The ERX (Electric Range Extender) delivered plenty of smile-inducing G's while bobtailing in the parking lot where I gave it a spin and on the highway where Hyliion's driver had no problems quickly finding his place in traffic.
"I love it," Pete Johnson, a veteran truck driver turned Hyliion test driver told me when I asked him for his impressions of the truck.
[Related: Eaton reports 'tremendous interest' in 48-volt hybrid]
Johnson said the quiet ride, quick acceleration, absence of diesel fumes and one pedal driving convinced him that the series hybrid is a winner. (A series hybrid relies on all-electric power to turn the wheels as an onboard generator periodically charges the battery.)
I tried the first two of three brake regen settings. The third level is recommended only when hauling a load, otherwise, as Healy explained from the passenger seat, the tires would skip across the pavement. Since we weren't hauling a load, the third level was out.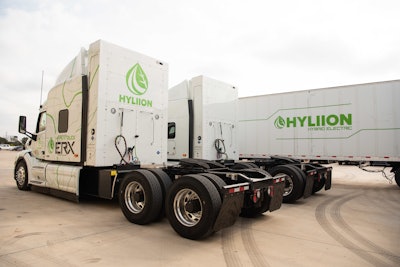 I'm a big fan of brake regen. It's not only the idea of generating power while prolonging brake life, it's the cool connection formed between driver and machine as you become more attentive to the road ahead while determining when you might intervene and tap the brakes should the need arise. Johnson knows this only too well and didn't hesitate when I asked him how many times he had to use the brakes during our highway and city run.
"I touched them three times," he said. "Once at the railroad tracks, once at the red light and once at the stop sign."
During my spin around the parking lot, I used the brakes only once and that was to bring the truck to a full stop following my run.
Johnson told me he keeps brake regen at level II when running bobtail. Level 1, predictably, doesn't offer as much stopping power or power regeneration.
Getting accustomed to driving the rig comes easy. There's only three drivetrain buttons: Drive, neutral and reverse. The ERX hybrid handles all the rest. Healy sees ease-of-use as a big selling point for fleets.
"A lot of the fleets will get out of the truck grinning ear to ear because it is such a game-changer compared to where a diesel truck is today given how quiet it is, how fast it can accelerate and just the smoothness of the vehicle," he said.
Smooth it is. There's no jerking around when accelerating from a dead stop. It's like a giant EV with the ability to run 75 miles on battery power before switching over to a natural gas generator that's certainly quiet enough (I didn't hear it start up at highway speeds) as it charges the batteries. (Healy still wasn't ready to reveal the manufacturer of the engine.)
Two Meritor eAxles provide two speeds depending on driving conditions.
"Between both of them we're putting out about 670 horsepower," Healy said. "It's got some get up and go. Right around the 25mph range, it will shift up into the upper gear. You have a low, high-torque gear as well as a highway speed torque gear."
A performance display screen above the driver-side visor has a nice home near the Cobra 25LTD Classic. The touchscreen offers a quick view of state-of-charge, speed, power (the truck quickly got up to 600 hp when merging with highway traffic) and range extender horsepower. Drivers can also select brake regen level on this screen and mode of driving, such as all-electric or hybrid. Selecting all-electric will provide enough power to keep the truck's A/C running as well as power up small appliances overnight during a driver's downtime.
The truck also comes with plug-in charging capability, a feature that historically has opened the door for additional incentives.
Less hassle in slashing emissions
The ERX, which Healy sees as a great match for long-haul, has a big advantage over all-electric and that's range. With roughly 1,000 miles between fuel-ups, no electric truck can come close.
Freightliner's eCascadia currently tops out at 250 miles, which is impressive but it's still only a quarter of what the ERX can deliver and it requires much more powerful and costly chargers than those currently available for typical EVs.
[Related: Which fuel will rule in 2030?]
But wait! The ERX provides only 75 miles of all-electric zero-emission range. That's true. But it has math on its side — more specifically, math from the California Air Resources Board (CARB).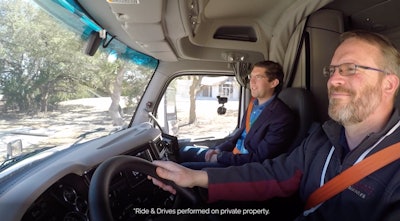 When running on renewable natural gas, the ERX becomes a carbon-negative truck because RNG is sourced from methane which CARB and the EPA both consider to be a much greater threat to ozone than carbon dioxide and other emissions. For CARB's Feb. 23 carbon intensity score board, RNG easily ranked best among transportation fuels with a score of around -600 while all-electric — depending on how it's sourced — scored no lower than -220.
"When you tie in renewable natural gas, you have the ability to go below zero from an emissions standpoint," Healy explained. "It's absolutely a selling point for fleets that have climate change initiatives where they're saying 'Hey, by 2030 or 2040, we're going to be net carbon zero.' If we can give them a truck that's net carbon negative, we actually have the ability to offset emissions from other parts of their business."
According to the Department of Energy, there are 838 public natural gas stations across the U.S. with the majority being not only truck-ready, but also ready to provide RNG.
"These trucks can pull into 700 stations already built out across the U.S." Healy said. "The RNG market has been skyrocketing. More than 50% of the fuel sold at these stations this past year actually came from renewable sources. We're not dealing with a fuel that's 1% or 2% of the fuel that's out there. RNG is prevalent and available at natural gas stations."
Let's face it. Fleets aren't going to race out to buy the ERX for its powerful and quiet acceleration, which puts typical Class 8 diesel trucks to shame. They're going to get it with the idea of cutting emissions either at their own behest or that of Uncle Sam's. And, as everyone knows, it's typically the later that really drives new emissions tech in the market.
With California's aggressive stance on emissions, and 15 other states following their lead, OEMs and fleets alike will have to slowly but surely embrace zero-emission trucks. Hyliion expects other states to follow.
"The EPA is starting to consider following the CARB ACT (Advanced Clean Truck) legislation and enacting that on a federal basis," said Hyliion marketing director Jason Schieck. "And that's what we've seen in passenger car applications. It usually starts in California and then the federal government picks it up."
[Related: Cummins rolling out fuel agnostic platforms on the way to zero emissions]
Since the ERX offers up to 75 miles of all-electric range, Healy explained that the truck will be able to tap into ZEV (zero emission vehicle) credits in CARB states. That could seriously help attract fleets since the truck is nearly double the cost of a conventional sleeper. Healy said running on natural gas, which historically has cost less than diesel, will deliver sound ROI over the life of the truck.
In the meantime, we need more time with the ERX to see how it copes with an 80,000 lb. load. The current ride-n-drive events for fleets and media set for the first half of this year have been bobtail affairs. Controlled demos among fleets are planned for the second half where Healy said the ERX can be "run like they run trucks: pulling cargo and making deliveries."
That's good because if the ERX is intended to compete in long-haul, we need to see some long-haul data. Healy told me the truck hasn't run cross-country yet and with only 2,700 miles showing on the odometer of the truck I was driving, it hasn't even begun to really stretch its legs in regional haul either.