Trucking news and briefs for Monday, March 28, 2022:
Kenworth BEV eligible for voucher in NJ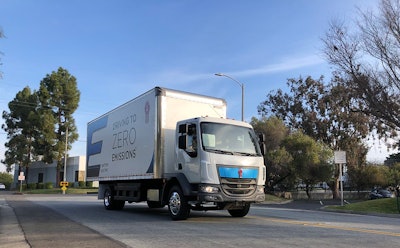 Kenworth's Class 6 K270E battery electric truck is eligible for a $100,000 base voucher incentive available to qualifying purchasers under the New Jersey Zero Emission Incentive Program (NJZIP), a pilot program that includes support for businesses and organizations purchasing new K270E models in the four designated greater community areas of Camden, Newark, New Brunswick and Shore areas.
Battery electric vehicles are exempt from New Jersey sales tax. Lease deals are also eligible with a required term of at least 36 months. Applications are being accepted on a rolling basis and can be found at the NJZIP website (www.njeda.com/njzip).
The K370E also has a range of 100-200 miles and features a 469 hp direct drive motor. The T680E is designed for pickup and delivery, regional haul and drayage applications, and is available as a day cab as either a tractor or straight truck. The T680E has an 82,000 lb. gross vehicle weight rating and estimated 150-mile operating range, depending on application.
40th SuperRigs will be in June in Missouri
The 40th Annual Shell Rotella SuperRigs will be held June 9-11 at Branson Landing, a 95-acre waterfront development in Branson, Missouri.
Numerous events and activities are planned to honor 40 years of SuperRigs and the significance truck drivers play in our everyday lives. Contestants, their families, and the community will be able to see some of the best-looking and hardest-working big rigs in North America, all while enjoying the amenities of the historic Branson Landing throughout the three-day event.
Shell Rotella SuperRigs competitors compete for 24 awards including best chrome, best lights, and of course, best of show.
Events are still being planned for the 40th celebration, leveraging the unique activities that Branson has to offer. Twelve drivers will be selected to have their trucks featured in the 2023 Shell Rotella SuperRigs calendar, which will also feature the surrounding area of Branson.
Show highlights include:
Truck parade at Branson Landing
Contestant dinner
Truck lights competition
Angler, Jimmy Houston offering fishing tips and tricks
Musical entertainment
The Shell Rotella SuperRigs competition is the premier truck beauty contest for actively working trucks. Hardworking owner/operator truckers from across the United States and Canada compete annually for more than $25,000 in cash and prizes. There is no fee to enter SuperRigs and the weekend is designed to be fun for the whole family.