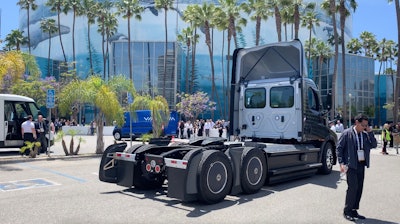 Tom Quimby
While public and private funding for alt fuel vehicles in the U.S. and Canada is increasing sharply, credit value through California's Low Carbon Fuel Standard has taken a big hit thanks largely to growing competition in the mandated push to go green.
During a main stage session this week at the Advanced Clean Transportation Expo in Long Beach – a clean transportation trade show that saw record attendance this year – event host Erik Neandross, CEO of Gladstein, Neandross & Associates, the consulting firm behind ACT, talked of swelling investments as well as diminishing LCFS credits that help fleets transition to costly alt fuel powertrains.
That news comes as other states look to California to adopt similar credit-based programs.
As Neandross made clear to a packed session, alt fuel vehicle adoption can be a costly venture, particularly for all-electric and fuel-cell. Nonetheless, investments in these green technologies continue to grow at fast rate as government regulation and massive investment firms like BlackRock pressure companies to set and keep sustainability goals.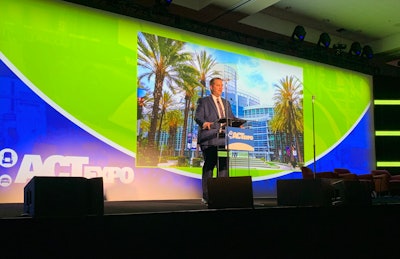 First up, Neandross pointed out how OEMs have been pouring billions of dollars into new powertrain technologies that slash or eliminate vehicle emissions. It's part of what he called a "perfect storm" that he sees stimulating more growth in the nascent alt fuel industry.
It's certainly no secret that PR departments at OEMs have been busy the past few years cranking out copy about huge manufacturer investments in cleaner technologies like battery electric, fuel cell, natural gas, propane and, in the case of Cummins, a new fuel agnostic powertrain lineup.
However, ongoing concerns still remain centered on higher alt fuel vehicle acquisition costs and a woefully small fueling infrastructure, particularly for chargers and hydrogen stations. That's where more public funding – about 560% more — can help.
"In our consulting practice, we have a team that tracks every single dollar that's available at the local, state and federal level," Neandross explained to a packed session. "We track more than 500 programs in the U.S. and Canada.
"What we see in a normal year, there's about $3 billion pushed into the market from the public sector in the U.S. and Canada. Now we see that going up to about $20 billion, or even a little bit more every single year for the next several years."
Most of that money is coming from the $1.2 trillion U.S. Infrastructure and Jobs Act, which Neandross said is "a good meaningful amount of money to push in the system right now."
Utilities stepping up as LCFS takes a hit
Utilities are also stepping up support for medium and heavy-duty charging. In addition to working with fleets to help determine power needs to support electric trucks, vans and cars, a handful of utilities around the U.S. are ponying up about a $1 billion collectively to get more chargers in place. The biggest concern? Kilowatt-hungry trucks and vans, which can require costly power upgrades.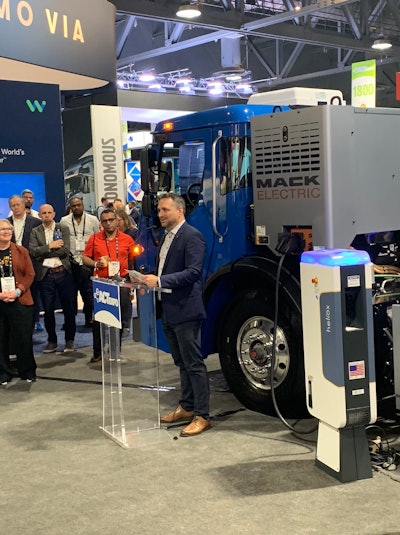 "Half a dozen utilities are moving in this direction but there are more than 3,000 electric utilities out there in the U.S., so a lot of growth opportunity for other utilities to get in the game as well," Neandross said.
In California, where the LCFS program serves as model for Oregon, Washington State and others, "more revenue is coming through," which Neandross explained fleets use to help offset higher alt fuel vehicle costs.
That's good news, particularly at a time when powertrain battery costs accelerate due to climbing prices in lithium, nickel and cobalt.
Last year alone, GNA helped fleets secure $50 million through LCFS to help pay for trucks and supporting infrastructure. However, credit value has declined sharply.
"Some of you may know that the cost of an LCFS credit has dropped a bit in the last year and a lot of that is owed to a huge upswing in renewable diesel being pushed into the market," Neandross said. "We were at a high of around $200 a credit in the California market. We're now around $120.
"Still, at a $120 a credit, if you're a Class 8 tractor operator running an electric truck, LCFS is going to kick off about $15,000 to $20,000 a year per truck," Neandross continued. "So, it's still pretty good money. If we get back to $200, then we're in the $30,000 per truck, per year range and that's a meaningful amount of money to help with these projects."
Neandross said that the LCFS program will typically eliminate costs for truck charging.
In addition to California, "there are a number of other states" seeking to implement a credit system based on the Golden State's LCFS program Neandross said.
Though support from OEMs, utilities, government regulations and increased federal funding has Neandross feeling optimistic about commercial alt fuel, he said fleets need to do their part in the push to go green.
"The timing is perfect," he said. "We've got OEM production coming online. They can now start to make deliveries and make use of those funds. And of course as they look to scale production they're going to need the other side of the equation – scale purchasing."
Fleet acquisition is complicated by regulations, which vary by state. Neandross and other alt fuel proponents are hopeful that uniform policy will be adopted at the federal level to help ease fleet management and lessen production complications for manufacturers.