Trucking news and briefs for Friday, Aug. 12, 2022:
California project makes funding available for zero-emission truck swap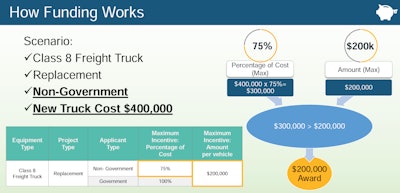 Approximately $9 million is available from California's South Coast Air Quality Management District for truck owners to replace an existing diesel-powered truck with a "zero-emission" truck.
Both public and private companies that own and operate eligible vehicles can apply. Funding is available to replace Class 8 freight trucks, including drayage trucks; waste haulers; dump trucks; and concrete mixers.
The funding is part of the Volkswagen Mitigation Program and is available to eligible entities statewide on a first-come, first-served basis. Applications are accepted online with the solicitation closing when all funds have been fully allocated.
Interested truck owners will need the following to apply:
Copy of title (no lienholder)
Existing and new vehicle/engine information
Photos and documentation supporting existing vehicle/engine
Vendor quote for new vehicle
12 months of vehicle registration documentation
12 months of insurance documentation
12 months of records showing odometer readings
4 required business documents
Other requirements for funding include:
Proof of ownership for at least one year
Operate old and new vehicle at least 75% of the time within California
Existing vehicle must be scrapped
New vehicle must be a zero-emission vehicle
New vehicle must be certified or verified by CARB
Funding cap per entity: 10% ($2.7 million)
Applicants granted an award must submit annual usage reports for the term of the contract
ContainerPort Group grew owner-op fleet 20% in Q2
ContainerPort Group (CCJ Top 250, No. 82) announced this week its owner-operator network grew by nearly 20% during the second quarter of 2022, pushing the CPG fleet to more than 1,300 drivers.
CPG said its driver-facing teams continue to build its network with a focus on comprehensive compensation plans that include four-figure sign-on bonuses, 24/7 support services, and state-of-the-art technology.
"Our Driver Resources and Driver Recruiting & Onboarding teams are committed to understanding what owner-operators need from a trucking company partnership, and consistently work to make driving for CPG a best-in-class experience on and off the road," said Joey Palmer, President of CPG, who oversees company-wide growth with a focus on team building and employee engagement.
Applications from owner-operators seeking to join the CPG fleet surged in April 2022 and continued to swell into May and June, with the overall driver count climbing each week. Nearly a third of these applicants joined the CPG team.
"One of the first things we did was conduct a comprehensive audit of our driver compensation. Based on those findings, we adjusted our compensation approach to help us stand out," said Jason Schmelmer, CPG's VP of Driver Experience. "We now offer a top-of-the-market compensation package for drivers. Combined with our Discount Marketplace and access to DrayPal, our custom mobile app for drivers, we have compelling reasons for owner operators to apply here."
The Driver Services team has implemented numerous programs to help boost retention and bring CPG drivers to the terminal for support. During the first and second quarter, the team conducted in-person driver town halls at multiple terminals to gather feedback and understand what else drivers needed to be successful on the road.
They have also reintroduced Pit Stops, a semi-monthly event where drivers are invited to stop by the terminal for a free lunch, a gift item, and a moment to reconnect with the team on the ground.
Drivers are also periodically surveyed electronically, and their feedback shows that CPG's focus on safety is one of the factors that contributes to their decision to drive with the company.
CFI honors women drivers with custom truck