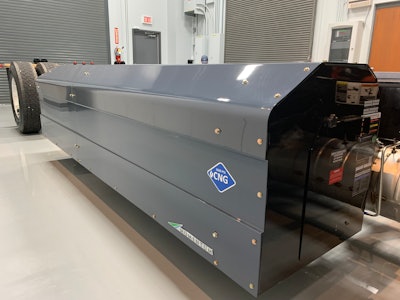 Sales of natural gas Class 8 trucks for the first five months of the year climbed 11% over the same time period last year, according to ACT Research.
Sales of natural gas-powered vehicles as reported by the six major truck OEMs – who account for approximately 60% of the heavy-duty natural gas market – were mixed from March to May, with March dipping 3% year-over-year, April jumping 23% compared to last April, and May flat versus a year ago.
"In the near term, after a near doubling from February to March (+96%), April and May dribbled lower, -16% and -1%, respectively," said Steve Tam, vice president at ACT Research. "Combined, sales in the three-month period extended, but decreased the year-to-date gain, with the first five months of the year outpacing the same period in 2021 by 11%."
[Related: Test driving Peterbilt's Model 536 with Cummins L9N natural gas engine]
Tam noted his firm is seeing an overall increase in electric charging stations (both existing and planned), accompanied by a continuing decline of total natural gas stations, "particularly those planned for the future," he added. "That said, we still see articles about natural gas use in transportation, as well as discussions about hydrogen fuel cells and investments, but the overwhelming amount of trade-industry headlines continues to focus on electric commercial vehicle development."
Global construction materials company CEMEX announced Wednesday that it has added nearly 200 lower-carbon natural gas-powered trucks as part of a comprehensive strategy seeking to decarbonize its global fleet. This initiative is part of the company's flagship Future in Action program to become a net-zero CO2 company by 2050.
The investment in these 200 new vehicles consist mostly of concrete mixer trucks powered by low emission compressed natural gas (CNG) or renewable natural gas (RNG). These trucks will have a carbon footprint that is approximately 25% lower than the diesel trucks they are replacing. Over half of the vehicles are in Mexico, with the remaining half split between Southern California in the U.S. and Colombia.