A fleet's transition to electric trucks isn't really going to reinvent its business. Things are still going to be loaded on a trailer and unloaded at a different location.
The movement to zero emission will, however, reinvent the business model of most heavy truck OEMs and deepen the fleet/dealer relationship as motor carriers in some cases get strong-armed into adopting emerging technologies that they don't fully understand and are not equipped to fully support in-house.
Volvo Trucks North America is taking a consultive approach that walks hand-in-hand with fleets from truck acquisition, to infrastructure buildout, to maintenance and service, and bundling it all into a package that allows carriers to cover the entire process with a single payment.
"We're not trying to sell battery electric trucks," said Magnus Koeck, Volvo Trucks North America vice president of marketing and brand management. "We're trying to help customers find the best solution that meets their needs; diesel or electric."
Volvo Trucks plans a 50% reduction in CO2 emissions by 2030 and 100% CO2 reduction by 2040, but "we think we can go faster," said Volvo Trucks North America President Peter Voorhoeve.
Much of the emission-slashing heavy-lifting in the near-term will be done by Volvo's VNR Electric. Announced in late 2018 and available in five configurations, production on the fully electric VNR started in 2021 with production on next generation models currently underway.
As heavily as its electric regional tractor features in its plans for the U.S., Volvo's approach to zero emission is three pronged and includes diesel engines, battery electric and fuel cell electric.
Volvo's global electric lineup includes six models ranging from medium to heavy duty.
Electric gold standard
A fleet's transition to a battery electric comes fraught with questions: What do we do if it breaks down? How expensive are parts? How do we even make repairs?
Sam Ellis, Volvo Trucks product manager, said the company unfurled its Volvo Gold Contract to address these concerns.
The contract is a required component with the acquisition of a VNR Electric. Under the agreement the truck comes fully supported with remote diagnostics, and the contract covers all repairs with the exception of tires and glass. It also locks in parts and labor costs, and trucks can be serviced at any Volvo EV certified dealer. The company currently has 18 EV certified Volvo Truck dealers with 59 more in progress.
Scheduled maintenance includes annual main service and chassis lube service at 30,000 miles. Other filter and fluid changes take place either annually or at 150,000 or more miles.
Preventive maintenance is covered and handled on an as needed basis, but every PM includes a comprehensive inspection.
Also covered is the truck's battery, electrical system and its electric powertrain.
Billing options are flexible and payable as either a lump sum, monthly ACH or monthly payments financed with Volvo Financial Services. The Gold Contract is interest-free. The cost is simply divided equally over the term.
The Gold Contract may alleviate some of the concerns with keeping the truck moving, but there are plenty of other concerns that come along with acquisition: the cost of equipment, charging infrastructure, collateral value, new technology, tying up capital, navigating various incentives and insurance.
Logan Andrew, electromobility market development manager for Volvo Financial Services, said the Gold Contract can be bundled with insurance payments, and charging infrastructure installation and maintenance, into a single monthly payment that covers basically all areas of the truck's operation.
Volvo helped QCD, a Texas-based fleet that services the restaurant business, find nearly $4 million in grants to install eight DC fast chargers and two portable chargers from Shell Recharge Solutions and acquire 14 VNR Electric trucks to service its Fontana, California, distribution center, "with lease financing from Volvo Financial that matched diesel total cost of operation," said Manuel Aguirre, Volvo Energy Head of Charging and Infrastructure.
To-date, Andrew said there's been a "good mix" of customers leasing or purchasing trucks and Jared Ruiz, electromobility sales manager, said return on investment – which he said is still difficult to calculate – hasn't been a primary consideration for fleet acquisition, rather it's been companies in pursuit of greener solutions or feeling pressure from shipper-customers requiring their carrier partners cut its carbon footprint.
Infrastructure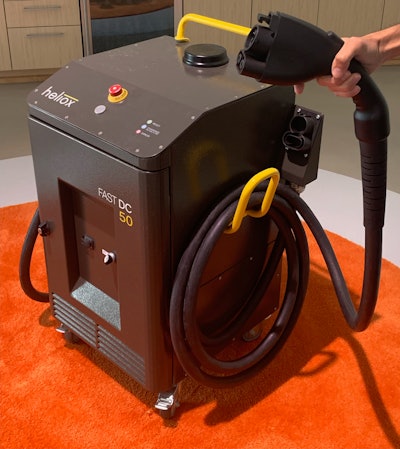 There are two primary modes of charging: depot charging, where trucks are charged at a company's terminal usually overnight, and public charging.
"We see up to 80% of the energy charging battery electric vehicles will come from depot charging," said Aguirre. "That's where fleets have control of the infrastructure. They have control of the access to infrastructure."
Depot charging can take between 2 and 12 hours while public fast charging can top off a truck in an hour or less, or between 6 and 12 hours using a 50-kilowatt slow charger.
While there are only two choices when it comes to charging type – fast and slow – this is new technology and uncharted waters for most fleets. Volvo is now offering advisory services to help fleets select, design and install charging capabilities, maintain them and finance them – including help in seeking out applicable incentives.
"There's a lot of trade-offs," Dan Freeze, Product Planning Manager, noted of the inverse correlation of cost of installation to charging time: the less it costs to install, the longer it will take to charge the truck. Higher capacity chargers, for example, can cost upwards of $1 million but can charge a truck in less than an hour while less expensive lower capacity units can take upwards of half a day.
Lifecycle solutions
As part of its consultive approach, Alexis Clemons, Volvo Group's electromobility sales manager, said Volvo can run simulations of real world routes for fleets, showcasing how an electric truck might fit into a given duty cycle. Clemons said the models assume worst case scenarios with regards to range and capability, and added that to-date real word performance has been better than predicted modeled performance in every case.
Once the carrier transitions into acquiring the trucks, Volvo can help monitor their status in real-time and compile reports showing how one truck's performance stacks up against others in the fleet. Volvo can then help the fleet optimize battery state of health, make recommendations for charging practices and manage end of life strategies.
"Once we get to the actual end of life, or end of the Gold Contract, we're going to have a conversation, 'Can we refurbish those battery packs and put that truck back on the road?' Or we're going to say they are no longer at a sufficient state of health," and need to be repurposed, Clemons said, noting the company is expecting an 8 year life from its batteries.