Trucking news and briefs for Monday, Sept. 26, 2022:
Toyota/Kenworth FCEV partnership sees success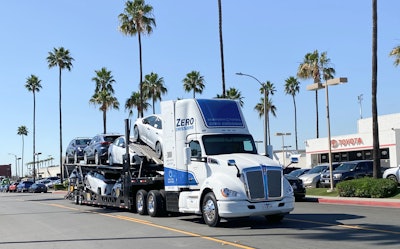 Toyota Motor North America and Kenworth Truck Company announced recently they have proven the capabilities of their jointly designed heavy-duty, Class 8 fuel-cell electric vehicles (FCEVs) as a potential zero-emissions replacement of diesel-powered trucks with the completion of their operations in the Zero- and Near-Zero Emissions Freight Facilities (ZANZEFF) "Shore to Store" (S2S) project at the Port of Los Angeles, the Los Angeles basin, and the Inland Empire.
The primary goal for Toyota and Kenworth's participation in the project was to nearly match the performance of diesel-powered drayage trucks while eliminating emissions to provide a sustainable solution in heavy-duty transportation.
The baseline for the Toyota-Kenworth T680 FCEV truck – codenamed "Ocean" – was a 2017 diesel engine operating about 200 miles a day. The T680 FCEV has a range of about 300+ miles when fully loaded to 82,000 pounds. With no downtime between shifts for charging and the short 15- to 20-minute fill time, the FCEVs could run multiple shifts a day and cover up to 400 to 500 miles, the companies said.
Kenworth designed and built the Class 8 T680 FCEVs, while Toyota designed and built the powertrain's fuel-cell electric power system powered by hydrogen. The Ocean trucks reduced Greenhouse Gases (GHG) by 74.66 metric tons of CO2 per truck annually compared to the baseline diesel engine.
The success of the 10 trucks in serving real-world customers was a result of close collaboration among diverse project members, including Kenworth and Toyota, the Port of Los Angeles as the project lead, Shell for hydrogen fuel infrastructure, and a grant from the California Air Resource Board (CARB). The program paves the way for further development and commercial opportunities for hydrogen-powered fuel-cell electric transportation in California and beyond. 
Though officially concluding their duties in the ZANZEFF "Shore to Store" project on Aug. 5, some of the trucks will remain in use as demonstration or working models, including one that will continue supporting Toyota operations in the lower LA Basin.
The 10 "Ocean" trucks for this project were operated by customers, including, among others, Toyota Logistics Services, Total Transportation Services, Inc., and Southern Counties Express.
Toyota plans to produce fuel-cell powertrain modules at Toyota Motor Manufacturing Kentucky beginning in 2023.
Schneider announces newest Ride of Pride driver
Schneider (CCJ Top 250, No. 9) announced company driver Jeff Waggoner, a 24-year U.S. Army veteran, as the newest Ride of Pride driver. 
Ride of Pride is Schneider's specially decorated fleet of trucks for veterans in the trucking industry. Over the years, Schneider has received 14 Ride of Pride trucks – the most awarded to any carrier – from Freightliner since the program began in 2001. 
"I am honored beyond belief to be one of Schneider's Ride of Pride drivers and not only represent the company, but also represent veterans and those in active duty," Waggoner said. "It shows we appreciate the sacrifice people have made and continue to make." 
Schneider has been independently ranked as a top military-friendly employer in the trucking industry, and almost 14% of current associates come from a military background, the company said. 
During his two-part Army tenure, Waggoner served tours in Iraq, Bosnia and Serbia, also spending time in the U.S. Virgin Islands after Hurricane Hugo to assist with natural disaster relief and humanitarian aid.
Waggoner will participate in major events across the United States like Wreaths Across America.
"Schneider stuck out to me because they offered an apprenticeship program sponsored by the VA," said Waggoner. "They also credited my driving experience in the Army, and I was able to start with ten years of driving experience which increased my starting pay."
Waggoner will take part in leading a national effort including participating in major events across the United States like Wreaths Across America.
PGT Trucking partners with Penske for fleet maintenance
PGT Trucking (CCJ Top 250, No. 93) announced that it selected Penske Truck Leasing as its provider of choice for comprehensive fleet maintenance.  
By working with Penske for extensive maintenance solutions, PGT will provide advanced repair options, simplify roadside service and reduce maintenance downtime for its drivers. Improved analytics will provide data for more accurate preemptive maintenance. PGT's customers will also benefit from the company's enhanced reliability, increased capacity and improved efficiency as a result of the new partnership. 
"As part of our Future of Flatbed program, PGT is committed to implementing strategic partnerships, like our new relationship with Penske, that will expand our service offerings and reimagine transportation solutions," said Gregg Troian, PGT Trucking President. "We are confident that the addition of Penske's fleet maintenance program will contribute to PGT's goal of providing an enhanced driver experience." 
Penske Truck Leasing will provide on-site maintenance at five PGT-owned locations, 24/7 roadside assistance nationwide, mobile roadside maintenance services and access to Penske's expansive network of more than 880 maintenance locations across North America. PGT and its drivers will also tap into Penske's digital customer experience tools that includes mobile apps and a portal to streamline internal processes and fleet management.