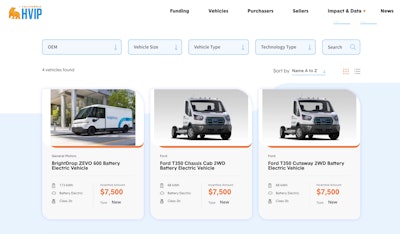 californiahvip.org
When it comes to transitioning to zero-emission vehicles (ZEVs), it may be best to start out small and work your way up.
Niki Okuk, deputy director of fleet engagement & community outreach at CALSTART which recently launched Cal Fleet Advisor to help California fleets and owner-operators transition to Class 2b – Class 8 ZEVs, pointed out the smaller price tags, easier infrastructure installation and learning opportunities that come with smaller ZEVs.
"I think that can be a good plan especially because the charging infrastructure for smaller vehicles can be a lot faster and less expensive to install," Okuk said. "There's just lots of learnings to be had. I think that's part of the reason we do this work is we really want fleets to start thinking about it and start maybe with phasing in the easier applications."
Okuk said the notion of starting with a smaller ZEV has proven to be the right approach for some companies.
"We've seen lots of fleets actually start out with things like an electric forklift and then they realize, 'Well, maybe we could put in an electric yard goat because that's not going to go out on the road. We're not going to get stranded in a situation with no power. Yard goats are right here.' And then maybe they'll put their first [ZEV] on road like a box truck or something like that. I think that that's a great way to approach it."
From smaller Class 2B ZEVs all the way up to Class 8, a personal advisor from Cal Fleet Advisor can meet with fleets and owner-operators at their company location to help them determine their best options.
[Related: J.B. Hunt acquiring zero-emission Nikola trucks]
This consultive approach isn't foreign to heavy EVs. OEMs like Daimler (including its medium duty zero-emission brand Rizon), and Volvo Trucks North America seek to walk with customers on their path to electrification, regardless which state the customer calls home.
Advisors can provide insights on total cost of ownership; potential fuel savings; ZEV selection to meet fleet needs; funding and rebate opportunities; regulatory, compliance and safety information; utility resources; charging options; and industry referrals.
Cal Fleet Advisors can also put companies in touch with approved dealers and vehicle manufacturers, other funding programs, utility charging programs, ZEV insurance and ride and drive events.
"We've really increased the number of in-person events that we do across the state where we bring out a bunch of electric trucks for ride and drive events," Okuk said. "We expect to have several more next year in cities across the state where truckers can come down and really see what's available."
The next ZEV ride and drive is planned for September 15 at the Port of Oakland. Supported by the port, CALSTART, Pacific Gas & Electric, Gladstein Neandross & Associates and the Harbor Trucking Association, the day-long event will feature "fuel cell and battery electric trucks from "Kenworth, Nikola, Volvo, Hyzon, Lion Electric and more" HTA announced on their website.
Though Cal Fleet Advisor will help any size fleet to make the transition to zero emission trucks and vans, they were created with smaller companies in mind where there may not be enough time and people to go around to research ZEVs, fueling infrastructure and available incentives.
A former small fleet operator who worked out of the ports in Los Angeles for nearly 10 years, Okuk knows too well the challenges that smaller companies are up against.
"All fleet sizes can certainly contact us but we've just noticed that larger companies tend to already have partners and resources and staff on board so we know that when we do get contacted, we're probably going to be working with the smaller guys who are just really busy running their companies," Okuk said.
As part of CALSTART, Cal Fleet Advisor can put companies in touch with the state's Hybrid and Zero-Emission Voucher Incentive Project (HVIP) which provides point-of-sale vouchers to reduce upfront costs. A Class 2b electric Ford Transit van is shown on the HVIP website with a $7,500 voucher while a Class 8 electric Volvo VNR is available with a $120,000 voucher. Several more makes and models are listed including a Class 8 hydrogen fuel cell Nikola TRE Fuel Cell Electric Truck which is available with a $240,000 voucher.
While larger fleets have long known and taken advantage of HVIP incentives, Okuk said smaller companies have either been unaware or too time-constrained to pursue ZEV funding.
"I think in the past, the first movers on all of these things have been sort of those leading edge fleets, right? The big leading names that we all think of," Okuk said. "They have been using HVIP for years. The reason why CFA really does exist is because we want to help the smaller fleets who don't have a grants manager to find these sorts of resources that are available for them because we really want to see their uptake in participation continue to grow."
The Cal Fleet Advisor model is expanding outside of California.
"CALSTART also administers a program called Mass Fleet Advisors in Massachusetts where they're doing something similar," Okuk said. "We were contracted by the local utility there to start helping fleets with planning because utilities are very interested in making sure that fleets are thinking ahead."