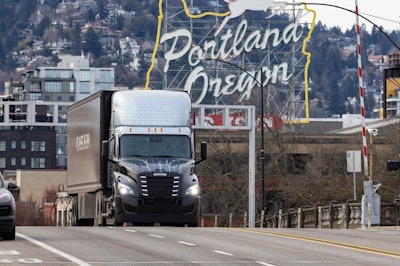 Freightliner
While pumping unused diesel or gasoline out of a truck's fuel tank to sell on the open market is not exactly a convenient option, selling unused energy from an EV battery holds much more promise.
Utilities around the U.S. have been working more closely with OEMs, fleets and government officials to explore vehicle-to-grid (V2G) electricity distribution. Such an option can not only help fleets recoup energy costs, but also help meet their communities' power needs during grid constraints.
CCJ learned of two utilities that recently began pilots testing V2G with the all-electric Ford F-150 Lightning. Another utility has been testing V2G with electric school buses. Experts believe larger Class 8 electric trucks have a lot of V2G potential so long as use cases provide enough battery power for discharging.
CALSTART vice president Jasna Tomic, who has been working in V2G for the past 20 years, said the additional power that electric trucks can provide, like Mercedes' recently announced eActros LongHaul with a 600kWh battery pack, can be impactful power sources if the right conditions are met.
"If you have 10 [eActros trucks] on site, it's a huge battery storage that we need to definitely look at and work with the fleets, grid operators and utilities to understand how this can be better integrated into a grid system," Tomic said.
[Related: Freightliner unveils new eCascadia]
V2G charger manufacturer Nuvve, which is working with San Diego Gas & Electric (SDG&E) and the Cajon Valley Union School District to distribute power from electric school buses back to the grid, has developed V2G technology that they say can best determine when to charge and discharge EV batteries based on use cases.
Nuvve's website reports that their "VSL software and device enables an EV to receive instructions from the Nuvve Aggregation Server in order to control and regulate the battery charging and discharging, and helps predict travel time and distance to ensure proper charge levels."
Nuvve's GIVe platform then works with utilities on real-time power requests to send energy from an idle EV back to the grid.
"All EVs can benefit from V2G and, as the leader in the space, Nuvve welcomes all commercial fleets," said Nick Casas, Nuvve's vice president of commercial fleet sales. "V2G allows fleets to adopt with ease knowing they have the ability to recoup energy cost and lower the total cost of ownership."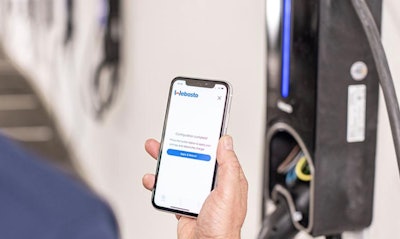 According to SDG&E, Nuvve's V2G technology is off to an impressive start. The pilot, which kicked off in July with eight electric school buses and six bidirectional chargers proved especially helpful during a recent grid shortage.
"During the Labor Day heatwave in California, Nuvve reported that the school district discharged 650 kWh of energy as tracked through the company's GIVe software platform, which aggregates the Cajon Valley Union School District's buses into a virtual power plant and discharges electricity back to the grid," said SDG&E Clean Transportation Programs manager Chris Faretta.
In March, Ford and Pacific Gas & Electric in Northern California announced a V2G pilot using electric Ford F-150 Lighting pickups equipped with Ford's Intelligent Backup Power hardware which can supply energy to power a home, small business or be fed back into the grid.
"The PG&E pilot is going strong," said Ford spokesman Eddie Fernandez. "In fact PG&E was just with [California] Governor [Gavin] Newsom at a climate bill signing ceremony [on Sept. 16] with several PG&E F-150 Lightnings that are part of its test fleet around Intelligent Backup Power and V2G services. Testing is ongoing and the data is helping map out future potential V2G services and innovations."
Duke Energy in North Carolina announced last month that it too had partnered with Ford on V2G pilot program that will include F-150 Lightning trucks. Up to 100 Duke Energy customers can enroll in the program, which will reduce vehicle lease payments for participants who lease an eligible EV, including Ford F-150 Lightning trucks. In exchange, customers will allow their EVs to feed energy back to the grid helping to balance it during peak demand.
SEA Electric CEO and founder Tony Fairweather sees V2G playing an important role for both fleets and the grid.
"Absolutely. SEA Electric sees a future where all transport depots become Virtual Power Plants (VPP's) whereby they produce enough renewable energy (eg solar) to charge their fleets and power their depots, while using their large mobile and fixed battery storage as buffer to provide energy back in the grid as it requires," he said.
"All SEA-Drive powered electric trucks have bi-directional functionality and we are working with a number of V2G DC charger suppliers for small scale testing and validation," Fairweather continued. "The reality is that V2G economics only start to make commercial sense once large numbers of electric vehicles are deployed in a single location. This is not too far away."
V2G challenges remain
Compensation for fleets who participate in V2G in California is still a work in progress, Tomic said. Utilities are also learning the ins and outs of V2G, which is not as easy as it sounds since power companies are more accustomed to delivering power, not accepting it. Some solar customers have helped ease the transition by selling their unused power back to the grid, but there is still much work to be done in terms of safety considerations and power distribution.
"Nothing is ever simple, right?" Tomic said. "Utilities are not used to this. They're not necessarily in favor right now. Utilities are somewhat of a barrier."
Concerns around how batteries may be impacted also present some concerns, according to Pegasus Specialty Vehicles President Brian Barringtong. Pegaus makes electric school buses from Zeuss electric chassis.
"Obviously, it sounds great to be able to try to recoup some of the money that you are spending for the EV by selling that electricity back to the power company," Barrington said. "Our concern is how does the constant use of the battery through charge and discharge affect the life of the battery? If you decrease the life of the battery you have to be able to add that expense back into the equation.
"That battery is good for its first use for a limited number of cycles, and you are using that battery more by V2G, and we don't feel that there has been enough of a study to determine whether the cost/benefit is worth it."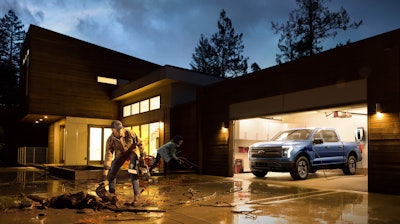 Patrick Couch, senior vice president of technical services at Gladstein, Neandross & Associates pointed out that electric trucks aren't typically good V2G candidates compared to electric school buses, which have duty cycles that make them more available for battery discharging during peak grid times.
"The hard part with V2G for commercial trucks in California is that the on-peak time when you would most want to export power is 4 to 9 p.m. Most commercial trucks are either still out working during this time, or have returned to base but haven't had a chance to recharge," Couch said. "So, you are looking for fleets that are home during the early afternoon time to soak up off-peak, renewable electricity so they can export it during the late afternoon or evening.
"Outside of California, the time-of-day dynamics can be different, but there aren't as many EV trucks being deployed in these areas," Couch continued.
Southern California Edison, which has also been testing V2G, noted that fleets can currently benefit from V1G, which seeks to maximize optimum charging times for fleets.
"Yes, V2G is promising, but we feel that electric vehicles can be a great asset even before we get to the V2G stage," said SoCal senior advisor Paul Griffo. "Right now we're in the stage of V1G, with dynamic time-of-use rates and demand response that EV fleet owners can participate in. We are seeing that 50% of the grid value of electric vehicles can be harnessed just through the V1G technologies. V2B, or vehicle-to-building, is the next phase. Some Ford vehicles, for example, can be used to provide backup power for buildings during power outages."
SoCal Edison sees great potential for V2G as zero-emission deadlines draw near in California, but in the meantime Griffo said more work needs to be done in research and development to help vet and standardize emerging technologies.
"To meet California's climate goals, by 2045 we're going to need to electrify 76% of light duty vehicles, 67% of medium-duty vehicles and 38% of heavy-duty vehicles, so there is huge potential there," Griffo said. "As vehicles become available with V2G technology, the key to unlocking their potential as a resource is certifications and standards of the components that connect them to the grid."
The solar industry helped unlock bidirectional power flow and has passed along lessons that can be used in the years ahead to help determine if "V2G could actually result in a reduction of customers' electric bills in exchange for energy they supply from their EV batteries when they are connected to the grid," Griffo added.