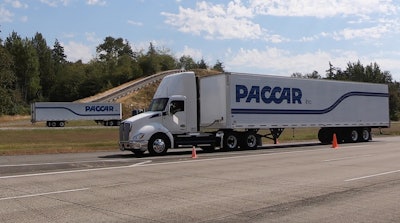 Commercial Carrier Journal
It can be challenging enough for truck drivers making their way around busy lots, loading docks and port terminals. Throw in a bunch of charging stations, high voltage cables and people coming and going to plug in electric trucks and it stands to get even more complicated.
That's where wireless charging advocates say charging pads installed flush at ground level can solve those problems and more. But that convenience comes with a higher upfront cost, including additional vehicle components needed for the transition to wireless charging.
Already in operation for electric buses, wireless (or inductive) charging is slowly making its way to Class 8 electric tractors where one of the top inductive charging proponents says the technology will cost less in the long run versus plugging in.
"Wireless charging is cheaper and safer to operate and is proven to work consistently in all types of weather conditions," said Robin Mackie, president at Ideanomics, parent company of Wireless Advanced Vehicle Electrification (WAVE).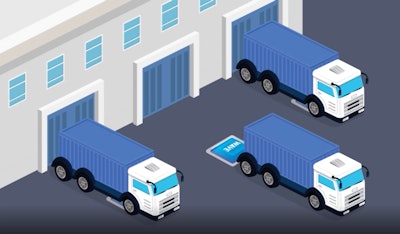 Mackie contends that wireless charging is more cost effective in part because "plug-in charging solutions require costly operation and maintenance. Excessive moving parts and exposure to inclement weather conditions can increase maintenance costs and downtime."
WAVE has been using wireless charging since 2017 for electric buses and sees its technology as a great fit for Class 8. To help keep fleet costs in check, Ideanomics rolled out an 'As-a-Service' model.
"Under this subscription model, Ideanomics covers the up-front cost of installation and provides ongoing maintenance support," Mackie said. "The fleet operator pays a monthly fee that is predictable and easier to manage. This is the future of fleet electrification."
[Related: All-electric Kenworth T680E delivers smooth, powerful ride]
Zeem Solutions CEO Paul Gioupis, whose California-based company leases electric vans and trucks from Class 2b through Class 8, also thinks wireless charging is a good fit for tractor-trailers.
"We're in the middle of these use cases," said Gioupis, whose EV lineup includes the Volvo VNR Electric. "We have these big tractors. They have to back into these big terminals and so what happens now is, 'Where are you going to position a piece of [charging] hardware where they get a plug and plug in?"
EV charging hardware becomes more at risk as truck traffic picks up Gioupis said.
"What I like about wireless is it's buried," Gioupis continued. "You're not going to hit a charger. You're not going to run over a charge port. You're not going to break a charge port. So from that perspective, it's great. So inductive charging has a big role to play there when it comes to Class 8 as well."
Mackie said occupants can remain inside the vehicle while it's charging.
"Energy is being transferred via a magnetic field at a frequency that does not cause radiation concerns," Mackie explained. "People can walk near the charging pad. It is also safe to walk on the charging pad while it is not it use. The pad is only active during a charge session with an authorized wireless-equipped vehicle parked over it and actively communicating a request for charging."
When asked if there were any safety measures that needed to be taken, Mackie said, "Guidance is for operators to visually confirm pads are clear of metal debris before parking and charging. Over 6 years of charging and nearly 3GWh of energy transferred, we are proud to report continuously safe, incident-free operations."
Charging ahead in the face of challenges
Getting electricity to wirelessly charge a vehicle battery is fairly simple. InductEV Chief Innovation Officer Andy Daga explained in his company's video that electricity is transmitted from a charging pad through resonant magnetic conduction to a receiver pad on a vehicle.
"If you have an alternating current (A/C) flowing through a conductor that conductor will generate a magnetic field," Daga said in the roughly four-minute video that highlights an electric bus the company's been wirelessly charging for over a year in Wenatchee, Washington.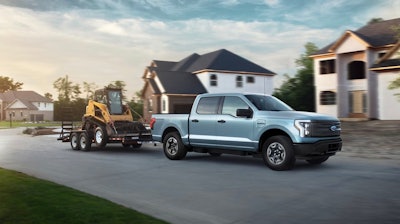 A charging management module mounted near the charging pads on the bottom of the bus tackles the task of delivering the juice to the vehicle's batteries.
John Kresse, director of advanced electrification technologies at Cummins, who is closely studying wireless charging for Cummins electric powertrains, said those components add weight and cost.
"For stationary wireless charging, the weight, space-claim/packaging and cost of the on-vehicle vehicle components (charging pads and AC-to-DC rectifier) are challenges and need to continue to be improved," Kresse said.
Inductive charging proponents are also up against a lack standards, Kresse said, which could nix additional charging opportunities for trucks that attempt to power up with different brands of wireless chargers.
In addition to stationary wireless charging, Kresse pointed out that dynamic wireless charging is also an option for powering up EV batteries. Dynamic wireless charging uses charging pads installed in a road to charge a vehicle as it travels on its route. Though already in use in Europe, challenges for dynamic inductive charging are greater than stationary wireless.
"Challenges for taking dynamic wireless charging to production is a long list including cost effectiveness of the required infrastructure investment and demonstration of accurate, efficient wireless power transfer while the vehicles are running down the road," Kresse said. "This technology needs a great deal of research, but there are at least several projects in the planning stage; in Sweden, a test roadway has been running for a couple years."
Testing and more testing
Mackie's vision for electric Class 8 trucks will be put to the test again as WAVE teams up with Kenworth, the U.S. Department of Energy and Utah State University to test charge pads in Seattle, Washington, and Portland, Oregon.
Ryan Reed, Kenworth director of research and development, explained that the megawatt chargers will go to work in the fourth quarter of 2023 charging an all-electric T680E Next Generation truck that will deliver a targeted range of at least 170 miles, or 20 additional miles than the current T680E. The truck, which will be equipped with a more advanced battery, will run a two-shift operation to and from Seattle and Portland with regional deliveries en route combined with local in-city deliveries to exceed 400 miles daily.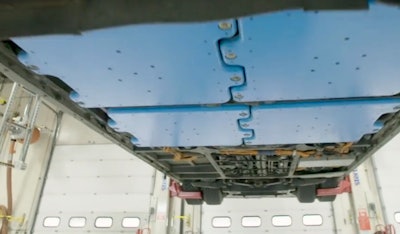 "The 1MW rate will allow us to charge the truck in approximately 30 minutes, during the driver's break, to allow sufficient charge to complete the run back to Seattle," Reed said.
A typical DC fast charger is around 250kW, Reed explained, so this 1MW charger is about 4 times faster.
"With such a quick recharge we can take advantage of a two-shift operation, increasing productivity to be on par with a diesel truck," Reed added.
Another advantage of wireless, Reed said, are cooler charging temperatures.
"At 1MW, a wired charger may be cumbersome and will require cooling for the amount of amperage required, whereas the wireless charging eliminates the driver interaction with the charger and the complexities with handling and cooling large cables," Reed explained. "The wireless charger will have a 9-inch air gap that we expect to have approximately a 95% power transfer efficiency."
Cummins is also exploring wireless charging for both electric busses and trucks.
"For production, Cummins supports integration of stationary wireless charging systems, made by other manufacturers, with the Cummins BEV transit bus powertrain system," Kresse said. "For our Department of Energy stationary wireless charging project, we support wireless charging made by Wireless Advanced Vehicle Electrification (WAVE) on two Class 8 BEV prototype trucks."
Cummins confirmed that this is a separate project from the one Kenworth will be participating in with WAVE.
No stranger to inductive charging, in 2019 Cummins announced a partnership with WAVE, Schneider Electric, Utah State University and Total Transportation Services "to develop, deploy and demonstrate a first of its kind 500kW 'XMEG' wireless charger to support battery electric drayage trucks" at the Port of Los Angeles.