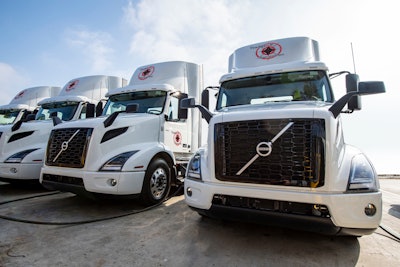 Volvo Trucks North America
Battery electric trucks are the future of the trucking industry, but the expense has held many companies back from making moves.
Peter Voorhoeve, president of Volvo Trucks North America, said the purchase price is only one factor, and Volvo has created a new tool to demonstrate the financial and environmental benefits of its VNR Electric truck.
Voorhoeve unveiled Volvo's new electromobility total cost of ownership (TCO) tool at the American Trucking Associations Management Conference & Exhibition in San Diego on Sunday.
The tool helps customers understand and evaluate the full impact of purchasing and operating a zero-tailpipe emission battery-electric trucks. It is available now for Volvo Trucks Certified Electric Vehicle Dealerships throughout North America.
"We have developed a tool that helps customers to determine affordability, economic viability and total cost of ownership of a decarbonized transport solution," Voorhoeve said. "Then you will see that, depending on where you are, the total cost of ownership will become competitive somewhere in year four or five when you run the truck. It's not the case that electric trucks and sustainability is good for marketing but you shouldn't buy too many because it's not affordable. No. Already now with the asset price as we know today, with the battery cost as we know today, but also with the diesel cost we know today … it will become profitable."
Using the tool, customers can consider multiple fixed and variable costs throughout the vehicle's lifetime, including purchase price, maintenance, fueling, funding, tax credits and other factors. They can compare lifetime costs like repairs and maintenance and fuel versus electricity between BEVs and diesels. The tool also sheds light on the estimated cost to purchase and install fueling or charging infrastructure.
In addition, prospective BEV purchasers can see how local, state and federal incentives on trucks and charging infrastructure can impact the long-term TCO, as well as factor in the Federal Excise Tax (FET) exemption for Class 8 electric vehicles, which can otherwise be a significant additional expense at 12% of the total cost of the truck.
The tool also allows fleets to input details about their own operations to learn the projected potential CO2 reductions that can be achieved by adopting Volvo VNR Electric trucks.
Volvo has a goal to reach a 50% reduction in CO2 by 2030 and 100% by 2040.
"Sustainability is not only about selling electric trucks," Voorhoeve said. "Fifty years ago, in 1972, when we had the first climate summit in Stockholm, we were there. We said 'We're part of the problem, and we want to be part of the solution.' We strongly believe with our business we can build a better world… we can take care of our planet in a better way."
Compton carrier goes electric
Compton, California-based, minority-owned trucking company Tradelink Transport is making moves toward sustainability with the recent purchase of 15 (nearly 30% of its fleet) Volvo VNR Electric trucks for its land-bridge operations in which it transports a variety of products for major shipping companies between the ports of Los Angeles and Long Beach and nearby rail yards.
Ten of the 15 Volvo VNR Electric trucks were purchased with vouchers from California's Hybrid and Zero-Emission Truck and Bus Voucher Incentive Project that was launched by the California Air Resources Board in 2009 and provides point-of-sale vouchers to make advanced technology vehicles more affordable with first-come first-served incentives that reduce the incremental cost of commercial vehicles.
In addition to Volvo's TCO tool, it also offers an Electric Performance Generator (EPG) route planning tool, which Tradelink used to determine which of its routes were the most ideal for battery-electric trucks. The EPG application takes into consideration the vehicle configuration and battery capacity, environmental factors such as terrain and ambient temperature and specific route details, including traffic patterns.
"The EPG route planning tool helped us identify a driver training opportunity by highlighting that the heavy traffic around the ports will allow significant regenerative braking. This in turn can increase range by returning up to 15% of the power back to the battery," said Tracey Craik, regional sales director, TEC Equipment. "In addition to route planning and driver training, TEC Equipment has supported Tradelink Transport in growing its Volvo VNR Electric fleet by identifying zero-tailpipe emission vehicle funding opportunities available to fleets that operate in disadvantaged communities."
The Class 8, zero-tailpipe emission trucks will provide air quality and noise-reduction benefits to the disadvantaged communities located adjacent to the ports and the heavily trafficked I-110 and I-710 Southern California freeway corridors.
But sustainability isn't the only reason for Tradelink's purchase. Voorhoeve said Tradelink President Rigoberto Cea was driven to purchase these trucks by driver attraction and retention as well.
"Since we started our business in 1998, Tradelink Transport has demonstrated its commitment to sustainable transportation, having always utilized a mix of new compressed natural gas trucks and the cleanest diesel models available. With this order of 15 Volvo VNR Electric trucks, we are excited to become one of the first fleets in the nation to deploy battery-electric trucks and supporting infrastructure into our operations at scale," Cea said in a news release. "Our drivers are excited to drive the new VNR Electric trucks. Most live within a 15-mile radius of our facility and see how vital it is for the trucking industry to reduce its emissions and community impact."
The company is deploying battery-electric trucks in part as a driver recruitment and retention strategy because the Volvo VNR Electric model produces zero-tailpipe emissions, significantly reducing heat, noise and vibrations, allowing for the cleanest and most comfortable experience for drivers.
To support its growing battery-electric truck fleet, Tradelink Transport is using Southern California Edison's Charge Ready Transport program to install 10 chargers — a mix of 180 kW and 360 kW dual chargers at its new 5-acre facility, paired with onsite solar panels to generate renewable electricity and help offset peak charging costs.
Voorhoeve said Tradelink is an example of the benefits to purchasing battery-electric trucks.
"He is a small carrier … It is very profitable; otherwise, he wouldn't do this," he said. "You can order them today, we build them today, and we deliver them tomorrow or the week after, but it's happening right now."