The path to zero emissions isn't straight and narrow. It's wide, it's winding and it forks.
The Environmental Protection Agency (EPA) and California Air and Resources Board (CARB) continue to propose and finalize numbers of new mandates, leaving fleets to meet emission requirements that could vary from state to state.
Glen Kedzie, vice president of energy and environmental counsel for the American Trucking Associations, said forthcoming emissions regulations have reached an inflection point, "creating a new roadmap unlike anything we have ever experienced in our industry." He noted that over a 10-year period, from 2015 to 2025, there have been more emission regulations passed than in the previous 30 years.
A panel assembled at the American Trucking Associations Management Conference & Exhibition Sunday morning looked at how the future regulatory environment will impact equipment purchasing decisions and technology pathways.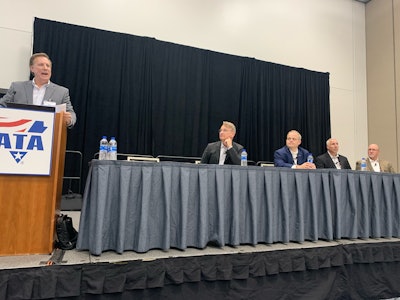 Matt Spears, global executive director of regulatory affairs at Cummins, said there are two major rule-makings that will have "major impacts to the engine," including the CARB Omnibus regulation – which has also been adopted for model year 2024 in Oregon and 2025 in Massachusetts – and the EPA's Clean Trucks Plan.
"While this is a California regulation, other states are looking at adopting it," Spears said of CARB's Omnibus.
As currently written, starting in 2024, CARB's Omnibus Regulations will require heavy-duty diesel and gasoline engines sold in California to emit no more than .05 grams of NOx per brake horsepower hour (g/BHP-hr.), a 75% drop from the current limit of .20 grams – a timeframe Spears said was "very, very challenging" given the development and certification timelines.
The Clean Trucks Plan is slated for 2027 and beyond. The EPA plans to finalize it by the end of the year, but emission levels have not been finalized.
"But we are looking at greater than 70% reduction in NOx," Spears said, adding that the Clean Trucks Plan will likely look similar to CARB's Omnibus plan in what it seeks to accomplish. "We are also hearing that EPA is looking at a significant fraction of vehicles being zero emission.
"You can definitely expect to see new engine hardware and after-treatment hardware," Spears said of how manufacturers would have to meet new standards. "We can expect DEF consumption to go up, but not significantly."
Fleets aren't the only ones in the emission crosshairs. Vehicle OEMs will also be required to meet certain benchmarks for zero-emission vehicle (ZEV) sales. The emission plans would create two different emissions standards for model years 2024, 2025 and 2026, potentially prompting truck and engine manufacturers to offer different standards for various states, Spears said.
CARB's Advance Clean Fleet regulation would require new trucks acquired by state and local government fleets to be 50% zero emission by 2024 and 100% by 2027. All drayage trucks entering state-regulated seaports or intermodal railyards must be zero emission by 2035, and all new trucks purchased after 2024 have to be zero emission.
Volvo Trucks North America Director of Product Marketing Johan Agebrand said engineering strides would be made through the engine and transmission, axles, tires and pre-approved technologies. However, he said aerodynamics would receive heavy focus, especially for fleets that aren't already deploying or spec'ing devices.
Unavoidable expensive regulations
These regulations will impact any fleet that operates in the Golden State, regardless of where it is based or what state its trucks are registered. Ron Hall, C.R. England's (CCJ Top 250, No. 41) senior vice president of equipment and fuel, noted the definition of a California fleet "is any truck entering the state," closing loopholes for carriers that might have sought to spin off their California business to avoid regulation. Leaving the state entirely, Hall said, is also likely not a solution as other states will surely follow California's lead.
"Don't be thinking you can pull back California activity," Hall said. "There's going to be other states involved in this eventually."
Hall added that from what C.R. England has seen to date, the CARB compliance strategy tends to avoid roadside inspection in favor of a compliance audit, putting larger carriers at a disadvantage because they are easier to audit and be caught, while small fleets operate under the radar.
Hall said it's likely that geofencing capabilities that could determine a truck's emissions compliance before it ever enters the state would eventually exist.
Brokers must also comply with reporting requirements and verify that fleets dispatched are listed on the CARB website as compliant.
Required warranty and engine useful life extensions and certifications built into future emissions regulations, Spears said, will most certainly lead to higher upfront costs, and all the looming regulations will send fleets scrambling – all to the same place at mostly the same time – for new trucks.
"From a tractor availability standpoint, there's going to be a lot of demand," Hall said, adding the need for fleets to communicate their intentions early with dealers and OEMs.
"There's not a lot of these out there right now," said Dan Porterfield, Covenant Logistics' (No. 29) senior vice president of maintenance and equipment control. "This is going to be coming at us fast."
Porterfield said in C.R. England's experience, ZEV tractor pricing is two-and-a-half to three times more than a diesel tractor, and there are questions around residual values.
"There's no telling what these things are going to be worth on the back end," he said.
Porterfield noted the cost of infrastructure is high, "but the timeline might be longer than you expect," he said. "You might be surprised that your big facilities with a lot of power, you don't have a panel big enough that you can just plug in and build out charging infrastructure. This one caught us off guard in several situations."
Once fleets can actually get tractors on the road, Porterfield said drivers like driving the trucks thanks to improved torque and improved ride quality.
"From a driver standpoint, these things are great," he said, "and they get a lot of attention (from the public)."
C.R. England has fielded questions from its customers that see the carrier as an extension of their own sustainability goals, and Hall said they have found some customers willing to invest money into the initiative.