Trucking news and briefs for Tuesday, Jan. 31, 2023:
TA, Electrify America set to roll out EV charger network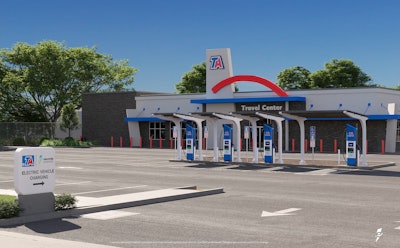 TravelCenters of America on Monday announced that it has agreed to partner with Electrify America, the largest open direct current (DC) fast-charging network in the U.S., to offer electric vehicle charging at select TA/Petro locations. The first stations are set to be deployed this year.
The companies hope to install upwards of 1,000 chargers at 200 locations along major highways over the next five years. Under the terms of the agreement, TA will purchase Electrify America's DC fast chargers and Electrify America will install, operate and maintain them. Electrify America will manage the entire process to design and develop the charging stations – obtaining permitting approvals, providing warranty and 24/7 support services, and conducting onsite maintenance. TA will be included on the Electrify America charging network, allowing customers to access and pay for charging through the Electrify America app.
"TA's large locations with expansive amenities are attractive to EV motorists and we are committed to expanding our EV charging infrastructure to accommodate this growing number of EV drivers over time," said Jon Pertchik, Chief Executive Officer of TravelCenters of America. "Our agreement with best-in-class Electrify America provides an unmatched offering of excellence in locations, service and support."
The network of charging stations will be open to almost all brands of EV vehicles and can deliver up to 350 kW to capable vehicles – some of the fastest charging speeds commercially available. The new charging stations help to provide range confidence to EV motorists traveling long distances by expanding access to hyper-fast charging, exemplifying TA's commitment to providing accessible and reliable chargers to allow EV motorists stay on the go.
NHTSA begins process for side trailer underride guard rulemaking
The National Highway Traffic Safety Administration has started the process for a potential proposal to require side underride guards on trailers. The agency on Friday sent an advance notice of proposed rulemaking (ANPRM) to the White House's Office of Management and Budget, which must approve the notice before it's published in the Federal Register.
NHTSA said the ANPRM would respond, in part, to a September 2013 petition for rulemaking to start studies and rulemakings on side underride guards. The rulemaking would also respond to a requirement in the Bipartisan Infrastructure Law that called for additional research into side underride guards to assess their effectiveness, feasibility, costs and benefits, and report the findings of the research in a Federal Register notice to seek public comment.
Legislation seeking to require side underride guards on trailers has previously been introduced in Congress, but the bills have not gained any traction. Such bills were generally opposed by trucking groups, including the American Trucking Associations and Owner-Operator Independent Drivers Association, but were supported by safety groups and law enforcement.
Testing conducted in 2017 by the Insurance Institute for Highway Safety showed that underride guards mounted to the side of a trailer provide similar safety benefits as rear-mounted guards.
OMB has 90 days by federal law to approve or deny the rule. After OMB clears the rule, NHTSA will be free to publish it in the Federal Register.
[Related: IIHS testing validates safety potential of side-mounted trailer underride guards]
Severe-duty Autocar trucks recalled
Autocar is recalling approximately 346 model year 2020-2023 Xpeditor severe-duty trucks due to the sun visor potentially blocking the roof-mounted clearance lights.
According to NHTSA documents, this causes the trucks to be noncompliant with the requirements of Federal Motor Vehicle Safety Standard.
The remedy is currently under development. Owner notification letters are expected to be mailed March 23. Owners may contact Autocar customer service at 1-888-218-3611 with recall number ACX-2302. NHTSA's recall number is 23V-019.