Trucking news and briefs for Monday, May 1, 2023:
Motiv announces next-gen medium-duty electric trucks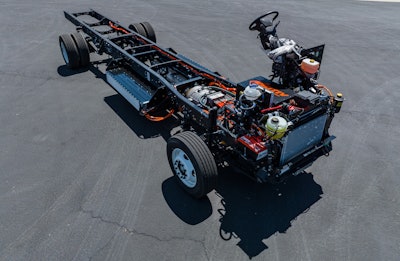 Electric truck manufacturer Motiv Power Systems on April 27 announced its next-generation electric trucks for medium-duty fleets.
Motiv is a 14-year veteran providing all-electric step vans, box trucks and shuttle buses capable of moving 2-6 ton payloads. The company has deployed more than 150 vehicles and driven more than 2.5 million miles with fleets across North America.
Motiv's new trucks build on the company's previous generations and are engineered to meet today's fleet needs while embracing the latest EV technology, including a new motor and a new battery system – all assembled with a far more efficient powertrain design with fewer parts.
Motiv worked with Nidec to design and patent a six-phase motor and motor controller producing torque that surpasses internal combustion engine counterparts. Motiv also co-developed and has patents pending for its battery interface to the new battery system, capable of reaching a 200-mile range on a single charge. The base version is rated at 150 miles range.
"Motiv's new technology platform tackles key barriers to electrifying a commercial fleet: payload confidence, range anxiety and serviceability concerns. And we've done so in collaboration with our customers," said Tim Krauskopf, CEO of Motiv Power Systems. "The driver holding the wheel every day is our target – and our success at getting them to advocate for Motiv's EV's is the best validation for adoption."
Motiv's next generation of vehicles are currently available for purchase and the first customer shipments will roll out in June.
Knight-Swift suddenly closes CDL schools
The National Tractor Trailer School, a CDL school owned by Knight-Swift, stopped enrolling new students on Thursday. The school, with locations near Syracuse and Buffalo, New York, and one in Phoenix, Arizona, told CCJ they were "not even sure" exactly why the school had shuttered, but that its parent company made the decision.
Knight-Swift could not be reached for comment, but the company just reported a rough first quarter that saw profits dive more than 50%.
Company CEO David Jackson described in the earnings report "unusually soft demand experienced" throughout Q1, which he said had continued into April. Jackson said he expected that weakness in demand to "drive capacity from the market" and that the company was "already positioning ourselves to prepare for the impending freight recovery, including the announced transaction to acquire U.S. Xpress later this summer."
Autocar supplying electric terminal tractors to Walmart
Autocar is supplying Walmart with a fleet of its battery-electric terminal tractors (E-ACTT). Walmart will receive the first of more than 20 E-ACTTs in May.
"Our passion for excellence has led us to partner with Walmart to supply them with our state-of-the-art E-ACTT," said Andrew Taitz, chairman of Autocar. "Walmart's commitment to emission elimination is truly inspiring. We are glad to team up with Walmart in their journey to an emission-free future, while also helping them increase efficiency and reduce maintenance costs. The first Autocar-brand electric vehicle launched in 1923, and it's fitting that we celebrate the 100-year electric truck anniversary with this milestone."
Autocar's E-ACTT, hand-built in the United States, helps fleets like Walmart's by replacing diesel tractors with a zero-emission truck uniquely fitting the same standards set by its diesel counterpart, the severe-duty Autocar ACTT.
"We are excited to receive our first E-ACTT and continue to advance our zero-emissions transportation strategy in line with our goal to achieve zero emissions across Walmart's global operations by 2040," said Fernando Cortes, senior vice president, Transportation, Walmart U.S. "Working with Autocar is a natural fit for us as we share a commitment to innovation and sustainability. I look forward to the positive impact the E-ACTT will have on our distribution center operations and journey to becoming a regenerative company."
Waabi launches Million Mile Driver Advisory Board
Autonomous truck developer Waabi last week announced the launch of what the company said is the autonomous trucking industry's first Million Mile Driver Advisory Board
Waabi said the advisory board is meant "to give the world's most experienced truck drivers –those who have safely driven over a million miles – their long-overdue seat at the AV development table."
The company added that members of the advisory board have the "opportunity to help influence and shape the industry they have spent their lives in. Even more so, it's a chance for them to continue ensuring the roads and highways they have logged so many miles on remain safe, especially as new drivers take the reins."
The board currently has seven members:
Marcus Carter Sr., Warrior Logistics
Larry James Holmes, U.S. Xpress/Variant (No. 19)
Anita Lee, Total Transport
Josh Nichols, Paper Transport (No. 108)
Steve Peters, Trimac (No. 64)
Jacqueline Vasquez, CRST (No. 22)
"Waabi wants to make sure every truck driver can stay safe and retire as a truck driver," the company said. "The Million Mile Driver Advisory Board is an important step toward a more intentionally transparent relationship with best-in-class drivers. We are peeling back the curtain of AV development and integrating their input and wealth of real-world expertise into our technology."