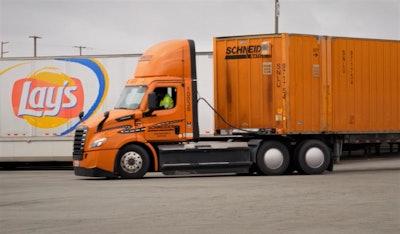 Eight fleets this fall will kickoff the North American Council for Freight Efficiency's (NACFE) and RMI's Run on Less – Electric Depot (RoL-E Depot), an effort that focuses on the scaling of electric trucks across a variety of market segments.
Frito-Lay, based from Queens, New York, is the lone participant outside zero emissions ground zero California. That's fitting considering that of the 1,895 Class 2B-8 zero emission trucks deployed as of March 2022, 60% operate in California, according to NACFE.
"Our goal with this event was to showcase fleets that are now deploying 15 or more trucks and we had hoped to have a wider geographic representation," noted Dave Schaller, NACFE's director of industry engagement. "The reality is that, at this point, the majority of fleets with 15 or more electric trucks are in California, but we believe they are a good representation of the benefits and challenges of deploying electric vehicles at scale... At this point in time last summer there were 11 states that did not have a single electric truck and there were five that only had one. There were another 15 that only had two to 14... So, 31 of the 50 states, when we started talking about (RoL-E Depot), simply couldn't put a depot together if they tried."
The other seven fleets, each hailing from the Golden State, include OKProduce in Fresno; Penske in Ontario; Pepsi Beverages in Sacramento; Performance Team Logistics in Commerce; Schneider in South El Monte; UPS in Compton; and WattEV in Long Beach. Five of the seven California fleets operate from Southern California.
Schneider holds distinction as the fleet with the largest number of electric trucks, Roeth said, doing the most miles and needing the most electricity.
"This facility is something like a 4 to 5 megawatt facility going in the ground right now," he said, "and probably very quickly is going to be a 100% electric some time in 2024, so excited to to learn and and show you all what's going on with Schneider there and intermodal."
Executive sponsor PepsiCo joins title sponsors Cummins and Shell, with others sponsoring individual elements of the Run as well.
Among the goals of the exercise is to showcase what it takes to move from one or two electric vehicles to 15-plus, and that the transition to electric vehicles is about much more than just the trucks themselves – it is also about charging, infrastructure, grid capacity, resilience, and more and NACFE executive director Mike Roeth said RoL-E DEPOT will allow his group to share best practices for scaling electric trucks at depots.
The three-week event will start Sept. 11 and will feature metrics and real-world stories on runonless.com.
Added to this year's Run will be stories on emerging depots because Roeth noted that in the vetting of the fleet depots for this Run, his group came across fleets that are on the cusp of scaling up the number of electric vehicles in their operation. "While they did not meet the criteria for this year's Run, we still believe there are valuable lessons they can teach us," Roeth said.