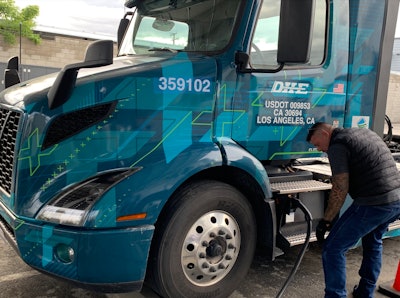 Tom Quimby
So what's it like transitioning to electric vehicles?
Arun Rajagopalan, co-founder and CEO of automotive software company Motorq, likened it to 1923 when vehicles powered by internal combustion engines (ICE) were entering mass production and rolling out to consumers and businesses alike who generally didn't know much about the new fangled inventions, let alone where to fuel them.
Sound familiar? Rajagopalan was one of three experts on a webinar Thursday titled Leading the Charge: Fleet Electrification Strategies hosted by Element Fleet Management. Other panelists included Jason Kazmar, director of EV strategy and sustainability at Element Fleet Management; Stephanie Valdez Streaty, director of strategic planning at Cox Automotive; and Jake Navarro, director of clean transportation products at National Grid. While there are some similarities between EV deployment and the ICE vehicle rollout a 100 years ago, panelists pointed out some interesting differences that fleets should know to optimize EV ownership.
First, get cozy with your utility. After all, an EV won't amount to much without the power to support it. Nonetheless, some fleets don't always approach it that way.
"We have seen and heard of in other utility service territories, horror stories where a fleet had acquired EVs without having talked to their electric provider to figure out how they're going to fuel those vehicles," Navarro said. "So just make sure that you're proactively communicating with your electric utility, and to the extent that you have a long-term electrification plan, share that with your electric utility too. That's such a great input for us to figure out our electric network expansion planning."
[Related: Watch three new electric trucks revealed at ACT Expo]
Of course, it's critical to know which EVs are a good match for your fleet. That's where telematics data from ICE vehicles can help develop an EV acquisition strategy.
"From our perspective here at Element, we use a lot of ICE vehicle data, depending on if it's telematics or fuel data, to really optimize vehicle selection point from a range consideration," Kazmar said. "And then using insights from various telematics providers and vehicle performance pieces, we can align a potential range reduction strategy and place vehicles in the correct environments where they'll operate optimally."
Carefully consider charging options
Charging plays a big role around an EV's total cost of ownership. First, consider the time of day when charging will be needed. Utilities can work with fleets to help establish a plan that can help lower charging costs.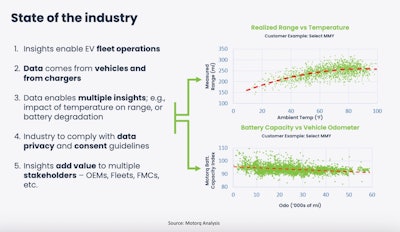 "There's a spectrum of programs that go for everything from just giving customers a discount on their electricity if they're charging off peak times, all the way to potentially offering customers the opportunity to discharge batteries back onto the grid through vehicle to grid technology," Navarro said. "And then there's everything in between. There's different use cases for different customers but the data that is communicated from the utility to customers about when peak events are, or when the grid is constrained, and then back from customers to the electric utility around when they're actually charging or discharging their vehicles, is absolutely crucial."
It's best to charge overnight when possible, not only because utility rates are less costly, but also because it helps to preserve battery life, impacting an EV's total cost of ownership, including its resale value.
"Think about how much charging is being done on your vehicles at a DC fast charger, or Level 3 as we call it, versus a Level 1 or 2 AC charging," Rajagopalan said. "We do know that more DC fast-charging hurts the battery a little more. If it's possible, more AC and less DC is better. Listen to the guidance from your car manufacturers to get detailed coaching here."
Charging capacity is another factor. Most standard lithium-ion EV batteries, Rajagopalan said, will charge to 80% or 90% capacity while DC fast-charging. Slower AC charging generally allows for higher charging capacity. Plus, newer lithium iron phosphate (LFP) batteries are accepting higher charge capacities.
"LFP batteries, some of the newer chemistries, could actually be okay with charging 100% but again get guidance from manufacturers on that," Rajagopalan said.
Be wary of regularly discharging an EV battery to low levels.
"If you spend a lot of time operating at very low battery state of charge levels, say between zero and 10%, it's not very good either," Rajagopalan said.
Know that battery
Since battery charging and discharging impacts battery health, that in turn impacts the EV's resale value. Streaty said Cox has been keeping a close eye on battery health in used EVs that are being marketed for resale at their subsidiary Manheim Auctions.
"The first form factor of our battery health tool was this big machine. It looked like a refrigerator and it had three connections to the vehicle," Streaty said. "We tested it at a few of our auctions, and based on 1,200 data sets we did see an uptick in sales transactions for those EVs that had a battery health score versus those that didn't."
Cox will be piloting an app in the next month or so that will help determine battery health.
"We're going to roll this out at 10 Manheim auctions. [Pennsylvania] will be our first one," Streaty said. "The really good thing about piloting at an auction is the diversity of vehicles and the volume. We're hoping to get really good data and starting to really start to unlock some of those insights."
Whereas fleets have become accustomed to looking at a vehicle's odometer to get quick insights into value, determining battery health is key to understanding EV resale value, Streaty said.
"You could have an EV that has 80,000 miles, but it's driven a lot in the city, has minimal fast charging, doesn't get depleted to zero or charged to [100%], and so that's going to be a really good battery versus one that could have 30,000 miles that's been driven really hard," Streaty said. "Having that score is going to be important to really differentiate those EVs that are going through the wholesale marketplace."
Additional vehicle data will help fleets make more informed decisions, which will improve the bottom line.
"As we start to get more and more data, the insights are going to be unlocked and help determine remaining useful life to understand which vehicles should go on which route and when to defleet and just really make good servicing decisions based on battery analytics," Streaty said.
Once they're no longer viable for powertrain use, better managed batteries can then eventually prove to be better stationary power sources. Cox will be piloting a charging system supported by used lithium batteries.
"The goal is to hopefully reduce utility costs, and use that stored energy during peak hours," Streaty said. "Hopefully the next time we talk, we'll have some good results to share. I think second life batteries are really going to be an option in the future to really help manage utility costs."