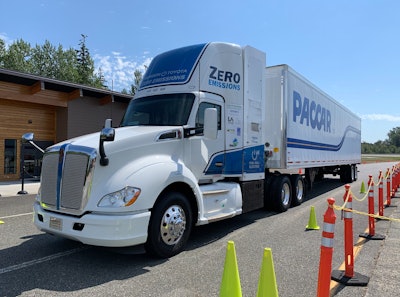 Commercial Carrier Journal
Note: This article has been updated to include Kenworth's anticipated fuel cell T680 FCEV launch in 2025.
As Kenworth's fuel cell trucks get closer to ending their tenure at a zero emission port program in California, the truck manufacturer painted a bright future for hydrogen that includes station expansion and controversial internal combustion.
During a press conference Friday at Kenworth's headquarters in Kirkland, Washington executives first talked about Kenworth's all-electric trucks (three models are available) before shifing to their T680 fuel cell prototype, ten of which have been working at the Ports of Long Beach and Los Angeles following a partnership with Toyota and Shell under the Shore-to-Store project.
The T680s feature fuel cell stacks from Toyota Mirai passenger cars while hydrogen comes courtesy of Shell, a strong player in alternative fuels.
Kenworth Chief Engineer Joe Adams told reporters that Kenworth's role in the government-funded program is "just now wrapping up" and provided "the opportunity over the last two years to drive the trucks, to go down and ride with drivers in the trucks" and to experience hydrogen fueling.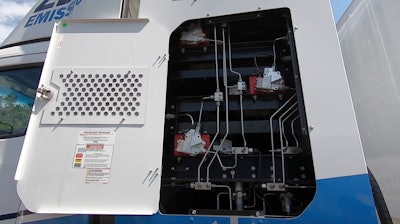 "They're usually doing short haul drayage, the kind of runs where they're taking freight out of the port and moving it into a different location," Adams said. "The ports are really interested in this type of technology because they want to eliminate particulates in emissions in and around the community that they're operating in.
"And so this is just a great program that we're completing here this summer," Adams continued. "It's giving us the opportunity to leverage all of that technology and figure out what's next for us in fuel cell development. So I expect that we'll continue to think through this and work on it and I think there's some more exciting things to come in the market for hydrogen-powered trucks."
In addition to fuel cells, Kenworth, a Paccar company, is keeping a close eye on growing support for hydrogen-fueled internal combustion. They're not alone.
Paccar's business partner Cummins made headlines earlier this year after announcing various internal combustion engines, including a 15-liter hydrogen-fueled engine, as part of a roughly 40-year-long, fuel-agnostic journey that will eventually lead to a zero-emission-only line-up.
In the meantime, fleets are expected to slash emissions as government regulations tighten and massive investment firms like BlackRock keep a close eye on their Environmental Social Governance (ESG) goals.
Hydrogen combustion goes beyond the U.S. to Europe where fleets are leaning towards the odorless fuel as the grid undergoes greater strain and electric bills reach record highs.
"If you look at Europe, there's more interest there in combusting hydrogen," Adams said. "And so taking something like a Paccar MX engine and actually not feeding it diesel, but feeding it hydrogen and combusting it."
[Related: Cummins hydrogen engine offers more capability, lower cost over all-electric]
While European regulators view hydrogen combustion as a zero emission event, the California Air Resources Board which influences policy makers well beyond the Golden State, takes a different view.
"California would tell you if you combust hydrogen you're [producing emissions] because you have oils in the cylinder and other things that you're going to burn so it is not zero emissions technically," Adams explained. "In Europe, they are saying combusting hydrogen is considered to be zero emissions or very, very close enough that they're calling it zero emissions.
"And so we've actively partnered with a couple of programs—grants in Europe where we're looking at that technology as well," Adams continued. "So we're well prepared if that market pivots and heads that way. Or if that region decides to do one thing with hydrogen and in North America we decide to do something else, we're prepared."
While Paccar did announce this week that it will be offering a Cummins X15N natural gas engine in Kenworth and Peterbilt trucks, they haven't announced a hydrogen engine deployment.
Fuel cell and fueling infrastructure gaining support
Visit Kenworth's zero emission web page and you won't find any fuel cell trucks listed in their current lineup. While the all-electric T680E, K370E and K270E are currently available, a fuel cell T680 FCEV is depicted below them as a future powertrain which, as it turns out, isn't that far off from production.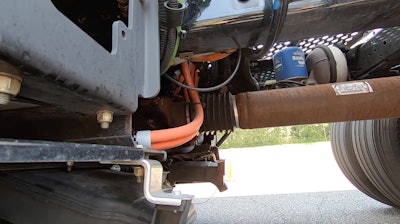 "We're targeting 2025 for availability," said Kenworth General Sales Manager Stephan Olsen.
Kenworth has seen growing interest in their T680 FCEV not only because of its zero emission capability but also because of its faster fuel times and increased range over all-electric.
A T680 FCEV shown on a slide at Friday's press conference was depicted with a range of 300 miles compared to the all-electric T680E with 150 miles. Another slide showed the range of the T680 FCEV being extended up to 500 miles thanks to additional hydrogen storage.
Refill times at Shell's truck stations for the T680 FCEV have taken approximately 15 minutes which is roughly on par with diesel, Adams said. Faster refill times and more range haven't gone unnoticed.
"It's amazing to me how much people ask us, 'Hey, can I see the truck still?'" Adams said of the T680 FCEV. "There's still a lot of demand for the product…we're continuing to gain interest in the technology and show people what we can do with hydrogen and the fuel cell."
Interest in fuel cells is expected to grow alongside fueling infrastructure development, both of which have seen steady increases in government funding including the Inflation Reduction Act which President Joe Biden signed into law Tuesday. The act incentivizes hydrogen production for the next ten years.
"Essentially what [the Department of Energy] wants to do is put a lot of funding towards making hydrogen become the new fuel because you can use it not just for the heavy-duty market, you can also use it in automotive and use it to generate energy for buildings," said Kenworth Zero Emissions Sales Manager Alec Cervenka. "It's kind of a wonder fuel if you think about it because it's one fuel that can do all those things."
State governments can help to increase the number of hydrogen stations, Cervenka explained. According to DOE, all 48 hydrogen stations in the U.S. are located in California.
"The states have to put in a grant proposal and say, 'Here's how we would do a hydrogen network or hydrogen hub,'" Cervenka said.
"In the past two months, I've helped submit probably 15 different applications for different hydrogen hubs across North America," Cervenka continued. "So depending on who wins out, it'll be interesting to see how these hubs start growing because right now they're looking at I-5 as being the first [hydrogen corridor]."
The DOE, Cervenka said, is looking at expanding hydrogen stations along I-5 in California from the Mexican border all the way up to British Columbia, Canada.
"The East Coast will have one as well," Cervenka said, "and then Texas and I-80 will be the next big hydrogen hubs."
Olsen told reporters that they don't expect one powertrain technology to serve all fleets striving to cut emissions. Kenworth's electric trucks like the T680E, K370E and K270E are intended for applications requiring up to 200 miles of range while their fuel cell models are set for more demanding applications up to 500 miles.
Olsen said whether fleets opt for all-electric, fuel cell or hydrogen combustion, Paccar's experience in the U.S. and abroad have them well-positioned for the road ahead.
"One of the benefits of being a global company like Paccar is that we have expertise here in North America building hydrogen fuel cell technology," Olsen said. "If that takes off in Europe, we have the knowledge and capability to spread that across the globe. And then on the combustion of hydrogen front that's being led out of Europe, if that's something that we see gaining traction in North America, we'll have that at our disposal to bring over to our shores."