Trucking news and briefs for Wednesday, May 3, 2023:
Nikola, Voltera partner to build out hydrogen fueling network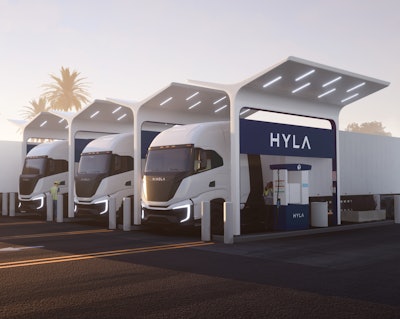 Nikola Corporation, through its HYLA hydrogen energy brand, and Voltera announced a definitive agreement to develop the hydrogen fueling infrastructure required to support Nikola's deployment of its zero-emissions vehicles.
Through this strategic partnership agreement, Nikola and Voltera plan to develop up to 50 HYLA stations throughout North America over the next five years. The partnership underpins Nikola's prior announced plans to develop 60 stations by 2026.
Through this partnership, Nikola and Voltera will create the largest North American open-network of commercial hydrogen refueling stations, the companies said, providing fuel to vehicles from various manufacturers to accelerate the adoption of zero-emission vehicles.
Voltera will site, build, own, and operate the strategically located, fit-for-purpose hydrogen refueling stations, and Nikola will supply the hydrogen fuel and provide technical expertise. This partnership will accelerate the deployment of the several billion dollars Voltera plans to invest into EV charging and hydrogen fueling facilities. Together, Nikola and Voltera will develop a reliable and optimal refueling experience.
"Our partnership with Voltera will bring substantial capital and expertise to support Nikola's plans to build refueling infrastructure to support its customers," said Carey Mendes, President, Nikola Energy. "Voltera's expertise in building out zero-emission energy infrastructure will be a key enabler for Nikola's first-to-market hydrogen fuel cell electric trucks and fueling infrastructure. Nikola and Voltera have a shared commitment to the rapid deployment of infrastructure which is key to enabling the transition to a zero-emission economy."
Kodiak intros first autonomous electric truck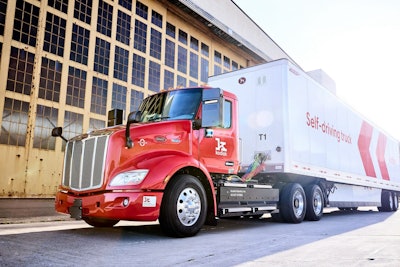 Autonomous truck developer Kodiak Robotics introduced Tuesday the first-ever autonomous electric class 8 truck. Kodiak is upfitting a Peterbilt 579EV electric truck with the Kodiak Driver, the company's self-driving technology. The truck will be incorporated into Kodiak's fleet in 2024.
The Peterbilt Model 579EV truck is the second vehicle platform that Kodiak is upfitting and it is equipped with its fifth-generation sensors. Kodiak's autonomous system is vehicle- and powertrain-agnostic, which enables the company to easily incorporate its autonomous system into emerging truck platforms as they become available, regardless of fuel type.
The Peterbilt Model 579EV can be recharged in as little as three hours and provides a peak power rating of 670 horsepower. With a range of up to 150 miles, the truck is designed for short-haul and drayage deployments and will be perfect as a test vehicle for Kodiak, the company said.
To further build upon the sustainability of its trucks, Kodiak will explore other sustainable vehicle platforms, such as fuel cells and others, as they are introduced to the market.
Old Dominion names new senior VP of operations
Old Dominion Freight Line (CCJ Top 250, No. 10) announced Monday that effective immediately, its Board of Directors has elected Christopher J. Kelley, who currently serves as the company's Vice President – Central States Region, to serve as the company's Senior Vice President – Operations.
"This promotion reflects Chris' outstanding prior contributions to our company and our confidence in his leadership," said Greg C. Gantt, Old Dominion's President and Chief Executive Officer. "Chris will work closely with Greg Plemmons, who will assume the role of Executive Vice President and Chief Operating Officer on July 1, 2023, and Marty Freeman, who will assume the role of President and Chief Executive Officer on July 1, 2023."
Freeman, the company's current Executive Vice President and Chief Operating Officer, added that Kelley "has significant experience in both the sales and operations environments, and I'm thrilled to work with him in this new role. Old Dominion has a strong succession plan with seasoned operators who are prepared for future opportunities, and Chris' demonstrated work ethic and passion for this position is yet another reason why I'm so proud to work for this great company."
FleetPride acquires Indiana truck, trailer repair shop
FleetPride announced Tuesday that it has acquired the assets of Frame Service, Inc., based in Fort Wayne, Indiana.
Frame Service is a full-service truck and trailer maintenance and repair shop serving the industry since 1948 with a strong reputation for quality and timely service in the Fort Wayne area.
"Today we are excited to welcome the Frame Service team to the FleetPride family," said Mike Harris, FleetPride president of parts and service. "Frame Service adds growth in the Indiana market with broad capabilities in parts and service, and a wealth of heavy duty expertise. As we continue building e-commerce capabilities at FleetPride.com for ease and speed of doing business, expanding our network at the same time enables us to better serve local, regional, and national fleets faster to keep trucks on the road. We look forward to becoming part of the Fort Wayne community."