Trucking news and briefs for Tuesday, Sept. 5, 2023:
German manufacturer Quantron, Ballard Power Systems intro hydrogen fuel cell trucks ready for delivery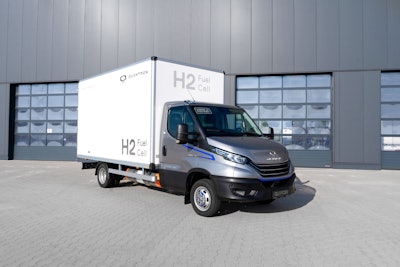 Hydrogen fuel cell developer Ballard Power Systems and German zero-emission truck maker Quantron AG are taking the next step in a partnership that begin in 2021 with the delivery of their first fuel cell electric vehicles, combining Quantron's vehicle engineering expertise with Ballard's fuel cell technology.
The core of the Canadian-German partnership is the integration of Ballard's high-performance FCmove fuel cell modules in Quantron vehicles. These include the 44-ton Quantron QHM FCEV heavy-duty truck and the Quantron QLI FCEV light truck. Both zero-emission vehicles feature significantly longer range and short refueling time compared to battery electric models.
A notable feature of Quantron's design is the complete integration of all fuel cell components into the frame structure of the trucks, which means that no compromises have to be made in terms of trailer length and payload, as well as allowing standard bodybuilder build-up structures as in their diesel counterparts.
"We're excited to see the partnership with Quantron expand into the light-duty vehicle segment and increase fuel cell deployment into the critical last-mile transport market," said Randy MacEwen, CEO, Ballard Power Systems. "Combining Quantron and Ballard's respective technical strengths and market expertise, our teams are committed to accelerate the adoption of hydrogen mobility in the freight sector by bringing high-performing fuel cell engines to market."
Autozone driver with 4.1 million safe miles named CVSA's IDEA winner
The Commercial Vehicle Safety Alliance has named truck driver Henry "Wayne" Hayes, a driver for AutoZone, as this year's International Driver Excellence Award (IDEA) winner. Hayes has driven 4.1 million safe miles during his 38-year professional driving career.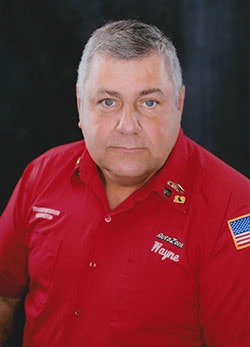 Hayes is an AutoZone regional driver who navigates tight loading docks and parking lots in business districts to deliver auto parts to company stores. He drives, on average, hundreds of miles per day, thousands of miles a week, making deliveries in the Southeast region. Hayes has made thousands of store deliveries without ever having a preventable collision, safety violation or even a speeding ticket.
"It is such an honor to receive CVSA's International Driver Excellence Award," said Hayes. "I realize there are many deserving drivers out there with great career records -- drivers who prove their excellence in safety each and every day out on the road. I was honored to be a nominee and truly overwhelmed to be the recipient of this year's award."
Hayes added that receiving the award "means so much to me and my family. What an honor it is, and I am truly grateful and humbled for this opportunity."
Hayes began his career 38 years ago when he went to work for Turner Dairy Company hauling milk and ice cream. This is where he received the driving handle, "Milkman." Ten years later, in 1994, Hayes joined AutoZone, where he has been ever since, achieving more than 3 million safe-driving miles hauling auto parts to stores.
CVSA's IDEA isn't the only award Hayes has received during his professional driving career. In 2021, he was nominated and inducted into the Driver Hall of Fame, AutoZone's first-ever driver to be honored by the National Private Truck Council. In 2020, he was the inaugural AutoZone truck driver to log more than 3 million safe miles, and in 2021, he received AutoZone's Driver of the Year Award. He has also received numerous Extra Miler Awards for going above and beyond routine tasks, and he has a perfect attendance record for the 29 years he has been with AutoZone.
Hayes will attend the CVSA Annual Conference and Exhibition in Grapevine, Texas, in September to receive $5,000 and a crystal trophy at the awards luncheon.
Rite Way opens new Chicago office
Rite Way Transport Group has opened a new office in downtown Chicago. The expansion adds 50 new employees.
CEO Jeff Lassen eagerly anticipates the opening of the new location, recognizing the vast opportunities the Windy City will bring to grow his auto transport, heavy haul, LTL, truckload and reefer business.
Later this year, Rite Way said it plans to expand its service even further by establishing offices in Chattanooga, Tennessee, and Phoenix, Arizona. Expanding to these locations allows Rite Way to cater to different regions across the U.S., extending its transportation services to a wider clientele.
Averitt streamlines driver experience with Platform Science partnership
Averitt Express (CCJ Top 250, No. 22) and Platform Science are partnering to roll out Platform Science's Virtual Vehicle to Averitt's fleet.
Averitt will deploy the Virtual Vehicle platform – which acts as the operating layer through which any application can collaborate with another – to the more than 5,000 trucks that comprise its LTL, TL, and dedicated divisions.
Virtual Vehicle makes it easy for Averitt to develop, deploy and manage its mobile devices and applications for its entire fleet. Through the open platform, Averitt can craft their own solution set, and connect their Averitt Drive app to their other platform apps, enabling services like SSO and shared mobile identity, to create a more secure, unified, and efficient experience for all of their drivers. Virtual Vehicle also allows ongoing configurability, a tightly integrated experience, and tier-1 support for the entire solution.
"Creating the best driver experience is our top priority, and Platform Science uniquely allows us to do this," said Tim Saylor, Vice President, Information Services, Averitt. "While it may have been possible to achieve our basic objectives by stitching our app together with a few others, Platform Science is the only solution that doesn't just enable the use of our driver application; it takes our app and the other solutions we leverage to the next level. Virtual Vehicle gives us tremendous flexibility. We can make adjustments to our combined offering, whether that be through simple modifications or wholesale replacement of particular applications, without the need to break up any hard coding, degrade the user experience, or even touch the truck."