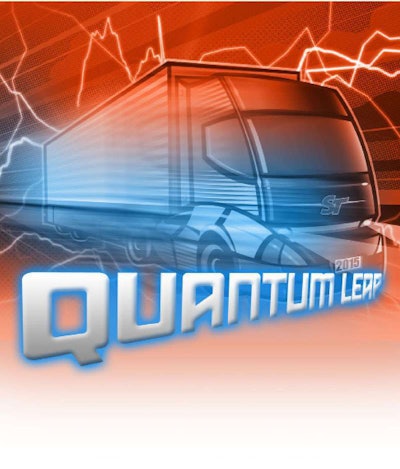 For all of the dramatic technological leaps made in the past couple decades – most notably the increasing power and ever-diminishing size of computers – heavy-duty trucks have remained relatively unaffected. That's not to say there haven't been notable advancements, but there hasn't been a giant step forward in overall vehicle design or performance. In fact, when looking at fuel economy alone, it can be argued that tougher federal emissions rules enacted in stages over the past decade actually have degraded performance.
The U.S. Environmental Protection Agency's graduated emissions regulations presented tremendous technological hurdles that required diesel engine and heavy-duty truck manufacturers to devote huge resources in terms of investment, research and development, engineering and product validation.
In spite of the massive engineering efforts devoted to EPA-compliant engines, vehicle manufacturers didn't neglect their product lines; over the past few years, most OEMs have made significant upgrades to existing models or launched new model trucks. But beyond emissions control, major technological leaps have been limited.
Other factors also have affected resources and funding for a leap forward in trucking technology. "I think that because of the downturn in the industry over the past year or more, no manufacturer can afford to spend the money we'd like to in those technology areas," says Dennis Jadin, manager of advanced vehicle technologies and principle investigator for Navistar's SuperTruck project. "Those three-year emission cycles have really corralled a lot of the technology focus over the past several years for us and other companies in the trucking industry."
That, however, is about to change.
Significant challenges
At a January event at Cummins' home in Columbus, Ind., U.S. Energy Secretary Steven Chu announced funding for the SuperTruck project – essentially the selection of three projects that would receive $115 million in government funding to improve fuel efficiency for heavy-duty trucks and passenger vehicles. The funding includes money from the American Recovery and Reinvestment Act and that with a private cost share of 50 percent will support about $230 million in research, development and demonstration projects across the country.
The program's goal is ambitious, with far-reaching effects. "The national benefits of this program are reduced dependency on foreign oil and also reducing our trade deficit," says Drew Ronneberg, supervisor of engine, fuels and deployment for the Department of Energy's Vehicle Technologies Program. "But the program will also benefit trucking companies because the advances we make in vehicle technologies over the next five years will ultimately reduce their cost of ownership and make their companies more profitable."
The SuperTruck Project hopes to improve tractor-trailer efficiency by 50 percent, which includes a goal of improving engine efficiency by 20 percent – a significant challenge given today's diesel engines are among the most efficient and lowest emissions engines available, says Hannes Moeller, chief engineer of product validation engineering for Daimler Trucks North America.
The National Academy of Sciences has been studying Corporate Average Fuel Economy (CAFE) standards that apply to automobiles and looking for ways to apply them to heavy-duty trucking. "They've spoken to us at Paccar and all the other OEMs, as well as fleets," says Landon Sproull, Peterbilt's chief engineer. "At Peterbilt, we feel this SuperTruck project will really help us support long-term developments that will feed that initiative."
EPA's tighter emissions rules have stymied technological advancements in other areas.
Participating companies will be asked to develop different technologies that will result in a 50 percent increase in fuel economy (in ton miles) at road speeds pulling a 65,000-pound load. A portion of that goal has to come from the engine or powertrain side, although a certain amount of the new technology can come from chassis or body improvements, such as weight reduction or aerodynamics. "DOE wants to make sure that we didn't just throw on some aerodynamic devices and be done with it," says Ed Anesi, vice president of advanced technologies for Navistar. "They are looking for core engine technology changes."
Many of the technologies to be studied in the SuperTruck program are considered a stretch today. "Even if the 50 percent efficiency improvement goal can be achieved, not all of the technologies will ultimately be cost-effective enough for production vehicles," Moeller says. "Part of the SuperTruck program is to develop the technologies in such a way as to hopefully knock down cost barriers and make these technologies more affordable and available in the future."
No one "silver bullet" will attain the 50 percent fuel economy mark, says Jadin, who adds that Navistar is applying multiple technologies to the solution. "Each of those brings a certain percentage or a certain improvement level to the table that we've estimated," he says. "Some might fall to the side of the road as work progresses. And some might prove to be better than we currently think."
Navistar currently has a high complement of technologies that, on paper, add up to fuel economy improvements far above 50 percent, Jadin says. "We understand many of them will not pan out – although ultimately we believe we will hit that 50 percent target."
The five-year plan
Companies receiving funding included Cummins/Peterbilt, Daimler and Navistar. Each OEM submitted proposals to DOE outlining the strategies it felt would allow them to reach the project's stated goals. Each company could request a maximum of $40 million from DOE, which the company would be required to match. Cummins which is working with Peterbilt, received $38.8 million in DOE funding. Navistar received $37.3 million, while Daimler received $39.6 million.
The ultimate goal for each of the three major truck makers receiving federal money is a physical truck that will be delivered to DOE five years from now. Each of the three trucks will undergo a battery of standardized tests to validate the success of the individual solution packages. Until then, the companies must submit monthly, quarterly and yearly reports to DOE to record what progress is being made. "At any time, if we don't live up to the commitments we've made and the expectations DOE has, they could easily stop funding us," Anesi says.
For fleets, the good news is that any advances uncovered as the project proceeds will not be withheld until 2015; new fuel-saving technologies will be rolled out as soon as they become available. Navistar will unveil the first of its SuperTruck innovations next month at the Mid-America Trucking Show in Louisville, Ky.
How they'll get there
Because of the structure of DOE's guidelines, truck manufacturers must evaluate separate technologies. Peterbilt has partnered with Cummins to work on engine technology – which will target powertrain improvements and refined fuel injection and combustion – and find ways to improve a diesel engine's waste heat recovery characteristics. Navistar and Daimler subsidiary Detroit Diesel indicate their diesel engine research will be along similar lines.
Daimler is not commenting on specific areas of technology, but Moeller notes that the company's research will focus on developing "superior" technologies in engine emissions and electrical systems, tractor-trailer aerodynamics, alternative drivetrains and predictive technologies, as well as chassis, cab and tractor components.
Sproull says Peterbilt's additional SuperTruck efforts will target aerodynamics, developing lower rolling-resistance tires through a partnership with Bridgestone/Firestone and leveraging a partnership with Delphi to develop new fuel cell technologies to reduce engine idling times. Peterbilt announced last fall that it was working on fuel cell technology for auxiliary power units.
"We're working hard to commercialize that technology," Sproull says. "Our first-generation fuel cells are complete, and we're taking what we learned as we work on the second generation of this technology. Our next step is to begin developing ways to integrate fuel cells into the tractor-trailer."
Navistar's approach differs in that it will target further hybridization of heavy-duty powertrains to increase fuel economy, while also considering aerodynamics, chassis weight reduction and improved engine combustion and thermal efficiency. "Right now, after an electric launch, the diesel engine typically takes over and powers the vehicle around 15 mph on a Class 5 truck," Jadin notes. "Our goal is to develop larger, more robust hybrid powertrains that can withstand the rigors of Class 8 trucking applications while raising the launching speed where diesel power takes over significantly."
Cummins will focus its efforts on making diesel engines more efficient, primarily through refined combustion techniques and waste heat recovery. "We have been working on many of these approaches for the past six years, so we are not attempting to launch a whole new engine family," says Dr. Vinod Duggal, director of strategic planning and advanced engineering for Cummins. "Instead, we will enhance our current heavy-duty engines with this new technology."
Cummins believes diesel engines, which are currently about 42 percent efficient, can be improved by as much as 15 percent over the next five years. "There are several routes we can take to recapture waste heat energy," says Wayne Eckerle, vice president of corporate research and technology. "Our main challenges will be to decide how best to use that energy on the truck – either as stored power for auxiliary systems or motive power – while keeping overall vehicle weight down and maintaining 2010 emissions levels."
Peterbilt, Navistar and Daimler all will work on enhancing tractor-trailer aerodynamics, which Sproull says potentially can provide up to a 15 percent improvement in aerodynamic qualities, resulting in a 5 percent to 8 percent jump in fuel economy.
Just how big a departure will we see when the SuperTrucks are unveiled in five years? It's far too soon to tell. But the manufacturers are confident DOE's funding will enable technologies that will radically improve fleet operations in the near future.
Stay tuned.