The new safety frontier
Many carriers already are experiencing some big changes that Comprehensive Safety Analysis 2010 will bring to regulatory compliance.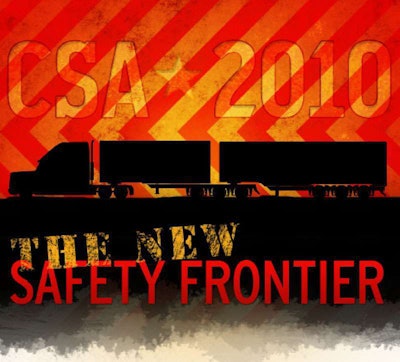 Although the Federal Motor Carrier Safety Administration's Comprehensive Safety Analysis 2010 program isn't scheduled to go live for another four months, thousands of carriers already have experienced much of what the program will have to offer. CSA 2010 is a new model for safety measurement and enforcement that will replace the current SafeStat regime.
FMCSA still must conduct a rulemaking to allow it to make safety fitness determinations based on safety data consisting of crashes, inspections and violation history rather than standard compliance reviews. But for the most part, the essentials of CSA 2010 have been in place since the operational test began in February 2008 in four states – Colorado, Georgia, Missouri and New Jersey. Since then, another five states – Delaware, Kansas, Maryland, Minnesota and Montana – have joined on. About half of the carriers in each state are participating in the test; the other half are in a "control" group so that FMCSA can analyze the new program's impact on safety.
FMCSA plans to have CSA 2010 in place nationwide by the end of 2010, with a national rollout beginning in July. As many carriers already are seeing on a trial basis, CSA 2010 will reshape the compliance regime for the entire trucking industry.
A comprehensive look
CSA 2010 does many things in a different manner than the current SafeStat system. For one, it casts a wider net to include "all violations" in the safety scoring system rather than just out-of-service violations, tickets and crashes. The new Safety Measurement System weighs violations based on recent research concerning the degree to which the violation contributes to the cause or severity of crashes, FMCSA says. The SMS also weighs violations by time so that recent violations count more.
The program also separates driver-related violations into multiple categories to highlight specific deficiencies that might have been masked by lumping all driver-related problems into a single driver Safety Evaluation Area (SEA) score, as was the protocol under SafeStat. Gone will be the accident, driver, vehicle and safety management SEAs, and in their place will be seven Behavior Analysis and Safety Improvement Categories, or BASICs:
• Unsafe driving;
• Fatigued driving (hours-of-service violations);
• Driver fitness;
• Controlled substances/alcohol;
• Vehicle maintenance;
• Cargo-related; and
• Crash indicator.
Under FMCSA's upcoming proposal to change the rules for safety fitness determinations, the existing "satisfactory," "conditional" and "unsatisfactory" ratings would become "continue to operate," "marginal" and "unfit." Perhaps most important, the ratings would be updated monthly for each motor carrier based on a run of all data FMCSA had at its disposal.
CSA 2010 addresses a concern raised by larger carriers that the current system doesn't give enough attention to smaller carriers.
The monthly data runs will identify specific deficiencies in the seven BASICs, giving FMCSA and its partners a clear view of what specific problems carriers are experiencing. Intervention options range from warning letters – which tens of thousands of carriers likely will get once FMCSA "flips the switch" on CSA 2010 – to the comprehensive onsite inspections motor carriers see today. And the tools at FMCSA's disposal for responding to the findings of these interventions range from cooperative safety plans to out-of-service orders. (For a full explanation of how the system works, download a summary chart at www.ccjdigital.com/csa-2010.)
As of now, FMCSA plans CSA 2010 interventions only with carriers and not individual drivers, although the agency declines to foreclose on that possibility. In any event, the actions of individual drivers are what determine performance in most BASICs, so CSA 2010 will force carriers to be more proactive in their management of drivers and perhaps their selection of drivers in the first place.
FMCSA says a major goal of CSA 2010 is to get carriers to change their safety and compliance cultures from the ground up – to ensure they have the policies, procedures, personnel, training and communications needed to get the job done. In essence, by engaging motor carriers early and often when an emerging problem is detected, FMCSA plans to use carriers' own personnel to police problems that the agency and its enforcement partners only were able to address in limited cases when those problems became too severe to ignore.
Staging an intervention
In addition to helping FMCSA allocate resources better, CSA 2010's escalating interventions address a longstanding concern raised by larger carriers that the current system doesn't give enough attention to smaller carriers. FMCSA and its state partners simply don't have the resources to conduct full-blown safety audits on more than just a few percent of carriers holding operating authority.
"For the last several years, many of us have complained that the compliance reviews were biased toward the larger carriers," says Don Lacy, director of safety for Springfield, Mo.-based Prime Inc. "They didn't pick on the little guys. They've recognized the need to look at new entrants but have had limited manpower, so they devised this system."
The plan is to use the escalating menu of interventions to replace the current all-or-none compliance review.
"We have seen all levels of the new interventions," says Patti Olsgard, director of safety, training and accounting for the Colorado Motor Carriers Association. The interventions run from early warning letters, giving carriers an opportunity to fix problems on their own; to offsite investigations where improvement plans are worked out between the carrier and FMCSA working online and over the phone; to more traditional compliance reviews. "We've had carriers whose numbers have improved just as a result of the change in the system," Olsgard says. But she also has seen carriers look worse because of the way the new system works.
Indeed, the change in methodology and the intervention process has resulted in many carriers receiving their first contact from auditors in years. Before 2009, Eagan, Minn.-based Dart Transit's last onsite compliance review was in 1998. Under SafeStat, "I was just fine," says Gary Volkman, Dart's vice president of safety. Last May, Minnesota joined the original operational model test states, and Volkman promptly was notified of three different deficiencies in Dart's CSA 2010 safety ratings. FMCSA scheduled the company for a full onsite compliance review.
"CSA 2010 comes along, and suddenly I'm a bad motor carrier," Volkman says. "How does that work? They had identical data, but in a new system with new rules, you're bad. They came in here and did a complete compliance review – they spent a lot of time with me for three full weeks."
Atlanta-based Kennesaw Transportation experienced a more targeted intervention under the pilot program. "We were one of the first to go through it," says Mike Clay, safety director for the largely refrigerated trucking company. "What put me on their radar was my driver number." Kennesaw's driver SEA score in SafeStat was in the low 50s – well below the threshold for scrutiny. But under the new regime, FMCSA had focused on a pattern of speeding violations and called Clay about it, giving him a few days to come up with a plan for action.
St. Louis-based Hogan Transports had a similar experience. "When you look at our SEA score, we're well below the deficient mark" in both driver and accident SEAs, says Thomas Lansing, vice president of safety and driver services. But as a carrier in the CSA 2010 model test, Lansing found that Hogan was deficient under both the unsafe driving and the crash indicator BASICs. "It's hard to grasp how you can be a great company in the eyes of FMCSA and then automatically be deficient when viewed another way."
But grasp it Hogan did. After receiving warning letters, Hogan was targeted in June 2009 for an onsite focused investigation, one new option in FMCSA's intervention toolkit. Rather than look into every safety aspect of the carrier's operation, the onsite investigation delved exclusively into issues where stats indicated deficiencies. The carrier already had taken some action to address particular issues in the unsafe driving BASIC. "Ninety-nine percent of our problems in unsafe driving were speeding citations," Lansing says. "And our trucks are governed at 63 mph. The speeding citations we're getting are in areas where the speed limit drops down to 55 or 60."
Lansing noticed that its unsafe driving numbers were being impacted by a large number of warnings, not just speeding tickets. So Hogan Transports changed its company policy to address both warnings and tickets. "Our policy is no more than two warnings or tickets in a 12-month period or three in a 36-month period. Basically, we give [drivers] a warning letter for the first, a suspension on the second, and we terminate them on the third."
Kennesaw Transportation faced the same problem. When Georgia's CSA 2010 pilot took effect in 2008, Kennesaw's trucks all were governed at 71 mph. So the company dropped that to 67 mph and instituted a more stringent policy on warnings, tickets and roadside violations that included written disciplinary action, a further reduction in governed speed or termination, depending on MVR history.
"I wasn't one of the more-liked individuals around here for a while," Clay says. But the company already had been pushing to improve safety scores, so many Kennesaw drivers took the change in stride. The company tries to keep drivers focused on the new emphasis through repeated communications and messages. "We got [drivers] to buy into what ultimately we're all dealing with now," Clay says. "We all understood that for the benefit of the entire company, we had to reduce these things and get involved in them directly."
Following an intervention conducted entirely offsite, FMCSA gave Kennesaw a year to remedy its deficiency in the unsafe driving BASIC without penalty. "We eventually dropped 12 points from the moving violation indicator, which satisfied the state of Georgia and the federal government," Clay says. Meanwhile, Kennesaw's accident SEA – still tracked for carriers involved in the CSA 2010 test – dropped from the 80s and 90s down to the 50s. "It's saved us a lot of money – our insurance company loves us."
Hogan still has months left in its one-year period, after which FMCSA has warned of a full-fledged audit if they don't turn things around. Drivers are listening, Lansing says. "And they're understanding, but we're not changing our behavior yet." Hogan's unsafe driving scores actually crept up slightly. "All the emphasis, all the talking, and it's not coming down – we haven't been able to get drivers to make a quick impact." Hogan is looking at tightening its policies further on warnings in order to get attention.
Ongoing concerns
Some carriers and driver advocates object to the way the methodology assigns responsibility for some deficiencies – especially vehicle maintenance. Drivers might not perform their required pre-trip inspections every time, but even if they did, they wouldn't necessarily catch everything. "Not all 'alleged violations' contained in an inspection report can be blamed on the driver," says Norita Taylor, a spokeswoman for the Owner-Operator Independent Drivers Association. "There is no requirement for drivers to perform a Level I inspection on their truck prior to operation, and that is the only kind of detailed inspection that is going to uncover maybe half of all violations noted. This is a big deal for company drivers who don't own the equipment."
Similarly, Dart's Volkman is concerned about the inclusion of violations such as speeding warnings, for which no due process of law is available for contesting an officer's determination. "Forty percent of the traffic violations we get are just warnings," he says. "The warning has no due process. If the driver goes to court over a warning, the judge says, 'What are you here for? It's a warning.'"
The change in methodology and the intervention process has resulted in many carriers receiving their first contact from auditors in years.
Volkman notes a similar predicament for not-at-fault crashes. Suppose a truck driver is rear-ended at a stoplight by a drunk driver carrying a carload of people. Today, it's a recordable accident, and the carrier is cited for all injuries or fatalities in the crash. "I can't prevent somebody from running into the end of my trailer when I'm stopped at a stoplight," Volkman says. FMCSA has pledged to find a solution to the issue of nonpreventable crashes, but it has been a vexing challenge in the past.
Fortunately, last year's full compliance review with three weeks of onsite time-consuming work resulted in a clean bill of health for Dart, Volkman says. "FMCSA walked out of here and gave us a satisfactory rating – no fines, no penalties, no nothing."
Hogan's Lansing might be a bit frustrated by how his company can be A-OK under SafeStat but not under CSA 2010, but he does appreciate what FMCSA is trying to do. "I think this is a correct way of doing things," he says. "They're looking at the behavior rather than the outcome. That's the way we approach safety every day, and now the government is looking at it the same way." n
Not hiring your problems
A new screening tool could tighten driver standards
Although Comprehensive Safety Analysis 2010 on its own represents a major change in direction for enforcing federal motor carrier safety regulations, a new information tool might prove to be just as revolutionary. The pre-employment screening program – expected to be implemented this spring – aims to close one of the biggest holes in the driver recruiting process. Today, a trucking company has no reliable way of assessing a prospective driver's inspection history, including hours-of-service compliance. And yet, often it is a driver's record of log violations that proves so troublesome.
Nearly five years ago, Congress ordered the Federal Motor Carrier Safety Administration to provide inspection data to employers. Several years ago, the agency developed the Driver Information Resource, an internal enforcement tool that allows the tracking of individual drivers' records. In October 2009, the Department of Transportation announced that it planned to launch the driver pre-employment screening program in December. Concerns over data management and privacy protection apparently have delayed implementation, but FMCSA still is planning to release the screening tool this spring.
For a small fee, carriers will be able to obtain driver performance data that resides in FMCSA's Motor Carrier Management Information System, including roadside inspection and compliance review results, enforcement data, state-reported crashes and motor carrier census data. In accordance with federal privacy laws, drivers first must give written consent in order for their records to be released.
"This will replace the Motor Vehicle Record" as the standard for background information in hiring drivers, says Thomas Lansing, vice president of safety and driver services for St. Louis-based Hogan Transports. "Companies in the past looked at what drivers to hire on the basis of what tickets they had. They'll look at this now. Now it's not only the tickets, but the warnings, the marks on inspection reports."
Don Osterberg, senior vice president of safety for Green Bay, Wis.-based Schneider National, believes the combination of the driver portion of CSA 2010 with the screening tool will be good for carriers and drivers. "We'll be able to make a determination of safety and hire the drivers who are predisposed to be safe," Osterberg says. "I would argue that today, because there is no driver rating, there has been safe haven in our industry for bad drivers" that ultimately reduces opportunity for the good.
For more information on the program, contact FMCSA at https://www.psp.fmcsa@dot.gov/.
Intervention
Early Contact
• Warning Letter
• Carrier Access to Safety Data and Measurement
• Targeted Roadside Inspection
Investigation
• Offsite Investigation
• Onsite Investigation – Focused
• Onsite Investigation – Comprehensive
Follow-on
• Cooperative Safety Plan
• Notice of Violation
• Notice of Claim
• Operations Out-of-Service Order
A tighter-run industry?
CSA 2010 and other initiatives could limit driver pool
By itself, Comprehensive Safety Analysis 2010 represents a huge shift in safety oversight, but the implications are even greater when you take into account the broader context of ever-tightening reins on trucking operations. Tom Kretsinger Jr., president of Liberty, Mo.-based American Central Transport, sees a combination of numerous initiatives and policies by the Federal Motor Carrier Safety Administration as forcing big changes in carrier operations and the availability of drivers. ACT has been a CSA 2010 test carrier for a couple of years.
In addition to the added scrutiny afforded by CSA 2010's monthly data reviews and the menu of interventions that will enable more frequent contact with FMCSA, Kretsinger argues that carriers face a string of recent and upcoming regulations and policies that will force them to be more selective in their hiring and retention of drivers, potentially creating big shortages in the future.
For example, FMCSA's recent policy of treating satellite location data as a supporting document imposes greater accountability for hours-of-service compliance, Kretsinger says. On top of that, the agency plans to impose a more formal electronic onboard recorder mandate. In addition, FMCSA's new pre-employment screening program will, for the first time, give employers solid information on drivers' inspection history, including log violations, Kretsinger notes. (For more on the program, see "Not hiring your problems," page 71.)
Other initiatives that could work to dampen the supply of qualified drivers include upcoming regulations to tighten driver medical standards and a proposal before Congress to create a clearinghouse for drug and alcohol testing results, he says. And tighter hours-of-service regulations expected next year will challenge productivity and increase the demand for drivers, Kretsinger argues.
Many see the tightening driver standards that CSA 2010 will help encourage as a good thing for the trucking industry. "CSA 2010 will take capacity off the road," says Robert Low, president of Springfield, Mo.-based Prime Inc. "With the HOS and electronic logs, we will see truck rates start to go up." And by electronic logs, Low doesn't mean just FMCSA's future rulemaking on electronic onboard recorders. He sees FMCSA's decision to use tracking data for log verification as a "de facto mandate" for electronic logs.