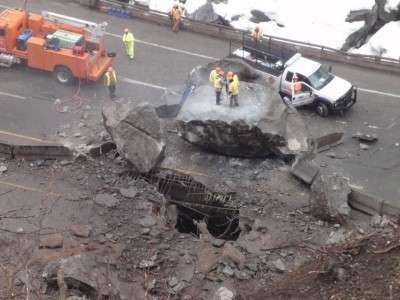 The Colorado Department of Transportation announced Tuesday, March 9, that it has made progress on work to reopen Interstate 70 following a major rockslide in Glenwood Canyon at mile marker 125, just west of the Hanging Lake Tunnel.
I-70 was closed in both directions between Glenwood Springs (mm 116) and at Dotsero (mm 133), but CDOT anticipates one lane of eastbound and westbound I-70 will reopen by late Thursday, March 11. Meanwhile, motorists can take U.S. 40 to State Route 13 as an alternate route, but U.S. 50 to the south remains closed over Monarch Pass due to adverse conditions.
CDOT says its crews are working fast and making every effort to get traffic safely flowing through the canyon again, but that its geologists have determined that the rock above the highway is too unstable to remain in place. Rock scaling crews on Tuesday, March 9, worked to determine how best to pry it loose and gain a better understanding of its stability.