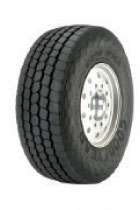 New Goodyear tires
Goodyear's G296 WHA super-single waste haul steer tire joins the company's drive/steer G289 WHA and is available in size 425/65R22.5 in load range L at 11,400-pound capacity. The G296 WHA features many of the attributes of the G289 WHA when it comes to toughness and long miles to removal, and both are available with DuraSeal Technology designed to seal up to ¼-inch-diameter punctures in the repairable area of the tread. Featuring a deep 23⁄32-inch tread depth, the G296 WHA has four wide circumferential grooves to help promote enhanced traction and even wear. Special compounding helps the tire resist chunking and chipping, while sidewall scuff protectors, like those found on the G289 WHA, help ward off constant scrubbing and curbing. Further aiding tire longevity is a four-belt package for added toughness.
The company's G296 MSA super-single mixed-service tire features an optimized footprint for enhanced traction in steer and drive positions, has up to 23 percent more wearable rubber on the tread for enhanced mileage, and helps reduce cuts, chipping and tears through special compounding. Developed for heavy on- and off-road applications – such as mixers, dump trucks, pumpers and other specialty heavy trucks – the G296 MSA is available in three sizes: 385/65R22.5 (load range J), 425/65R22.5 (load range L) and 445/65R22.5 (load range L). The tires offer 23⁄32-inch tread depth, which is up to 4⁄32-inch more tread depth than the company's previous super-single mixed-service models while actually being up to 7 percent lighter in weight. An all-steel four-belt package offers added toughness and performance. The tire is available with Goodyear's DuraSeal Technology in size 425/65R22.5.
Goodyear
Visit www.ccjdigital.com/info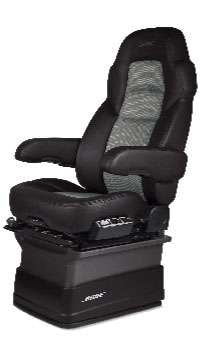 Truck seat
Bose Corp.'s Bose Ride system replaces a conventional air-ride truck seat with a suspension base and an integrated custom-designed seat top to help protect against road-induced shocks and vibration and reduce exposure to whole-body vibration. The system is designed to remove most road disturbances by sensing, analyzing and counteracting the forces from the road by using several proprietary technologies and components, including:
• A high-power linear electromagnetic actuator capable of counteracting the forces caused by road disturbances;
• A regenerative amplifier powerful enough to energize the actuator to position a driver precisely, yet draws less average power than a 50-watt light bulb; and
• Sensors and proprietary Bose control algorithms working together to counteract road disturbances before they reach the driver.
The Bose Ride system is compatible with most makes and models of U.S.-manufactured heavy-duty trucks and can be installed by a trained mechanic in less than two hours by using the existing seat bolts, air line and a 12V power line that connects to the truck's battery.
Bose Corp.
Visit www.ccjdigital.com/info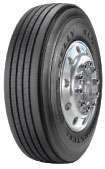 Kelly steer tire
Kelly Tires' Armorsteel KLS steer tire is designed to offer uniform wear and long miles to removal and is available in sizes 11R22.5, 11R24.5, 295/75R22.5 and 285/75R24.5. The KLS features an 18⁄32-inch tread depth in a five-rib design with a barrel-shaped footprint to optimize treadwear performance. Lateral sipes and slots on the three main ribs help provide added traction and handling. All five ribs feature edge blades to help enhance treadwear performance, and a pressure distribution groove on the outer edge of the shoulder rib helps promote uniform wear and long life. A four-belt package adds to the tire's retreadability.
Kelly Tires
Visit www.ccjdigital.com/info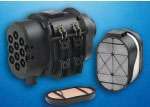 Air cleaner assembly
Donaldson's PowerCore PSD08 Air Cleaner Side Access expands the PSD family of air cleaners that includes side-access and end-access models in a range of sizes. The PSD08 offers two-stage filtration in a single compact unit using the company's proprietary PowerCore Filtration Technology. The nonmetal air cleaner (except for cover clamps) is suited for medium- and heavy-duty equipment operating in medium- to heavy-dust environments with engine airflow ranges up to 245 cfm and a sustained temperature tolerance of -40 to 180 degrees Fahrenheit. The obround housing shape allows for a narrow or wide mounting orientation.
Donaldson Co.
Visit www.ccjdigital.com/info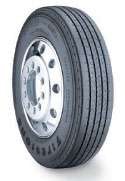 BBTS tread, trailer tire
Bridgestone Bandag Tire Solutions designed the Bandag-brand BDR-HT3 tread for less-than-truckload fleet customers operating single-axle tractors. Used in the drive axle position, the BDR-HT3 incorporates a tread compound and tread pattern that resists tears and tread chunking while delivering additional mileage. The BDR-HT3's bow tie-shaped tread block distributes torque forces evenly for reduced block stress, while the wider, buttressed shape design strengthens the block, helping it stand up to heavy torque and braking. Tie bars link tread blocks to neighboring blocks, reducing the effects of tearing and cracking. An interlocking tread design and slightly angled block edges combat heel and toe wear. The BDR-HT3 has an aggressive true open shoulder and a 28⁄32-inch tread design for added traction and long wear.
BBTS' Firestone-brand FT455 Plus trailer tire is built for fuel efficiency without sacrificing removal mileage, and is approved for use on U.S. Environmental Protection Agency SmartWay-certified equipment and suited for fleets running California Air Resources Board-compliant vehicles. The FT455 Plus – which will be available initially in size 295/75R22.5 (load range G) – is designed for free-rolling positions, including trailer axles, tag axles and converter dollies. The radial's cap, base and sidewall compounding provides added low rolling resistance and promotes long, even wear with its five-rib design and shallow 12⁄32-inch original tread depth. For added durability, solid shoulder ribs combat tearing and chunking damage that can occur from curbing. Straight flow-through tread grooves and extensive rib siping evacuate water for solid wet traction, and the casing – with four full-steel belts and an all-steel ply – can be retreaded for either trailer or drive axle service.
Bridgestone Bandag Tire Solutions
Visit www.ccjdigital.com/info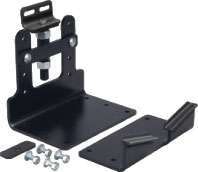 Differential mounting adapter
OTC Tools' Differential Mounting Adapter (553516) is designed to facilitate the removal and installation of differentials in heavy-duty trucks. Compatible with the company's 5019A Low Lift Transmission Jack, 5078 High Lift Transmission Jack and 1522A Stinger Transmission Jack, the adapter mounts using existing bolt patterns and fits most common differentials on Class 7 and 8 trucks. The adapter, with a rated capacity of 1,000 pounds, enables a technician to use an existing piece of equipment in the shop in a new way and negates the need to purchase a dedicated lift for differentials. When mated with the 5019A 2,000-pound-capacity transmission jack, which has a low lifting height of 8¼ inches, the adapter provides technicians with a stable platform that can reach into confined spaces beneath a vehicle. The adapter features a convenient, secure mounting point for the yoke and can be adjusted to fit a wide possible range of differentials.
OTC Tools
Visit www.ccjdigital.com/info
Stainless-steel air cleaner for Peterbilt trucks
Peterbilt has developed a stainless-steel cowl-mounted air cleaner and cap that provides improved performance and style with increased durability and serviceability. The cleaner was developed in conjunction with Donaldson and is available on Models 389, 388 and 367 in both 13- and 15-inch diameters for single or dual side installations. The proprietary air filter developed by Paccar uses nanotechnology to aid in trapping submicron contaminants, extending maintenance intervals and prolonging engine life. Additionally, a new air filter seal helps reduce contamination and facilitate easier inspection and servicing.
Peterbilt Motors Co.
Visit www.ccjdigital.com/info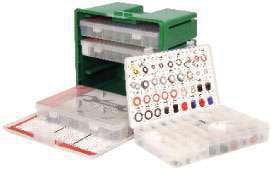 Air conditioning service parts kit
Four Seasons' portable Heavy Duty & Off Road Air Conditioning Service Parts Organizer (Part No. 24815) contains 127 different part numbers, including green HNBR O-Rings, sealing washers, orifice tubes and service caps. All pieces in the kit are labeled and organized.
Four Seasons
Visit www.ccjdigital.com/info
Heavy-duty starter
The Delco Remy 44MT heavy-duty starter – scheduled to be available in the fourth quarter of 2010 – provides high power density and patented technologies to ease installation, increase reliability and provide a long lifecycle. The robust, durable starter, which creates 8.5 kW at 12V, has an Internal Magnetic Switch Solenoid (IMSS), a one-wire design integrated inside the solenoid; its input current is capable of ECM control, and its internal location enables it to withstand engine temperatures up to 248 degrees Fahrenheit. Additionally, problems caused by corrosion from engine environment issues and vibrations are eliminated.
Remy's proprietary Clutch Over Planetary Gear Drive System (COPG) design has a more robust clutch shell and ring gear to withstand more torque and to improve soft start engagements by slowly rotating the pinion until it is engaged properly to the ring gear before cranking, reducing engagement milling and teeth abutments, resulting in improved reliability and extended ring gear life.
Remy's Integrated Over Crank Protection (OCP) is a self-contained one-wire design with no additional connections required, eliminating the need for a vehicle wiring harness. OCP is a built-in circuit breaker that protects the starter from thermal damage and resets automatically at safe operating temperatures.
Installation is simplified due to the self-contained design that eliminates exposed wiring and the need for additional mounting brackets; also, removing traditional connection points helps reduce corrosion.
Delco Remy
Visit www.ccjdigital.com/info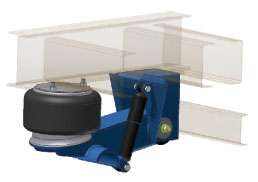 Suspension line
Ridewell says the design of its two RAR-260 30K trailer air-ride suspensions is comparable to its existing RAR-240 30K overslungs and has been validated by fatigue testing. The existing U-bolt kit 6040058 is compatible with these suspensions: Part No. 2600915, 15- to 16-inch mounting height, weld-on; and Part No. 2600917, 17- to 18-inch mounting height, weld-on.
Ridewell
Visit www.ccjdigital.com/info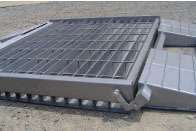 Mobile, portable wheel wash system
The Tracinator from Innovative Equipment Solutions is a mobile, portable wheel wash system for the control of vehicle trackout from mobile or shorter-term construction, crushing, concrete, asphalt, C&D, recycling and waste management projects where a more complete, heavy-duty or permanent system is not desired or is not budgeted. The Tracinator is designed to automatically control vehicle debris trackout from the site, preventing contamination of streets and roads. The unit also is suited for the rental market.
Innovative Euipment Solutions
Visit www.ccjdigital.com/info
Anti-siphon device
Diesel Keeper's ASD (Anti-Siphon Device) helps Class 7 and 8 truck operators and fleets prevent fuel theft. The ASD is made from sturdy 304 stainless steel, with a proprietary design that helps secure the topmost layer of fuel in the tank. The ASD range of aftermarket products is designed to fit major OEM fuel tank applications, including Peterbilt, Freightliner, International, Kenworth, Volvo and Mack, as well as Carrier and Thermo King reefers. The drill-resistant product is designed for easy installation and to be permanently nonremovable, and comes with a dip-stick slot for U.S. Department of Transportation fuel inspections or for manual fuel-level inspections.
Diesel Keeper
Visit www.ccjdigital.co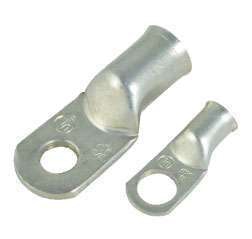 Tin-plated copper lug
Del City's tin-plated copper lugs are suited for large gauge connections that may be in hazardous areas or places that need added corrosion protection. The lug – typically used in power-draw and ground-wire applications – can be terminated either with a simple crimp or solder bond, and features flared ends to simplify cable insertion. The tin-plated lugs – available in 3⁄8-inch stud size and an array of sizes – are UL/CUL listed and rated for up to 600V.
Del City
Visit www.ccjdigital.com/info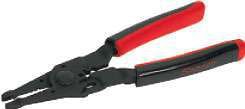 Soft-grip wire stripper
Snap-on's Soft Grip Wire Stripper (PWCS9) is a cold-forged multipurpose tool with a blend of alloy steel to provide added strength and durability. A proprietary enclosed spring helps keep the wire stripper open and ready to use, while also helping to protect the tool from exposed dirt and grit that can cause malfunction. With its induction-hardened surface, the wire stripper is built to strip stranded wire from AWG20 to AWG10 and solid wire from 18 up to eight. The tool, which crimps insulated and noninsulated terminals, also has a set of shears, 6-32 and 8-32 bolt cutters, a pair of wire looping holes and a bimold soft grip handle to help reduce hand fatigue. The lock button is designed to be low-profile and is located out of the way.
Snap-on
Visit www.ccjdigital.com/info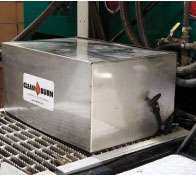 Transport heater
Clean Burn's 45 TH Transport Heater is designed to create a constant temperature environment for temperature-sensitive liquids. The unit has an output temperature available from 100 to 160 degrees Fahrenheit, and the output of hot water can be adjusted to meet the specific needs of the cargo. The programmable thermostat has a "sleep" mode and is positioned behind the cab in a stainless-steel box. The 92.5-pound unit has a heat output of 45,000 BTU/hour and consumes less than a half gallon of diesel fuel an hour, with a range of permissible ambient temperature operation from -40 to 140 degrees Fahrenheit.
Clean Burn
Visit www.ccjdigital.com/info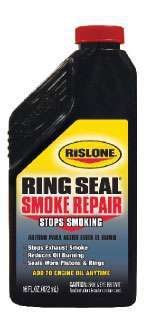 Exhaust smoke repair
Rislone's Ring Seal Smoke Repair is formulated to stop exhaust smoke, reduce oil burning and prevent plug fouling caused by blow-by, which usually is caused by gaps in internal engine parts resulting from excessive wear. Ring Seal Smoke Repair contains viscosity improvers formulated to thicken the oil film between these parts to fill the gaps, and it also contains high-shear polymers to help provide a seal for worn pistons and rings to stop blow-by. The product, which also is made to cushion and coat engine parts to quiet noisy lifters and reduce wear, retains oil flow characteristics in both hot and cold weather, and can be added to engine oil at any time; it works with conventional, high-mileage and synthetic engine oil. A single bottle added at every oil change or every 2,000 miles treats four to six quarts of oil. The product also is available in case packs of six 16-ounce bottles.
Rislone
Visit www.ccjdigital.com/info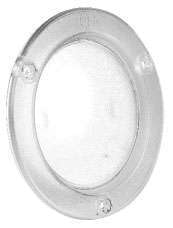 Hook-up lamp
Grote Industries' SuperNova LED Hook-Up Lamp features an advanced optical design that focuses the company's LED WhiteLight in areas not commonly well-lit by hook-up lamps, such as utility trucks, fifth wheels, forklifts and offroad vehicles, to name a few. The lamp's optical prescription is designed to create a controlled 250-lumen beam pattern that focuses brighter, more usable LED WhiteLight across the entire work area. The lamp emits brilliant LED WhiteLight designed to closely approximate the characteristics of sunlight and provide optimum contrast for working conditions. The 12V (.6-amp) lamp is rated for 50,000 hours of service, emits less heat than incandescent lamps and draws lower amperage than incandescent offerings, reducing the load on a vehicle's electrical system. The lamp comes in two versions; one offers the optimized hook-up beam pattern, and the other a wide flood pattern that also lights the periphery of the workspace.
Grote Industries
Visit www.ccjdigital.com/info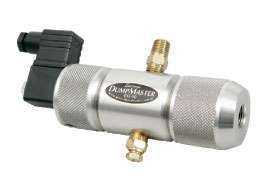 Drain valve
General Pneumatics' EXT-50 DumpMaster drain valve, designed to electronically exhaust moisture and contamination every six minutes, is built with a large exhaust port to help eject larger volumes while resisting clogging. The proprietary drain valve is suited for use on vehicles equipped with air dryers; when mounted to the wet tank, it electronically exhausts water and contamination that can bypass the dessicant filter. The DumpMaster can be disassembled manually while still installed to simplify maintenance.
General Pneumatics
Visit www.ccjdigital.com/info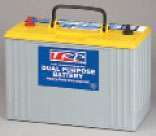 Dual-purpose batteries
TRP Aftermarket Parts has introduced a full line of batteries for truck, marine, school bus, transit bus and other commercial applications. The batteries are offered in standard lead-acid designs, as well as newer Absorbed Glass Mat technology, and provide up to 1,150 cold cranking amps for reliable performance under adverse weather conditions, or as low as 650 CCAs for warmer climates where longevity is needed more than cranking power. TRP dual-purpose batteries have heavy, thick plates to facilitate more frequent discharge and recharge; fiberglass strands are imbedded into the plate surfaces to help lock active material to the plates, preventing shorts between the plates and allowing trucks with sleepers to run refrigerators and other appliances off battery power for longer periods of time. TRP AGM batteries have no free acid inside; it's absorbed by the separator material between the lead plates, helping to protect them from the damaging effects of vibration while providing more cycles. The AGM batteries also feature a greater repetitive reserve capacity, which allows the battery to be completely drained and fully recharged more times than traditional batteries, the company says.
TRP Aftermarket Parts
Visit www.ccjdigital.com/info
Aftermarket nosebox
Phillips Industries' I-Box is now available for aftermarket retrofit. The nosebox is designed with more working room inside the box to help alleviate pinching and pullout of wires for supplemental systems such as trailer-tracking and weigh systems. The I-Box can house Phillips' Permalogic Controller and has enough room for flash memory to store trailer schematics, bills of material and other important documents, keeping them dry. Other features include:
• A removable lid with a weatherproof gasket that helps protect the interior against corrosion and extreme weather;
• Interior circuit breakers that can be changed quickly; and
• The company's 7-way QCS2 Quick Connect Socket, designed to allow for easy replacement.
Phillips Industries
Visit www.ccjdigital.com/info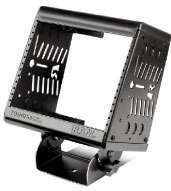 Radio rack
Ram Mounts' Tough-Box Vertical Radio Racks are compatible with the company's full line of console products and can be bolted down to the center hump or work surface. Installation uses a sturdy pivot point and common hole patterns. The lightweight racks, made from high-strength composite steel and aluminum, incorporate molded parts to facilitate tight seams and help eliminate sharp corners or edges.
Ram Mounts
Visit www.ccjdigital.com/info
Lift for lean, green applications
Wildeck's V-Lift material handling vertical reciprocating conveyor lift targets lean manufacturing applications and green facility designs. The single-cylinder lift's hydraulic system features large 2½-inch dual pistons designed to deliver a smooth, positive lifting motion.
Wildeck
Visit www.ccjdigital.com/info

Quick-release ratchets
Stanley Proto has added four Quick Release Ratchets to its lineup – in ¼-, 3⁄8- and ½-inch drive sizes – and all include a low-profile quick-release button on the backtop of the ratchet head. They are designed to hold sockets securely while in use, making it possible for users to change sockets with one hand. The low-profile ratchets also are designed to make it easy to install or remove fasteners in hard-to-reach work areas. Each ratchet has a small pear-shaped head to help it slip into tight spots, as well as a 45-tooth internal gear design that provides an 8-degree ratcheting arc. Each ratchet also has a low-profile reversing lever to facilitate quick one-handed direction changes. To help increase tool life and reduce downtime, the ratchets have a proprietary sealed head design to stop dust and other fine debris from infiltrating the ratchet mechanism, while preventing lubricants from leaking out. The ratchets also have been engineered for added comfort and safety; their contoured, ergonomically designed handles have knurled bands that help increase slip resistance and allow for a strong grip. The handles are made from full-polished double-nickel chrome-plated steel.
The Quick Release Ratchets are manufactured to ASME B107.10 specifications and are designed to be field-repairable; users can access the internal components by removing the snap ring located on the bottom side of the ratchet. The company also offers three repair kits.
Stanley Proto
Visit www.ccjdigital.com/info