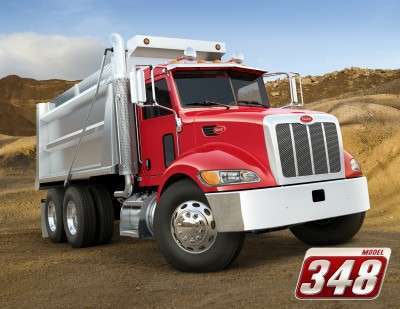 Peterbilt Motors Co. on Tuesday, March 9, launched All-Wheel Drive (AWD) for its Models 337 and 348 to provide vocational customers off-road versatility and maneuverability. The announcement was made at the National Truck Equipment Association's Work Truck Show in St. Louis.
"Peterbilt's new Models 337 and 348 are the answer for customers who demand Peterbilt quality and reliability paired with off-road versatility," says Bill Jackson, Peterbilt general manager and Paccar vice president. "Peterbilt's all-new AWD models can easily handle the rigors of off-road jobs and can be built to meet a wide range of applications and job-specific options."
The Model 337 AWD is available with the Paccar PX-6 engine with a horsepower rating of up to 325 hp and up to 750 lb.-ft. of torque, and a choice of Fuller manual or Allison automatic transmissions. The Model 337 AWD has a GVW starting at 29,000 pounds with a strong steel frame and multiple available axle ratings to support off-road confidence and enable an easy transition to urban streets.
The Model 348 AWD has a 108-inch BBC, is available with 12,000- to 16,000-pound front-axle ratings and is equipped with the Paccar PX-6 engine (325 hp) offering the highest horsepower-to-weight ratio in the industry, Peterbilt says. The Model 348 AWD has optional capacity ratings to suit almost any vocation.
Both AWD vehicles are constructed of a strong all-aluminum cab that is lightweight for maximum fuel efficiency and corrosion-resistant for durability. Peterbilt engineers also have added significant visibility improvements into the Models 337 and 348; an overall increase of 17 percent side-window visibility and improved forward visibility provides an advantage for drivers operating in challenging off-road environments.
The all-new ergonomically designed driver display package features a gauge package that is easy to read and simple to understand, and includes key vehicle performance data located at the top of the dash for optimal viewing. A new HVAC system not only improves airflow but also reduces maintenance costs. Power windows, mirrors and lock switches are located in the new door pad design, and dual cup holders provide added convenience.
Additionally, these vehicles are compatible with Paccar Winch products, including the Braden PD18 composite bumper package. The Braden PD18 is housed in a lightweight corrosion-resistant shell designed to complement the body style of the vehicle and provide optimal performance in all environments. Standard features, according to Peterbilt, include a low-speed high-torque hydraulic motor to ensure smooth operation, hydraulic brake valve for outstanding load control and a built-in full-size toolbox for convenient storage, all of which provide superior functionality, reliability and style. The composite bumper and other Paccar Winch products are available through the Peterbilt dealer network.