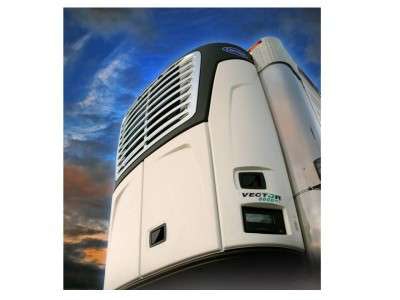 On March 24, Carrier Transicold unveiled the Vector 6600MT, a new hybrid trailer refrigeration unit featuring next-generation technologies. The Vector 6600MT unit provides high refrigeration capacity and delivers up to 20 percent greater fuel-efficiency than its predecessor.
Along with the company's Vector 6500 unit, the new Vector 6600MT takes advantage of Carrier's exclusive Deltek diesel-electric technology for high operating efficiencies, reduced maintenance requirements versus conventional belt-drive systems, and an electric standby option for stationary units. In addition, technological enhancements to system components and operating software and a more efficient system design enable higher performance and greater efficiencies than possible with Carrier's first-generation hybrid systems.
"These two next-generation units [improve] on Carrier's proprietary Deltek technology with enhancements that result in a no-compromise hybrid solution for virtually any trailer application," said David Kiefer, director of marketing and product management for Carrier Transicold. Kiefer adds that Carrier hybrid technology now offers capacities that are comparable to, or exceed, the company's conventional refrigeration units for single-temperature long hauls or multitemperature distribution for the grocery and food service industries.
The Vector units deliver 59,000 Btu/hour of cooling capacity at 100 degrees Fahrenheit ambient and a set-point of 35 degrees Fahrenheit. For the Vector 6600MT, that's 9 percent more than Carrier's original multitemperature hybrid and conventional multitemperature unit at the same conditions. Capacity is as much as 15 percent greater than the conventional unit at a set-point of -20 degrees Fahrenheit.
Carrier Transicold says its 6600MT is suited for customers committed to green strategies, reducing fuel consumption and lowering emissions. With the refrigeration system's all-electric architecture, Vector units deliver about the same performance on electric standby as they do in diesel operation.
"By taking advantage of AC power, fuel is conserved, emissions are eliminated, noise is reduced and operating savings of 40 to 70 percent can be realized," Kiefer said.
The new Vector units share the same body design as Carrier's X2 series units and incorporate impact-resistant DuraShell 2 body panels that open all the way to the top for easy access to interior components during service.
The new-generation Vector units take advantage of additional technologies, including:
· Tru-Demand Digital Energy Management Device Operating Logic – Enhancements to the operating software allow for optimal performance of system components to improve capacity and energy efficiency while reducing fuel consumption;
· Novation Heat Exchanger – Introduced along with these new-generation hybrids is Carrier's exclusive heat exchanger design. Defined by parallel-flow micro-channels and all-aluminum alloy construction, the Novation condenser coil is more efficient, stronger, more damage-resistant and proportionately lighter than traditional copper-tube and aluminum-fin coils;
· Component Efficiencies – More efficient electric motors, a single evaporator fan and an exclusive condenser fan design with vortex suppression blades provide greater efficiency and less noise;
· Tier 4i Engine – The clean-burning 2.2-liter direct-injection engine surpasses requirements of the U.S. Environmental Protection Agency's Tier 4-interim standard (Tier 4i) and has up to 2 percent better fuel efficiency than engines used on earlier Carrier trailer units; and
· EcoDriven Features – Independent electric-resistance heating provides precise control when heat is required and also results in a simplified cooling circuit.
In other company news, W&B Service Co. of Dallas, was named 2009 Dealer of the Year at Carrier Transicold's annual truck, trailer and rail dealer meeting. Refrigeración Especializada para el Transporte de Occidente S.A. de C.V. (RETO), Guadalajara, Mexico, was named Latin America Dealer of the Year. Carrier Transicold is part of Carrier Corp., a unit of United Technologies Corp.
In all, 36 dealerships and three individuals from Carrier's North America and Latin America dealer networks were recognized for strong sales and service performance, making significant investments in facilities and achieving business objectives.
Since 1970, W&B has attained seven Carrier Transicold Dealer of the Year awards. "I am very proud of the men and women of W&B," says John Chisolm, W&B president and general manager. "We are a 65-year-old company and have received many awards, but it never stops feeling great when your team receives recognition. It's always an honor to win." W&B Service of Dallas, along with five additional W&B locations, also received NextLevel 2 Platinum awards for all-around business practices.
For Latin America winner RETO, this is the first Dealer of the Year award in its 20 years as a Carrier Transicold dealer. "The abbreviation RETO means 'challenge' in Spanish, and, appropriately, RETO has continually challenged itself to excel," says Jesús Estrada, Carrier Transicold's region director for Mexico and Latin America. "RETO has truly transformed into a service-focused operation through implementation of a strict quality program, intensive training for technicians, a committed sales team and strategic partnerships." Led by General Manager Rubén Almaráz Cuellar, RETO also received Quota Buster and Double Digit Growth awards.
Carrier's NextLevel 2 program uses comprehensive performance criteria to challenge dealers each year. Carrier provided a total of 53 achievement awards for 2009 dealer performance. Additionally, individual recognition went to Dealer Sales Manager of the Year, Mark Eaton of W&B Service in Dallas; Dealer Service Manager of the Year, Tommy Evans of Carrier Transicold South in Birmingham, Ala.; and Dealer Parts Manager of the Year, Terry Schulz of Midlands Carrier Transicold in Omaha, Neb.