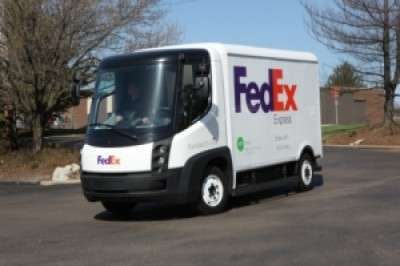 FedEx Corp. on Monday, March 29, announced the expansion of its alternative-energy vehicle fleet with the first all-electric FedEx parcel delivery trucks in the United States. Four purpose-built electric trucks – optimized for electric operation from the wheels up – are slated to hit the road in the Los Angeles area starting in June, joining more than 1,800 alternative-energy vehicles already in service for FedEx around the world.
"FedEx has a history of changing what's possible, both in the innovative services we offer customers and in the way we offer those services," says John Formisano, vice president of Global Vehicles for FedEx Express. "We're making these investments, and invite others to join us, so that together we can speed the transition to a cleaner transportation system." FedEx is purchasing its first North American all-electric vehicles from two different suppliers to evaluate the robustness of this technology for demanding daily FedEx Express deliveries in the Los Angeles area and provide information to help guide future FedEx vehicle purchases.
Two of the new all-electric trucks come from Navistar and are being assembled in Indiana. These are based on the Modec design already operated by FedEx in Europe; 10 serve FedEx routes in London, and five more are on order for Paris. Another pair of electric vehicles is being purchased from a different manufacturer for delivery to the Los Angeles area later in 2010. Both sets of electric vehicles are designed with a range that allows many FedEx Express couriers to make a full eight-hour shift of deliveries before their vehicles need recharging.
A FedEx-branded prototype all-electric truck from Navistar was unveiled Monday, March 29, at an event in Chicago to kick-off a demonstration tour of the technology. The vehicle will be operated for FedEx customers, employees and local officials in several stops along historic Route 66 between Chicago and Los Angeles. The "Charge Up Route 66" tour is intended to pay homage to America's transportation past and the facilitation of inter-city commerce furthered by development of early highways such as Route 66. Once in California, the Navistar electric truck will be demonstrated at the Fortune Brainstorm Green conference, an environmental leadership event scheduled April 12-14 and featuring a presentation by Mitch Jackson, vice president of environmental affairs and sustainability for FedEx Corp.
"Electric trucks are still in their infancy, but we think they have a bright future in the mix of alternative energy vehicles," Jackson says. "Reliability and maintainability is critical for FedEx because of our commitment to superior customer service, so we'll be giving these trucks a real workout, helping the manufacturers refine their future offerings. Down the road, we see the possibility of charging electric vehicle fleets with low- or zero-emissions electricity generated onsite by such innovations as solar electric arrays, like those at FedEx locations in California, New Jersey and Germany, or the Bloom Energy Server, another new technology we're helping to pioneer through evaluating it at our solar-powered hub in Oakland."
By the end of June, the FedEx alternative energy fleet will have grown to 1,869 vehicles in service around the world, helping to diversify and expand the all-electric and hybrid-electric vehicle market around the globe. Beyond the nine new electric trucks to be deployed in Los Angeles and Paris, FedEx has purchased 10 additional hybrid-electric vehicles that will be added to its California fleet throughout the spring, based in Oakland.