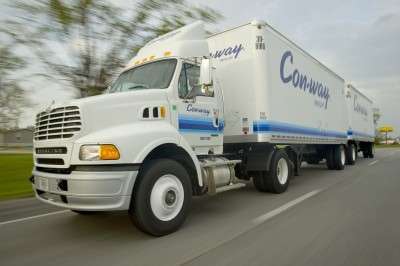 TNT and Con-way Freight announced a new export service as an expansion of their existing relationship. The intercontinental accelerated service will feature a day-definite road/air/road U.S.-to-Europe solution for heavier freight shipments. The new offering will complement the intercontinental import service the two companies launched as part of their commercial alliance back in April 2009.
As part of the U.S.-to-Europe service, Con-way Freight will manage the pickup of U.S. shipments, followed by consolidation and loading to direct air cargo service from New York's JFK International Airport to Europe. Upon arrival in Europe, TNT will manage customs clearance and deconsolidation at Liège Airport in Belgium. Shipments then will enter TNT's integrated air and road network for delivery to their final destinations in Europe. Transit times from JFK Airport to final destinations in Europe typically will range from three to six days.
"With the expansion of our joint offering, we now provide customers in both the USA and Europe with fast, reliable intercontinental shipping," says Matt McDonough, president of North America, TNT. "This is made possible thanks to the unique combination of TNT and Con-way Freight's combined networks. U.S. customers looking for a reliable solution to handle their export business to Europe now have a faster and more cost-effective option for their freight shipments."
The commercial alliance between TNT and Con-way Freight offers both companies the opportunity to leverage their brands into expanded international offerings using the extensive networks of Con-way Freight in the United States, and TNT across 200 countries throughout the world.
"Our alliance with TNT allows us to provide fast, reliable intercontinental service to meet the growing international shipping needs of our customers, which is increasingly important in today's global economy," says John G. Labrie, president of Con-way Freight. "With this expansion of our Global LTLTM suite of services, shippers will again benefit from a dependable solution that will enable them to reduce costs, shorten lead times and speed product to market. We are very pleased to offer this solution with such a successful and respected provider of global transportation services."