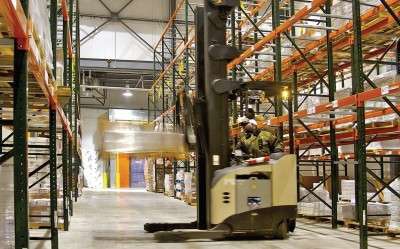 Motorola announced that together with Franwell Inc., a supply chain solution integrator, it has deployed a radio frequency identification solution at H&M Bay's cross-docking distribution center in Federalsburg, Md. Together, the companies say they are improving H&M Bay's frozen food transportation system to ensure its customers' packaged goods are distributed on time and within the industry's proper temperature controls.
"H&M Bay prides itself on its ability to deliver efficient and quality service to customers," says John Walker, software development manager for H&M Bay. "With a unique integration of technologies, H&M Bay has realized faster truckloads and reloads, and a 25 percent reduction in cross-docking labor, allowing our workers to concentrate more on serving our customers and less on inefficient duties."
H&M Bay, a freight mover in the less-than-truckload frozen and refrigerated commodities market, has cold storage freight transfers that must be stored and shipped in environments that meet stringent industry guidelines and government mandates. In an effort to improve the company's operational efficiencies and guarantee consistent temperature controls, H&M Bay turned to Motorola and Franwell for an RFID hardware and software solution that would locate and record pallet information in real time – giving operators an instantaneous read of inventory as it enters, moves through and leaves the distribution facility.
The initial H&M Bay deployment consists of RFID tags, which are placed on each warehouse storage location along with each pallet to facilitate product control and automate the tracking of inventory in the distribution center's cooler and freezer storage rooms. As Motorola RD5000 mobile RFID readers detect tagged pallets and tagged storage locations, a message is sent automatically to H&M Bay's automated inventory system to record seamlessly when a pallet has been removed from its location and where it has been placed.
For greater employee mobility, H&M Bay leverages Motorola MC9090-G RFID handheld mobile computers to commission location tags and make initial assignments to the location. Each forklift truck in the facility also is outfitted with a Motorola RD5000 mobile RFID reader and a Motorola VC5090 vehicle-mounted mobile computer for greater ease-of-use while on the forklift, on the ground and anywhere throughout the warehouse. Similarly, Motorola RFID industrial-class XR series readers are used on the cooler and freezer doors to detect pallet tags as they enter or exit the cold storage facilities.