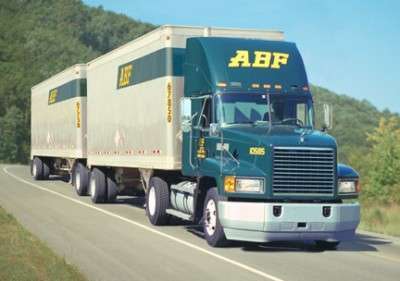 Leaders of freight local unions from across the country overwhelmingly endorsed an economic relief plan for ABF Freight System Inc. that will protect thousands of Teamster members' jobs and their health, welfare and pension benefits.
The Wage Reduction/Job Security Plan calls for a reduction in gross wages and mileage rates of 15 percent effective the first payroll period after ratification through the term of the National Master Freight Agreement, which runs until March 31, 2013. Negotiated wage increases (less 15 percent) and cost of living adjustments, if any, will remain in effect for the life the plan.
"Local union leaders understand that we need to take a bold step to help ABF get through this terrible economy and that we must act now to prevent far worse problems down the road," says Tyson Johnson, director of the Teamsters National Freight Division. "No one wants to see wage cuts, but this agreement protects our ABF members' jobs and their health, welfare and pension benefits."
The Teamsters National Freight Industry Negotiating Committee and ABF management reached a tentative agreement on the plan Friday, April 16, and Teamster leaders attending a meeting Monday, April 19, voiced strong support for the plan. Johnson says the union responded to members' concerns that it only move forward if it could independently verify the company's financial situation. "An independent financial advisor has verified that the company is losing money and has been exhausting its cash reserves," Johnson says. "The message is that we must act now."
The union says the plan has safeguards for ABF Teamsters, including contains triggers to reduce the wage reduction in 2011-2012 or terminate the plan if certain benchmarks are reached indicating a financial turnaround for the company. The union says the plan also calls for equal sacrifice among all union and nonunion employees; during the past two-plus years, management has faced pay freezes and benefit cuts, and management will face more so that their sacrifice is equal to Teamster sacrifices. Under the plan, the union will have access to the company's financial records and the right to have an annual audit done to help protect members' interests.