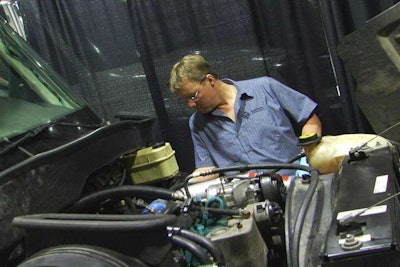 The Motor Vehicle Owners' Right to Repair Act (HR 2057) has gained more bipartisan support with the addition of nine members of Congress to the growing co-sponsor list. Reps. Michael Arcuri (D-N.Y.), Anh "Joseph" Cao (R-La.), Barney Frank (D-Mass.), Loretta Sanchez (D-Calif.), James Sensenbrenner, Jr. (R-Wis.), Bennie Thompson (D-Miss.), Glenn Thompson (R-Pa.), Paul Tonko (D-N.Y.) and Charles Wilson (D-Ohio) have declared their support of the Right to Repair Act. The bill now has 60 co-sponsors in the House of Representatives.
"We thank these nine members of Congress for backing this critical piece of pro-consumer and pro-small business legislation," says Ray Pohlman, president of the Coalition for Auto Repair Equality. "The Right to Repair Act does not cost taxpayers money, does not create a new agency and, more importantly, does not ask taxpayers for a bailout. It simply requires that vehicle manufacturers provide car owners and their trusted neighborhood repair shops with the same access to the same safety alerts, technical service bulletins, diagnostic tools and repair information they provide to their dealer network – nothing more, nothing less."
Because vehicles are becoming more sophisticated with virtually every system either monitored or controlled by computers, servicing these vehicle systems to keep them in safe working order requires ready access to complete and accurate information, tools and software from the car companies. The Right to Repair Act protects motorists by allowing them to have access to the repair information for the vehicle they purchased, thus ensuring that they can choose where, how and by whom they have their vehicles repaired.
"Allowing independent repair shops to compete on a level playing field promotes fair competition and ensures that car owners throughout the country continue to have access to affordable and convenient automotive repair," says Kathleen Schmatz, president and chief executive officer of the Automotive Aftermarket Industry Association. "Supporters of Right to Repair are not seeking an unfair advantage, nor are they looking for access to the proprietary information protected by the bill. Instead, they are asking Congress to ensure that car owners, and not the car companies, decide where their vehicles are repaired."
The Senate version of the Motor Vehicle Owners' Right to Repair Act (S 3181) recently was introduced with bipartisan support by Sens. Barbara Boxer (D-Calif.) and Sam Brownback (R-Kan.).