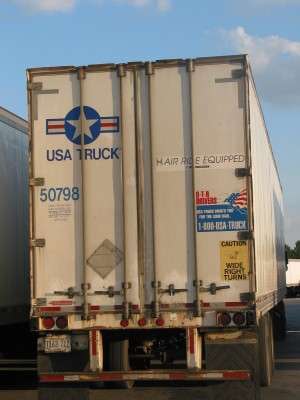 USA Truck Inc. on Thursday, April 22, announced base revenue of $89.2 million for the quarter ended March 31, an increase of 7.7 percent from $82.8 million for the same quarter of 2009. The company incurred a net loss of $3.0 million compared to a net loss of $1.9 million.
"Industry conditions, while still challenging, have improved," said Clifton R. Beckham, president and chief executive officer of the Van Buren, Ark.-based company. "That improvement helped us make meaningful progress this quarter in pursuit of our VEVA (Vision for Economic Value Added) strategic plan, and despite the earnings headwinds posed by surging diesel fuel prices and severe winter weather, we also experienced improved operational performance.
Beckham said USA Truck's business model has been repositioned as the key initiatives supporting the VEVA plan are attained. "Speaking metaphorically, we have carefully positioned our pieces across the chess board over the past few years, and believe we are ready to strike," he said. "All of our time and resources are now focused squarely on operational execution, and we are beginning to see results."
Beckham said the company's base revenue from all services grew despite a slightly smaller tractor fleet. "Unfortunately, our model is not yet strong enough to withstand the combination of seasonal low freight volumes and the exogenous impact to our cost structure brought on by steadily increasing fuel prices and the most severe winter weather in recent years," he said. "The pattern of earnings throughout the quarter is indicative of both the weather's impact and of our strategic progress. We posted losses in January and February followed by earnings in March. We believe that improving demand, tightening capacity and the maturation of our strategic plan combined to make March an inflection point for our performance. As such, we are pleased to have this quarter in the rearview mirror and look forward to more operational progress in the quarters to come."
Darron R. Ming, chief financial officer, said the company's total debt increased about $14.4 million to $118.0 million at March 31 as compared to total debt of $103.6 million at Dec. 31. This increase in debt was a result of net capital expenditures of $19.2 million as USA Truck purchased 191 replacement tractors with engines that were manufactured before Dec. 31. "We are obligated to purchase an additional 114 tractors, the majority of which will be purchased in the second quarter," Ming said. "Any engine manufactured on or after January 1, 2010 must comply with the new emissions regulations, and we anticipate these engines will cost significantly more to purchase and maintain. Other than the 114 tractors previously described, we do not have any contracts to purchase additional revenue equipment." Ming said the company's operating results during the remainder of the year will determine the number of tractors and trailers we purchase during the remainder of 2010. "We expect our debt to decline throughout the second and third quarters as our capital expenditures decline and after receipt of an anticipated $10.2 million in income tax refunds," he said.
USA Truck also announced that James D. ("J.D.") Simpson III has been appointed to its board of directors. Simpson is employed by Stephens Inc. as executive vice president and manager of corporate finance. He currently serves on the boards of several community and civic organizations.
"We are pleased to have J.D. joining our board of directors," said Robert M. Powell, board chairman. "His vast experience will offer a valuable new perspective as we continue to evaluate, implement and execute our long-term strategic objectives."