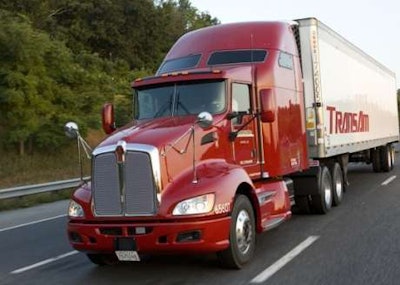 Kenworth Truck Co. announced Thursday, April 22, that it has received a major order for 1,050 T660s with Paccar MX 2010 engines from TransAm Trucking, a refrigerated fleet in Olathe, Kansas.
"This order from TransAm Trucking is a remarkable way to help introduce the Paccar MX engine into the North American market," says Bill Kozek, Kenworth general manager and Paccar vice president. "Kenworth and Paccar very much appreciate TransAm's strong support and commitment. We look forward to delivering the first of the fleet's 1,050 fuel-efficient Kenworth T660s with Paccar MX engines beginning this summer."
TransAm Trucking has specified the Paccar MX engine rated at 485 hp and 1,650 lb.-ft. of torque and the T660 with the Kenworth 72-inch AeroCab Aerodyne sleeper.
"We're very confident in the Paccar MX engine," says Russ McElliott, TransAm Trucking's president. "We have studied Paccar's global engine capabilities, their engine technology and validation processes. Combined with Kenworth's excellent Dealer service, we are confident in the Paccar MX engine. We value our relationship with Kenworth and MHC and consider the Kenworth T660 with Paccar MX engine a winning combination."
Kenworth says the Paccar MX engine is designed to deliver industry-leading performance, reliability and fuel efficiency, and has accumulated more than 50 million test miles in rigorous and severe conditions in North America. The Paccar MX engine uses selective catalytic reduction technology in combination with exhaust gas recirculation to meet the U.S. Environmental Protection Agency's 2010 diesel engine emissions regulations.
"We've had an excellent relationship with TransAm Trucking over the past six years," says Tim Murphy, president of selling dealer MHC Kenworth in Kansas City, Mo. "TransAm is an award-winning leader in the EPA SmartWay Transport Partnership program, and strives to reduce operating costs, increase fuel efficiency and lower emissions. The T660 with the Paccar MX will help meet those goals and deliver outstanding performance."