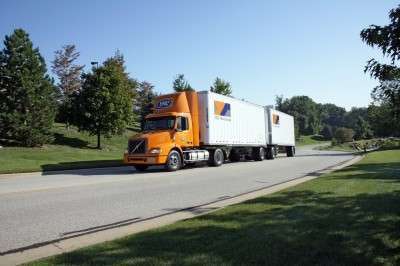 YRC Worldwide Inc. today, May 4, reported its first quarter 2010 results ending March 31. The company announced a loss per share of $.33 when excluding a previously announced charge of $.20 per share for union employee equity-based awards, and a $.53 loss per share when including that item. The company, which reported a $4.61 loss per share in the first quarter of 2009, incurred a net loss of $274.1 million compared with $273.8 million because it issued thousands of new shares of stock as part of a deal in which bondholders traded debt for equity.
"Despite the headwinds from the note exchange in the latter part of December and the harsh winter weather we experienced during January and February, we are pleased with the sequential operating improvement during the quarter and the traction we achieved in the month of March," said Bill Zollars, chairman, president and chief executive officer of YRC Worldwide, based in Overland Park, Kan.
Among the company's business segments, YRC National Transportation's total shipments per day were down 33.6 percent, total tons per day were down 34.6 percent, March tons per day were down 22.5 percent, and total revenue per hundredweight, including fuel surcharge, was up .4%. YRC Regional Transportation's total shipments per day were down 12.9 percent, total tons per day were down 9.1 percent, March tons per day were down 3.2 percent, and total revenue per hundredweight, including fuel surcharge, was down 2.3 percent.
During April, YRC National and YRC Regional volumes increased compared to March, as both sequential trends were slightly better than normal seasonal patterns. "The Regional companies have a lot of momentum, while YRC has stabilized its customer base and streamlined its sales force, and is poised for growth going forward," Zollars said. "We appreciate the continued confidence our customers have shown by increasing their shipments with us throughout the quarter and into April. "With our current operating momentum, we still believe we will generate positive adjusted EBITDA in the second quarter."
The company reported operating cash flow of $18 million, including the receipt of the previously announced $82 million income tax refund in late February. The company issued $50 million of 6 percent notes on Feb. 23 and used the net proceeds from these new notes to redeem its remaining 8.5 percent notes that were due April 15, 2010. In addition, the company repaid $29 million on its asset-backed securitization facility primarily from collections of its fourth-quarter revenues. At March 31, the company reported cash and cash equivalents of $130 million, unused revolver reserves of $107 million and unrestricted availability of $4 million under the company's $950 million revolving credit facility.
Sheila Taylor, executive vice president and chief financial officer, said operating results improved sequentially throughout the quarter as reflected in the company's adjusted EBITDA of $27 million in January, $21 million in February, and $5 million in March. "We continue to remove additional cost from the business and more effectively manage our working capital, which has allowed us to preserve liquidity under our credit facility," Taylor said.
YRC Worldwide also announced the election of five new members to the company's board effective May 11 in a planned transition previously disclosed in the Dec. 31 debt-for-equity exchange. Zollars will remain as chairman, while Dennis Foster and William Trubeck are being re-elected. New members include Eugene Davis, chairman and CEO of Pirinate Consulting Group; Marnie Gordon, a former director at Angelo, Gordon & Co. who previously was a vice president in investment banking for Goldman, Sachs & Co.; Beverly Goulet, vice president of corporate development and treasurer for AMR Corp.–American Airlines; Mark Holliday, president of Goshawk Capital Corp. and a partner at Camden Asset Management; and John Lamar, chairman of Premier Trailer Leasing. Board members stepping down are Michael Byrnes, Cassandra Carr, Howard Dean, Phillip Meek and Mark Schulz. Carl Vogt will resign at a later date.
"We are pleased with the diversity of skills and specific expertise being added to our board congruent with our comprehensive plan," Zollars said. "On behalf of the company and the board, I want to thank Mike, Cassandra, Howard, Phil and Mark for their years of service, many contributions and a smooth transition."