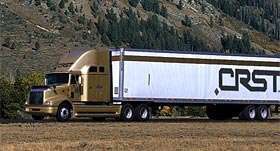 CRST Van Expedited has announced a three-week bonus program to benefit recent truck driving school graduates. Any approved recent graduate who attends orientation at any of the three company orientation locations the weeks of May 17, May 24 or May 31 will receive a $100 bonus upon the successful completion of the orientation class. In addition, those who complete the class will have their transportation fee waived. This package totals $175.
"We have immediate openings for qualified recent graduates and have lead driver trainers available to continue their education," says Jim Chapman, recruiting manager at CRST, based in Cedar Rapids, Iowa. "We know many people are barely making it financially, and we hope this will help them get started."
CRST's orientation locations are in Cedar Rapids, Oklahoma City and Fontana, Calif.