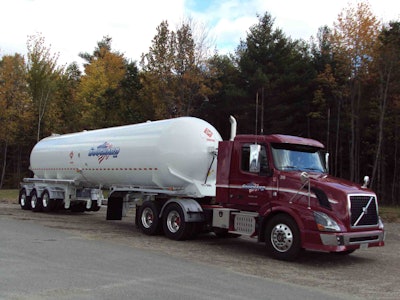 H.O. Bouchard Inc., a logging and trucking contractor based in Hampden, Maine, recently took to the road to demonstrate the safety and other advantages of allowing heavier trucks, properly equipped, on the Maine Interstate system. A pilot project Congress passed in December increases the gross vehicle weight limit from 80,000 pounds to 100,000 pounds on Maine's I-95 for a 12-month period, provided trucks are equipped with a sixth axle to keep braking capacity and roadwear the same.
President and Chief Executive Officer Brian Bouchard loaded two trucks to 99,800 pounds and measured their performance on two routes between Hampden and Houlton, Maine, a distance of about 120 miles. One truck traveled on the section of I-95 that connects the two towns; the other used the best available non-Interstate route. Maine has allowed six-axle 100,000-pound trucks on state roads for more than two decades.
Bouchard noted that, over the 120-mile route, the truck traveling local roads passed 86 pedestrian crosswalks, 30 street lights, 9 school crossings, 4 hospitals, 4 railroad crossings and 644 oncoming vehicles; the truck using the Interstate passed zero of each.
The truck on the local roads shifted gears 192 times and applied brakes 68 times. The truck using the Interstate shifted 3 times and applied brakes only once. It also completed the 120-mile trip in 2 hours and 5 minutes on I-95 – in 50 minutes less time than the other truck. Apart from the 10-gallon reduction in fuel and corresponding reduction in emissions, says Bouchard, "the avoidance of risk and driver fatigue is huge."
He noted that the U.S. Department of Transportation and the Maine DOT both will provide measurements of the safety, road wear and environmental impacts of the 12-month pilot program at the halfway point, in June. "I hope they are looking hard at the benefits of allowing the Interstate system to carry the loads it was designed to carry," he says. "Weight reform is a winner for trucking efficiency, but an even bigger winner for public safety. Maine manufacturing industries need this to be competitive in the global economy. Maine is surrounded by Canadian provinces with even higher weight allowances than Maine, not to mention that New Hampshire, Massachusetts and Vermont have weight allowance on their Interstates. We sit in the middle of a donut and must be able to compete."
The Agricultural Transportation Efficiency Coalition supports the passage of the Safe and Efficient Transportation Act (HR 1799), which would allow any state, at its option, to allow 97,000-pound six-axle trucks on Interstates within its borders, with payment of a special fee dedicated to bridge maintenance.