Fleets leverage route management systems to cut costs, improve service
Improving customer service and lowering delivery costs are key objectives for any commercial or private fleet, but these two goals often are at odds. Accomplishing both requires using advanced technologies to plan, execute and analyze routes. To this end, fleets increasingly are integrating separate technologies for route management.
The process begins with route planning software to find the least-cost routing solution to meet all service constraints, such as customers' narrow time windows for pickup and delivery. Route navigation tools then provide fleet planners and drivers with accurate, efficient and safe directions to each stop.
Onboard computing and mobile communications systems add real-time visibility to ensure these plans are executed. They also send real-time alerts when exceptions happen and capture data for post-trip analysis of route performance.
Drafting a plan
Complexity, not size, is the main reason for using route planning software. Some operations such as less-than-truckload have complex scheduling requirements. Advanced software systems will consider the location, size (weight and volume) and product type of each shipment, as well as the time windows for pickups and deliveries. The systems also consider equipment capacity, driver availability and other constraints. Software systems that analyze and resolve these requirements are valuable to organizations that need to route large batches of orders from their warehouses and distribution centers quickly to customers in a just-in-time environment.
Argix Direct moves merchandise for retail customers from the source to the store. The Jamesburg, N.J.-based company operates 41 distribution centers and delivers to more than 3,500 retail stores nationwide. Its customers have narrow time windows for delivery. Since 1990, Argix has used Route Planner RS from Descartes, and the company now uses a newer version of the software to route about 200 trucks each day. The company's on-time delivery reached 99.8 percent.
Gene Masteller, senior routing analyst for Argix, credits the software for helping the company grow by meeting high customer service standards. "It would be virtually impossible to maintain route integrity on a daily basis manually," Masteller says. The route planning system "gives us the ability to grow and offer clients the window structure that we can now service."
Besides using Route Planner RS to plan routes, Masteller analyzes the needs of prospective clients and projects delivery schedules and costs. "We don't take on a new client until we run them through (the software)," he says.
Integrated routing
Keeping current with the latest routing tools and technologies is easier today thanks to a software delivery platform called cloud computing or Software-as-a-Service (SaaS). Companies can access and update software and data through the Internet, as well as integrate additional data and features from complementary software systems through one source.
"A majority of our customers don't just opt for routing," says James Stevenson, vice president of sales for Appian Logistics, which offers Direct Route, a vehicle routing and load optimization system. To track the performance of the route plans the software creates, many customers use Appian's Web-based reporting and visibility tool called DRTrack. Fleets can deploy DRTrack through SaaS or on their own servers.
Managers have real-time visibility of driver, vehicle and route performance.
DRTrack automatically compares route plans from Direct Route with the real-time tracking information provided by a third-party mobile computing device. Besides using DRTrack to manage route performance, fleets also use the application as a customer service tool for tracking shipment status.
Descartes offers on-demand dispatch and tracking systems through SaaS that integrate with its Route Planner RS software. The SaaS model makes it possible to dispatch and track drivers and compare their performance to a fleet's optimal route plans, all from a hosted Web service.
By integrating these tools with Route Planner RS, fleet managers have real-time visibility and control of route performance. If a vehicle is running late, a route planner may want to remove a stop from one route and place it on another route. This change in plans can be pushed out automatically to a driver's mobile device, says Ken Wood, senior vice president of product strategy for Descartes.
Mapping/mileage
Route planning or optimization systems rely extensively on accurate distances, travel times, road restrictions, toll costs and other details provided by mapping, mileage and route navigation systems. (See "Beeline to safety," CCJ March 2010.) Having this level of detail for planning routes eliminates guesswork by fleet management and improves route compliance by drivers.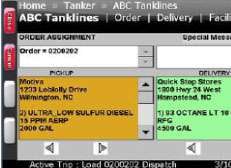 More fleets now are using route navigation within a fully integrated system for planning, dispatching and communicating with drivers. The integrated system works by sending the stops, by sequence, from route planning software to the cab. The navigation application that resides on the onboard computer calculates a route between each stop and provides turn-by-turn directions to the driver.
Rand McNally recently coupled its IntelliRoute TND in-cab GPS navigation device with a fleet dispatch and management system called TrueTrack. The system utilizes the IntelliRoute TND navigation device in the cab and a separate tracking device called TrueTrack Connector that relays the information from the cab to secure servers via wireless networks.
Fleets access the information through the Web-based TrueTrack Fleet Manager program, which enables fleet managers to track vehicles and monitor driver performance in areas such as speeding, drive time, idle time, arrivals and departures. Besides displaying real-time information and reports, TrueTrack allows messages and route plans to be sent to the driver through the TND display.
A hybrid approach developed by Maptuit calculates an optimal turn-by-turn route by sending the vehicle's location and planned stops from a dispatch or route planning system to a server; this route then is sent to the NaviGo onboard navigation system. Schneider National is using NaviGo in its Mobile Computing Platform 200 Series (MCP 200) units from Qualcomm, which the company is scheduled to install in all company-owned and owner-operator tractors by this fall.
"Drivers can visually preview their trip onscreen, get a mental image of where they're going and then use the audio directions to navigate them in," says Don Osterberg, senior vice president of safety and driver training for Green Bay, Wis.-based Schneider. "The result is a driver who is more focused on the road and the conditions around them. The audio directions provided by the system eliminate distractions in the cab."
Real-time management
In addition to integrating with route navigation systems, onboard computers and mobile communication systems provide fleet managers with real-time visibility of driver and vehicle performance. They also capture many metrics to evaluate route performance, such as on-time arrivals, drive time, stop time and mileage.
Some companies that operate consistent or static routes say their onboard computing systems are the only route management tool they need. J.T. Davenport & Sons, a carrier that specializes in convenience store deliveries, uses Xatanet, an Internet-based fleet management system from Xata Corp. that uses onboard computers to capture out-of-route mileages and on-time delivery. The Sandford, N.C.-based company also uses Xatanet to monitor idling, speeding, hard braking and other driver performance metrics.
Xatanet also has proven useful for reducing engine idling; as part of a weekly performance bonus program, drivers are ranked by idle percentages and gallons of fuel burned while idling. Since purchasing Xatanet two years ago, J.T. Davenport has decreased idle time and fuel consumed while idling by 71 and 64 percent, respectively. Overall fuel purchases have decreased 4.3 percent, says Barry Craven, transportation manager.
Fluke Transportation, based in Hamilton, Ontario, delivers food-grade products in eastern Canada and upstate New York. The 140-truck company does not use route planning software, but it does have a low-cost route management system. About three years ago, Fluke implemented the Fleet Complete tracking system from Complete Innovations.
Previously, the company lacked a reliable way to keep track of time drivers spent waiting at pickups and deliveries. With Fleet Complete, Fluke uses a simple system to store the coordinates or geofence for each customer site to run reports on arrival and departure times. The company also uses geofencing to enforce rules such as half-hour lunches for drivers. As a result, Fluke has seen a drastic reduction in drivers' wages, out-of-route miles and fuel costs, says Jack Mayes, president.
Dynamic routing
Fleets that have more dynamic routing requirements are able to use integrated systems to evaluate route performance in terms of planned versus actual, no matter how frequently route plans change. Fleets also can aggregate their data from route planning systems and onboard computing systems into a common database. Reporting tools then can be used to render the data into various formats, such as scorecards and dashboards. Integrated systems also offer real-time alerts for late arrivals or delivery quantity shortages.
PeopleNet, a provider of onboard computing and mobile communications systems, is re-architecting its Web-based interface, the PeopleNet Fleet Manager, to focus on advanced alerting tools for fleets that want to set up alerts differently according to need. A dock worker may want to receive alerts via cell phone for a driver's location and ETA, whereas a customer may want to be notified only if a delivery is going to be more than one hour late.
PeopleNet also is developing predictive tools to determine the probability that certain events will occur, such as a driver being late or out of route. And the company soon will be launching a new business group called Vusion that will focus on aggregating data across multiple sources, says Brian McLaughlin, chief operating officer.
Fleet operators have many opportunities to economize without sacrificing customer service. By leveraging route management systems, fleets can reduce fuel, mileage, labor and equipment costs substantially. Perhaps more importantly, these systems demand accountability with the ability to measure fleet performance according to plan. n