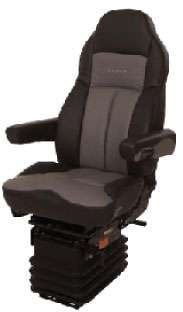 Enhanced truck seat
The Next Generation Legacy truck seat from Seats Inc. takes current Legacy features and adds a new look, enhanced back support and cushion comfort that utilizes sophisticated pressure-mapping equipment and longer EZ-adjust armrests. A newly designed backrest helps support the natural S-curve of the back, reducing fatigue due to improper posture. A concave frame structure and bolster radius supplies a "will-fit" design with side-to-side bolster support to enhance lateral support. A full 19-inch width in the shoulder region provides improved shoulder support to reduce back stress. Specially designed air lumbar and back foam minimizes spinal pressure. The cushion also incorporates EVC Cushion Comfort Technology and D2 Foam Technology: EVC technology lends a noncushion-board design that dampens vibration more than 51 percent, reducing discomfort due to unwanted tailbone pressure; and D2 Foam Technology is a strategically designed dual-layered pillow-top foam that provides support, longevity and comfort. A wider cushion entrance promotes natural leg positioning.
Additional features include:
• Four variations: Legacy Gold (smart seat), Legacy Silver (affordable luxury), Legacy HD (heavy-duty suspension) and Legacy LO (low-profile seating);
• Mid-back and high-back configurations;
• Air Lumbar Support, available in 2-way and 4-way support;
• Full recline;
• Rubber below suspension cover; and
• Available in UltraLeather, Tufftex or Microfibre cloth materials.
Seats Inc.
Visit www.ccjdigital.com/info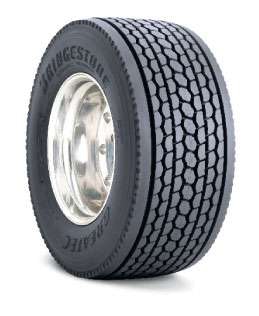 Wide base drive radial
Bridgestone Bandag Tire Solutions' Greatec M825 wide base drive radial, designed to offer extended tire life and low cost per mile, weighs less than dual assemblies and is suited for weight-conscious fleets such as bulk haulers. The wider tread and deep 29⁄32-inch tread depth helps distribute weight and torque over a wider area for longer, smoother tire life. The stabilizing solid shoulder design combats side forces that can lead to irregular wear, while a stiff, staggered tread block design resists heel-and-toe wear. The tire's rugged tread compound resists squirm, while its aggressive tread pattern uses buttressed blocks to fight block tearing for more miles of smooth wear. To enhance retreadability, straight shoulder grooves and an optimized groove design help reduce stone retention and groove bottom cracking. In the central tread grooves, casing-saving stone rejector platforms help prevent trapped stones from pushing deeper and piercing the belt layer, damaging the belts and exposing them to rust. Thick shoulder ribs on both sides fight curbing damage, protecting the casing; if one side wears away, flip the tire over for continued protection.
The M825 – available in size 445/50R22.5 with an L load rating – is built with Greatec's T.I.P. (Turn-In Ply) design that wraps the body ply around the bead bundle to promote a stronger, more resilient bead; and Bridgestone's Waved Belt design that helps balance stiffness and resiliency to provide a stronger, more stable casing that, in turn, produces a stable footprint shape throughout the tire's life.
Bridgestone Bandag Tire Solutions
Visit www.ccjdigital.com/info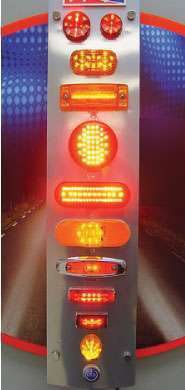 LED lighting
TRP Aftermarket Parts manufactures LED lighting products for use in all Class 6, 7 and 8 trucks, tractors and trailers. Available through authorized Kenworth and Peterbilt parts and service distributors, the LEDs are tested for durability and long service life. The manufacturing process uses ultraviolet-resistant polycarbonate lenses and a high diode count to be brighter and easier to see than incandescent lights. The compact LED circuitry uses 85 percent less electrical power than equivalent incandescent lamps. The diodes are connected mechanically to the light's foundation and not soldered on, have no filament to break and are sealed, keeping dust and water out. Durable polycarbonate makes the lenses resistant to impact damage. The lights come in a variety of colors.
TRP Aftermarket Parts
Visit www.ccjdigital.com/info
Tire pressure monitor for steer, tag applications
Stemco's AirBat RF SST is a tire pressure monitoring sensor designed specifically for steer and tag axle applications. Along with the Dual Tire AirBat sensor, the AirBat RF SST rounds out Stemco's suite of tire pressure and mileage collection sensors for all wheel positions on heavy-duty vehicles to help fleet managers increase safety, fuel efficiency and the life of truck and trailer tires. The AirBat SST provides a visual LED indicator on the wheel end when tire pressure is below target, alerting the driver or technician to inspect and inflate the tire prior to departure. The AirBat SST sensor works in concert with all of the existing Bat RF family of products, including the HandBat handheld reader, the DAS Driver Alert System, the gate reader, the satellite interface module and WebBat, the Internet-based fleet management software.
Stemco
Visit www.ccjdigital.com/info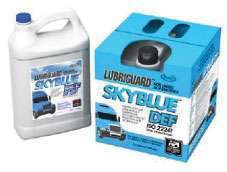 Diesel exhaust fluid
Warren Oil Co. Inc. introduced Lubriguard SkyBlue DEF (diesel exhaust fluid) for selective catalytic reduction engines that comply with the U.S. Environmental Protection Agency's 2010 diesel emissions standards. Lubriguard SkyBlue is formulated to meet all EPA standards and bears the American Petroleum Institute's API symbol, which guarantees that the product will be certified and tracked across the international supply chain for standards of product manufacturing, handling and packaging, quality assurance and safety/environmental protection.
Warren Oil Co. Inc.
Visit www.ccjdigital.com/info

Temperature control units for straight trucks
The latest units in Thermo King's T-Series line of temperature control units for straight trucks, the T-600R and T-800R, feature the company's reciprocating compressor technology, which delivers efficient operation and field-repairable design. T-Series units also include increased capacity, high ambient temperature operation and the TSR-2 control system with diagnostic capabilities. In addition, the units feature fuel-saving technology and a lower lifecycle cost due to the SmartPower electric standby option, which cuts fuel use and emissions by allowing the unit to operate on electric power while at the dock.
Thermo King
Visit www.ccjdigital.com/info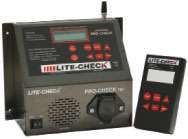 Testers for trailer lights, electrical systems
Lite-Check's Pro-Check 720 and 720AC test instruments for trailer lights and electrical systems allow users to perform a U.S. Department of Transportation-style electrical inspection in only a few moments to identify and monitor electrical faults. The devices, available in both 12V DC battery and 120V AC-powered versions, can be operated by using the front control panel or the included full-function remote control. The Pro-Check 720, which uses a commercial-style 7-way connector, identifies electrical faults by displaying the conditions on a digital display and sounding alarms unique to each type of fault.
Lite-Check
Visit www.ccjdigital.com/info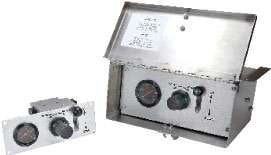 Lift axle control panels
Parker Hannifin has developed a series of lift axle control panels that enable truck operators to raise and lower an auxiliary axle on vehicles to accommodate heavy loads. The pneumatic modules, available in steer or nonsteer versions, can be used within truck cabs or mounted externally on dump trucks or trailers. The lift axle modules are designed to provide smooth operation consistently, even in low temperatures. The control panel offers color-coded connections to facilitate ease of use, while the air system maintains a high flow rate to ensure rapid raising and lowering of the lift axle.
Parker Hannifin
Visit www.ccjdigital.com/info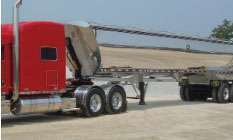 Half-round dump trailer
Mac Trailer has re-engineered its Hi-Cube materials half-round aluminum-end dump trailer to increase payload capacity. With its structurally redesigned front end, the trailer now has a lower center of gravity to enhance stability and side heights increased to 74 inches, providing a capacity of up to 60 yards while maintaining a tare weight of less than 10,000 pounds. The oval construction contributes to a quick and even load release as it constantly channels the material toward the belly of the trailer throughout the entire dumping cycle.
Mac Trailer
Visit www.ccjdigital.com/info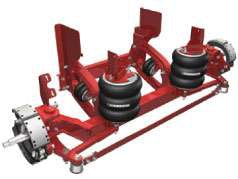 Lift axle series
Hendrickson's Composilite Steerable Compliant SC series of lift axles reduce system weight, minimize package space and feature a flexible tie-rod, further improving product performance and durability while offering increased payload and reduced maintenance. The Composilite SC offers a range of capacities – including 10,000, 13,500 and 20,000 pounds – and introduces the company's proprietary Compliant Tie Rod (CTR) with PerfecTrak Technology, a flexible tie-rod assembly and dampening system that lowers maintenance costs and increases uptime by providing a resilient impact-resistant tie-rod assembly. The CTR system also provides a self-centering mechanism and improved "driver feel" through a passive-steer Ackerman.
Hendrickson
Visit www.ccjdigital.com/info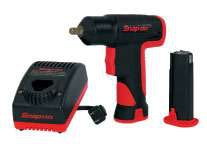 Impact wrench
Snap-on's 3⁄8-inch Micro Cordless Impact Wrench (CT561) provides power and speed in a small package, delivering up to 50 ft.-lbs. of maximum torque output while delivering 2,500 rpms and 3,000 blows per minute. The wrench's light weight, 1.8 pounds, simplifies positioning the tool, making it suitable for a variety of restricted-access applications under the hood, in the cab or under the vehicle. The impact wrench has an oversized forward/reverse toggle-style trigger to allow technicians to operate the wrench with one hand, meaning less finger stress and strain. An integrated soft-grip handle provides positive tool control for less fatigue, and the glass-filled nylon housing helps deliver durable high-impact strength for longer tool life. The removable 7.2V battery is designed to charge quickly to eliminate downtime.
Snap-on
Visit www.ccjdigital.com/info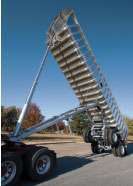 Frameless aluminum dump trailer
Steco Trailers has released a frameless aluminum version of its updated Hauf dump trailer. Suited for sand and gravel operations, the frameless aluminum dump trailer is available in 24- to 40-foot lengths and can be custom-built for varying widths and lengths; an external or internal cylinder mount; a top-hinged tailgate, high-lift or barn door; and a variety of suspension, wheel and tire choices. The Hauf, which has been modernized and improved with up-to-date running gear, incorporates continuous-weld U-formed side posts, a smooth bed with easy-to-clean corners and a top-hinged tailgate with remote air-controlled open and lock.
Steco Trailers
Visit www.ccjdigital.com/info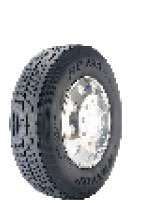 Long-haul tires
Dunlop's line of fuel-efficient long-haul tires qualifies as U.S. Environmental Protection Agency SmartWay-verified technology. The FM tires featuring fuel-efficient compounding include the SP 384 FM Steer Tire, SP 456 FM Drive Tire and SP 193 FM Trailer Tire in standard (11R22.5) and low-profile (295/75R22.5 and 285/75R24.5) sizes. The Dunlop casings support Goodyear Fuel Max retreads to further reduce lifecycle costs.
• SP 384 FM Steer Tire: Special compounding and an enhanced manufacturing process help make the tire roll with less resistance, while a five-rib design features a barrel footprint to help optimize treadwear performance; using the company's "evolving tread" technology, as the original tread wears, jagged/angled groove walls across the footprint are exposed to help maximize traction and handling. To help reduce irregular wear, a pressure distribution groove, located on the outer edge of the shoulder rib, reduces pressure buildup; when cornering, the reduced pressure helps improve shoulder wear, while lateral sipes and slots on the three main ribs help provide added traction and handling. The casing features a four-belt package that offers high-tensile steel on the three lower belts; the top belt is made with polyamide, protecting the steel belt package from moisture.
• SP 456 FM Drive Tire: The base for the tire is an all-steel four-belt package, which features optimized belt angles to reduce pressure on the tread while strengthening the casing for low rolling resistance. Its 26⁄32-inch tread depth features large, stable tread blocks, which help reduce squirm for enhanced fuel economy while promoting even wear. Two circumferential and extended lateral grooves, coupled with a nonevolving tread design, provide added traction. A closed shoulder design further helps with even tread wear.
• SP 193 FM Trailer Tire: The tire has a 12⁄32-inch tread depth for high mileage, and to help reduce rolling resistance, a cool-running triple-compound construction reduces the amount of energy absorbed by the tread. The casing features an all-steel four-belt package to help provide a solid foundation for multiple retreads. A solid shoulder rib and a pressure distribution groove help minimize shoulder wear, while two circumferential grooves and lateral grooves provide all-season performance.
Dunlop
Visit www.ccjdigital.com/info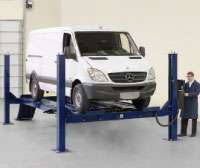 Four-post lift for Mercedes Benz
Hunter's 4PMB four-post alignment lift is a high-capacity option for Mercedes-Benz dealers to service a wide range of vehicles, including Sprinter vans. The 4PMB provides an 18,000-pound lifting capacity and maximum wheelbases of 193 inches for general service and 177 inches for both two-wheel and four-wheel alignment service. Optional features include Hunter's PowerSlide system that allows a technician to lock and unlock turnplates and slipplates with the flip of a switch, eliminating multiple trips around the vehicle and the hassle of removing and replacing lock pins. When equipped with Hunter's Fully Integrated Alignment console, which has the capability to communicate directly to the lift, plate operation is controlled automatically by the aligner as needed during the alignment. The FIA-equipped 4PMB model also includes Hunter's Inflation Station feature, which speeds service and ensures more accurate alignments by automatically setting tire pressure for each wheel simultaneously with air hose reels integrated into the lift runways at each wheel position. The tire pressure can be preset at the lift console or the aligner when FIA-equipped.
Hunter
Visit www.ccjdigital.com/info n