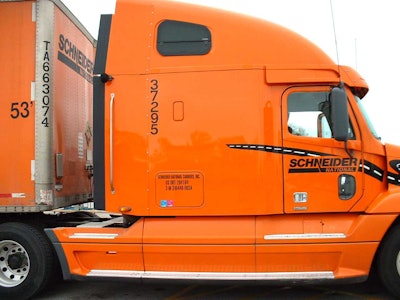 Schneider National last week celebrated its 75th anniversary as hundreds of associates gathered at the company's headquarters in Green Bay, Wis. Schneider National's roots date back to 1935 when founder Al Schneider sold the family's car to purchase his first truck. Today, the company has more than 11,000 on the road, delivering freight across North American and around the world, logging 926 million miles a year.
"The fact that we can stand here today and celebrate our 75th anniversary is a great testament to Al, Don and three generations of the Schneider Family," said Chris Lofgren, president and chief executive officer. "The Schneider family, along with tens of thousands of Schneider associates, has been committed to the ideals this company has held dear for 75 years – safety, respect, integrity and excellence. Those values bond our company as strongly today as they did in 1935."
Lofgren addressed guests on the front steps of Schneider's Corporate Business Center, flanked by historic company images and two trucks – a 1949 vintage International restored by former Schneider associates in 1991 and a 2010 Freightliner adorned with the company's 75-year anniversary logo. Joining Lofgren at the ceremony were members of the Schneider family; Bill Graves, president and CEO of the American Trucking Associations; Duane Acklie, chairman of Crete Carrier Corp.; Chris Sultemeier, senior vice president of transportation for Wal-Mart Stores Inc.; Steve Matheys, executive vice president and chief administration officer for Schneider National; and 11 of Schneider's million-mile safe drivers.
Graves and Acklie noted Schneider National's contributions and commitment to advancing the industry. "[Today] is about employees and employees' families – both present and certainly past who have contributed to the tremendous success of this company," said Graves, whose own family started a trucking company the same year as Al Schneider. "We can appreciate how difficult it is in this day and age for anything to last 75 years."
Acklie, a longtime Schneider competitor and friend, expressed a similar sentiment when addressing the crowd. "Schneider is the premier motor carrier and logistics provider still privately owned," Acklie said. "On behalf of our industry, I salute all of your management, the Schneider family and your associates. I know that you'll never look back, but the future is yours."
Sultemeier, representing one of Schneider's customers, noted the different ways Schneider helps the retail giant. "From crises like Hurricane Katrina to fires on the West Coast to helping ship enormous amounts of volume over the holiday season, Schneider just does a fantastic job," Sultemeier said. "This really is a company that is built to last, and we appreciate the partnership. We appreciate the support today. We certainly appreciate the support in the past few years. And we're looking forward to the future support we will receive from Schneider."
Lofgren introduced a time capsule project in which company history, memorabilia and a letter to be read to company associates during Schneider's 100th anniversary year in 2035 will be sealed. In addition, Schneider family members, ceremony guests and company associates were invited to pay tribute to Schneider and become a part of the company's history by autographing the hood of an Omaha-Orange colored Freightliner truck. The 75th anniversary hood will be on display at the company for the remainder of its anniversary year.
After the ceremony, guests toured Schneider's Driver Training Center, where they participated in hands-on demonstrations of Schneider's latest in-cab technology upgrade, experienced the company's driver training simulators and drove a Schneider truck.