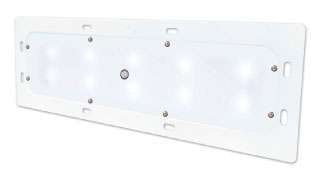 Infrared motion-activated reefer dome lamp
Grote Industries' 61F61 Infrared Motion-Activated Dome Lamp, designed to address the challenges of the reefer environment, has a rugged sealed-sensor design that blocks moisture and eliminates on-off switches. The 61F61's passive infrared motion sensor is calibrated to recognize the human heat signature and activate the lamp when a person moves within six feet; the lamp remains on while activity is detected and stays on for three minutes following the last human motion. The energy-efficient 800-lumen 61F61 is designed to extend a vehicle's battery life by reducing its exposure to power draws, making it a suitable choice for users that make daily multiple stops; shifting loads and falling objects will not activate the motion sensor. The lamp is made with a durable aluminum housing, a tough replaceable acrylic lens and a self-resetting internal cutoff switch to protect against excessive current.
Grote Industries
Visit www.ccjdigital.com/info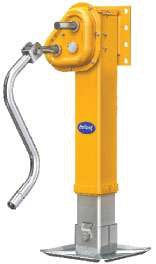 Landing gear
SAF-Holland has streamlined its North American landing gear offering with the Atlas and Classic Series. Features and technologies from former Binkley, Austin-Westran and Holland products have been integrated into both the Atlas and Classic product lines. All Atlas Series models feature a three-gear Constant Mesh gearbox, as well as a FloatingNut and twin-bulkhead design engineered to facilitate durable and easy operation. The first release in the Atlas Series, the Atlas 55, offers a 170,000-pound load capacity, a 30,000-pound side-load capacity and a 55,000-pound lift capacity, with next year's release of the Atlas 65 planned with even greater load capacities. The economical Classic Series offers many of the same engineering features as the Atlas Series but with a two-shaft Constant Mesh gearbox design and lower capacity ratings – a 140,000-pound load capacity, a 27,000-pound side-load capacity and a 39,000-pound lift capacity.
SAF-Holland
Visit www.ccjdigital.com/info
Tanker fenders
Minimizer has improved its tanker fenders for added protection in harsh environments such as oil fields, farm fields and industrial work, all of which are subject to tough, messy roads with rocks, mud and other debris. The fender now has a deeper lip that provides added control of water spray and rocks, and also now comes with the company's poly brackets that never need paint and are designed to soften road vibration and counter stress cracks common to metal brackets. The fender is available with all of the company's option finishes, including diamond plate, liquid platinum and a paintable version.
Minimizer
Visit www.ccjdigital.com/info
Friction, kits for transit, coach markets
Webb Transit's W43 friction for the heavy-duty transit and coach markets was developed to provide both exceptional performance and value with high durability, low brake drum wear and quiet operation. The asbestos-free formulation – a blend of multiple cross-linked fibers coupled with a high-temperature-capability resin – is designed to restore OE performance when used with Webb Transit brake drums and OE or OE-equivalent replacement air and foundation brake system parts. The FMVSS121-certified friction, a result of extensive dynamometer and transit bus testing, is available as axle sets, on new lined brake shoes and in Webb Transit's Super Kits, which are complete axle kits consisting of two Webb brake drums, four new lined brake shoes and two hardware kits. Super Kits are designed to eliminate additional machining, increase safety and stopping power, reduce or eliminate brake noise, provide excellent durability, eliminate procurement of individual foundation brake parts and eliminate brake shoe processing.
Webb Transit
Visit www.ccjdigital.com/info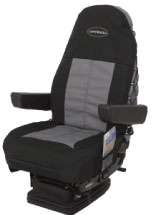 All-makes seat cover
Seats Inc.'s Coverall all-makes seat cover helps add longevity to truck seating applications and fits all high-back seats, mid-back seats with headrests and seats with or without armrests. A side cinch-down lacing system facilitates easy installation in a tight, conforming shape. The liquid- and stain-repellant seat cover is made of heavy-duty poly-canvas 900-denier material and has six multifunctional elastic cord pockets for additional storage.
Seats Inc.
Visit www.ccjdigital.com/info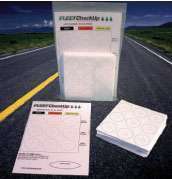 Fluid test media
OilCheckUp's fluid test media offers instant fluid diagnostics for engine oil, transmission, brake, differential, transfer case, gearbox, power steering, hydraulic, coolant-radiator, heat exchanger and other fluids. The fast test media with chromatographic results offer visual and comparative fluid diagnostics compared to actual new engine oil and to manufacturer's recommended oil and filter change intervals. Any particle contaminants will form a color graph on the test media, indicating that service is required.
OilCheckUp
Visit www.ccjdigital.com/info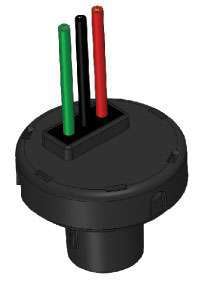 Air filter sensor
Filter Minder's low-vacuum sensor monitors air filter restriction for severe-duty applications, including stationary equipment. As air filter restriction increases, the sensor gives a comparable voltage output range of .5V to 4.5V full scale. The output signal is accurate within +/- 2.5% over a temperature range of -40 to 125 degrees Celsius. The sensor is reverse- and over-voltage protected, and threaded mounting ports can be supplied with 1/8-inch pipe thread,
3/8-inch straight thread or M-10 metric. The sensor is furnished with flying leads or any electrical connector.
Engineered Products Co.
Visit www.ccjdigital.com/info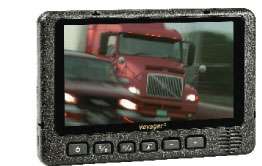 Camera system
ASA Electronics' Voyager OBS713RCM Heavy Duty Blind Zone Camera System includes a 7-inch heavy-duty LCD monitor, a right-side camera, a monitor mount and 25 feet of cabling, and is designed to eliminate blind spots when backing up, changing lanes, merging and making wide right turns. The monitor – which delivers clear high-quality color images of the truck's surrounding areas – can be activated by DC triggers such as 12V impulses, including the left/right blinkers and the reverse gear; it also features an integrated audio speaker, backlit easy-to-use controls, manual or automatic source selection, day/night brightness modes and On Screen Display (OSD) for AV source, picture adjustment and volume control. The monitor's slimline profile provides an unobtrusive appeal for cab installation, and the anti-glare/anti-scratch protective lens keeps the monitor resilient in all conditions. The monitor, which can be paired with up to three cameras, offers 12V and 24V system compatibility, circuit protection and a sealed housing to prevent moisture and dust from penetrating the inner components and circuitry.
The sealed waterproof Voyager color right-side CMOS camera has a chrome housing, wide viewing angles – 101 degrees horizontal viewing – and CMOS technology that allows for increased picture quality, enhanced nighttime and daytime vision, and a decrease in camera size; the CMOS camera also is anti-blooming, which means direct sunlight will not wash out the images. The side camera can be installed easily with 90-degree mounting; an adjustable right-side camera also is available to accommodate for angled fenders.
ASA Electronics
Visit www.ccjdigital.com/info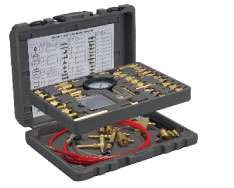 Fuel injection kit
OTC Tools has compiled the Professional Master Fuel Injection Kit, a full-coverage tool set that accommodates nearly every fuel injection system application on most domestic and foreign engine platforms from 1988 to present. Components include 47 OTC fuel injection adapters, a 0-100 psi analog pressure gauge with a manifold for accurate pressure reading and basic flow testing, hose assemblies and a variety of seals, fuel lines and clamps. Quick-connect adapters use Schrader valves that prevent fuel/solvent spray, and all seals are made of Viton rubber, which resists swelling or cracking, even when exposed to ethanol-blend fuels.
The kit includes an application guide with service information and a laminated card showing color images of components, with part numbers for quick reference. A blow-molded case with a removable lid allows for convenient storage and easy access to components, yet closes tightly for safe transport of the kit. The lid can be separated easily if a technician prefers storing the trays in a tool drawer.
OTC Tools
Visit www.ccjdigital.com/info

Stainless-steel cable ties
Del City's stainless-steel cable ties are designed to withstand harsh, corrosive and saltwater environments because they are resistant to chemicals, radiation exposure and temperatures up to 572 degrees Fahrenheit. Each cable tie is manufactured from No. 304 stainless steel, which produces little to no oxidation. The cable ties feature a self-locking ball mechanism that meets low insertion-force requirements while maintaining a 100-pound tensile strength.
Del City
Visit www.ccjdigital.com/info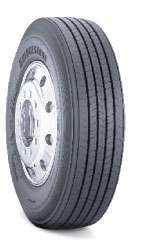 All-position, wide-base trailer radials
Bridgestone Bandag Tire Solutions' Bridgestone-brand R197 low rolling-resistance radial is approved for use on U.S. Environmental Protection Agency SmartWay-certified equipment and also is suited for fleets running California Air Resources Board-compliant vehicles. The tire, available in the 295/75R22.5 size with a G load rating, is suitable for all-position use but is designed for single- and tandem-axle trailer and dolly applications in long-haul and regional-haul service. Building on an energy-efficient casing and adding low rolling-resistance tread and sidewall compounding, the R197 combines fuel-efficient tread designs and a shallow 11/32-inch tread depth to help improve fuel economy. For long, even tread wear, the R197 incorporates the company's Defense Groove design that helps create uniform pressure across the shoulder to minimize edge wear and cupping. Stress-relief siping along the rib edges promotes even wear for higher mileage. A classic straight-rib tread design evacuates water from the footprint for added wet traction, while cross-rib sipes provide a solid grip on wet roads. To enhance durability, the R197 incorporates tough shoulder protector ribs on both sidewalls to fight damage from cuts and abrasion from curbing; when one set of ribs is worn away, the tire can be reversed to expose a fresh set of ribs for continued protection.
BBTS' Bridgestone-brand Greatec R125 wide-base trailer radial, designed for low rolling resistance and increased payload, also is approved for use on SmartWay-certified equipment and is suited for fleets running CARB-compliant vehicles. Greatec R125 uses several irregular-wear-fighting proprietary technologies to facilitate long, even tread life, including Bridgestone's Equalizer Rib and Defense Groove designs. Stress-relief sipes help absorb rib stresses for even wear, while tough sidewall protector ribs on both sides help fight curbing damage to protect the casing; should the protector rib on one side wear away, the tire can be flipped over for continued protection. The Greatec R125 uses casing-saving stone rejector platforms in each tread groove to help prevent trapped stones from pushing deeper into the tread grooves and piercing the belt layer, damaging the belts and exposing them to rust. Bridgestone Bandag Tire Solutions
Visit www.ccjdigital.com/info
Electronic torque wrench
Snap-on's electronic torque wrenches have an audible alarm that alerts the user to an overtorque condition, a gyro chip that measures 360 degrees of angular rotation, an enhanced strain gauge design that translates beam movement to torque value, and durable construction for use in harsh environments.
Snap-on
Visit www.ccjdigital.com/info