Sleep apnea compliance addressed
ACS, Sleep Pointe team for convenient solution
Affiliated Computer Services and Sleep Pointe announced ACS' new sleep apnea reporting service through the company's TripPak Truck Stop Scanning Network at TravelCenters of America and Petro locations. The solution is aimed at carriers looking to monitor driver usage of sleep apnea devices and is an answer to the National Transportation and Safety Board's recommendation that commercial drivers who suffer from obstructive sleep apnea provide evidence of effective treatment.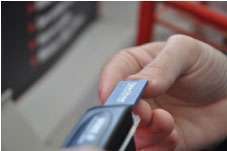 "With this service, carriers can help prevent accidents by pinpointing at-risk drivers who suffer from sleep apnea," says Kelley Walkup, division vice president and general manager for ACS. "Most fleets lack the national infrastructure to collect and evaluate the treatment information from drivers on the road, so we see considerable demand for this type of end-to-end sleep apnea compliance reporting system."
The sleep apnea reporting service provides fleets with the infrastructure to collect sleep data from drivers from the road and better manage and mitigate sleep apnea risks. The first two fleets to implement the new solution are Prime Inc. of Springfield, Mo., and Crete Carrier Corp. of Lincoln, Neb.
"Driver health and driver rest are critical parts of public safety," says Duke Naipohn, president and chief executive officer of Sleep Pointe. "The idea behind this is to allow drivers to be monitored for compliance without forcing drivers to break their stride in their normal driving routine."
Carriers can help prevent accidents by pinpointing at-risk drivers.
Last year, ACS and Sleep Pointe partnered to help carriers collect and evaluate sleep apnea treatment information from automatic positive airway pressure (APAP) machines. ACS says establishing the reporting service at TA and Petro locations helps carriers monitor fleet safety. The sleep apnea compliance reporting service currently is available at 68 TA and Petro locations and eventually will be available at all 187 TA and Petro company-operated locations across the country.
– Jeff Crissey
To see a video demonstration of ACS' new sleep apnea reporting service, go to www.ccjdigital.com/dmt.
IN BRIEF
* The Pipeline and Hazardous Materials Safety Administration adopted new rules effective Oct. 1 to reduce paperwork and other regulatory burdens. Several widely used or longstanding special permits that have shown an established safety record will be incorporated into standard regulations, eliminating the need for numerous special permit renewal requests for eligible carriers and shippers.
* J.J. Keller & Associates Inc. launched RegSense (www.regsense.com), an online service designed to explain complex DOT, OSHA, EPA and hazmat compliance information in an easy-to-understand manner.
* FreightWatch International, a provider of global logistics security solutions, announced a partnership with Eurowatch, a European police response service provider, to jointly develop cargo theft intelligence in the European market to track logistics-related crime trends.
* The National Tank Truck Carriers Association awarded its 2009 Outstanding Performance Trophy for outstanding safety achievement to Andrews Logistics Inc. Irving, Texas-based ALI also received three class-specific NTTC Grand Awards in the 10 to 13 million miles class. Griff Odgers, ALI's vice president of safety and risk, was named the 2009 Tank Truck Safety Director of the Year.
* Harry Kimball, vice president of safety for Freymiller Inc. of Oklahoma City, was named 2010 Safety Professional of the Year by the Safety & Security Division of the Truckload Carriers Association. The Clare C. Casey Award was presented during the division's 29th annual Safety & Security Meeting in Kansas City, Mo.
Preventable or not:
Doe's day at the mall no bargain
On the morning of the accident, John Doe was piloting a large refrigerated tractor-trailer rig down Friendly Road in Greensboro, N.C., en route to Porky's Pizza – strategically located next to The Pub, in the Guilford College Mini Mall – with a mixed load of cheese, pepperoni and other goodies. For a summer day in July, it was pleasantly comfortable, and despite the rush-hour congestion, Doe was in a good mood, thanks in part to the tasty prospect of snagging one of Porky's special low-cal veggie pies and a diet soda.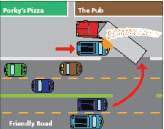 Arriving at the mall, Doe noted that its rather narrow entrance was partially obstructed by a baby-blue Dodge pickup driven by graduate student Prissy Galore, who was trying to exit. So Doe stopped dead, with his left turn signal flashing, and decided to wait for the little truck to leave. Noting Doe's plight, however, Galore thoughtfully backed up several feet – which, frankly, still left Doe facing a mighty tight squeeze.
In response, Doe waited for a momentary break in the traffic, floored the accelerator and made his move. When Doe cleared the entrance, Galore inched forward and – BLAMMELLO!!! – Oh no! The left side of Doe's rig had clipped, and considerably crumpled, the pickup's left front fender! Despite being shaken up by the impact, Galore was OK.
Doe's wasn't feeling so swell when he received a preventable-accident warning letter from his safety director, which he promptly contested, so the National Safety Council's Accident Review Committee was asked to render a final decision. Alas, NSC immediately ruled against Doe, noting that he should not have attempted the tight squeeze, especially when heavy traffic forced him to enter the mall in a big hurry, which kept him from keeping an eye on his left-side mirrors. n