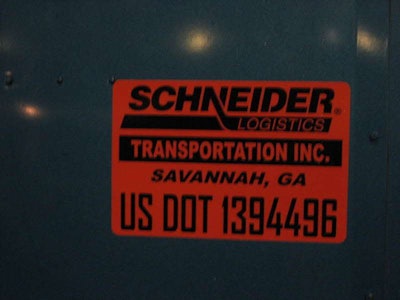 Schneider Logistics says its Inland Logistics Management service is bringing to international shippers synchronization of international and domestic supply chains that delivers supply chain efficiencies and cost savings. The new service was developed in collaboration with an international retailer in 2009.
"Schneider's Inland Logistics Management service integrates port drayage, container management and technology while providing actionable data from every step in the international supply chain," says Todd Ericksrud, vice president of Inland Logistics Management for Schneider Logistics. "Not only is the new service saving shippers millions, it allows extensive supply chain visibility within an organization. From supply chain leaders to buyers and everyone in between, this tool allows everyone to have visibility to milestone- and item-level details so that products can be imported and exported more efficiently."
According to Ericksrud, the service provides a single snapshot of activity from multiple supply chain trading entities, including steamship lines, terminals, custom brokers, dray carriers and distribution centers. With this information, Schneider can couple international milestone visibility with port dray management, and in turn synchronize international and domestic supply chain events for shippers. Shippers, in turn, have actionable data, visibility and control to lower their overall transportation cost.
Schneider says that during development of the new service, the resulting data, visibility and control allowed the company and the international retailer to manage 20 milestone events and identify hidden supply chain costs; as a result, the shipper eliminated seven days in-transit and reduced its annual dray cost by 20 percent. Schneider says that while working with other existing customers, it has identified an estimated $100 million in additional near-term cost savings.
"This innovation really represents the first major solution that tackles importers' age-old issue of dealing with the 'dray and port black hole' – the lack of visibility to port-related activities," says John Ferguson, vice president of International Services for Schneider Logistics. "Until now, shippers relied on a single dray provider in every market and were not able to take advantage of port diversification and the scale advantage of a national program. The Inland Logistics Management service allows us to create one central container management system across multiple ports and many dray providers to deliver more consistent, reliable pricing and capacity for customers. There's tremendous value in this service for international shippers."