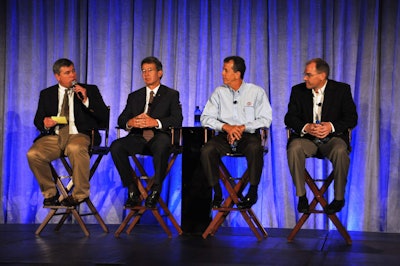 Equipment 10 years from now will be much more fuel-efficient thanks to technologies coming into acceptance and others yet to be introduced, executives said Thursday, Aug. 26. The forecasts were made at "SuperSession: Tomorrow's Trucks and Trailers," sponsored by Shell Lubricants at the Great American Trucking Show in Dallas.
Cummins will focus on fuel efficiency and CO2 reduction, said Jeff Jones, vice president of sales and marketing. New regulations in this area are expected "in the very near future" from the U.S. Department of Transportation and the U.S. Environmental Protection Agency, which have agreed to work jointly on the project.
Cummins also expects improvements in waste heat recovery, which Jones said is the "most promising" area for over-the-road applications. A little more than 40 percent of diesel's energy is used in moving the truck, while the rest is lost through exhaust and cooling. "We all need to work together for fair standards that promote the right technologies," he said.
Freightliner is working on several areas to improve trucks, said Benjamin Smith, manager of product strategy for Freightliner Trucks. For example, predictive technology is showing good results by using GPS to read topography a mile ahead and then adjusting cruise control and cooling systems. "The truck is smart enough to know not to gun it going uphill," he said. The goals are to take unnecessary loads off the engine and save fuel.
Hybrid trucks are "pretty expensive because of all the componentry" and don't quickly return the extra investment yet, even with up to 10 percent fuel economy savings, he said. Still, "we're investing in it, and we're getting there." Freightliner also believes there can be fuel savings of 2 to 4 percent by minimizing parasitic losses, Smith said; this means finding electrical sources, such as from a reefer's power unit, to further remove the engine from powering auxiliary systems.
Trailer makers are responding to fuel efficiency challenges by improving aerodynamic features, said Craig Bennett, senior vice president of sales and marketing for Utility Trailer Manufacturing Co. Most of the industry's improvements to meet the standards of EPA's SmartWay program have been voluntary, but other changes are being mandated in California by the state's Air Resources Board.
Common efficiency products for trailers are low rolling-resistance tires, tire inflation systems, side skirts, wide-single tires, roll-stability systems and any lightweight options, Bennett said. Utility's top three fuel-saving options on trailers built this year are low rolling-resistance tires (ordered on 80 percent of trailers), tire inflation systems (60 percent) and side skirts (30 percent).