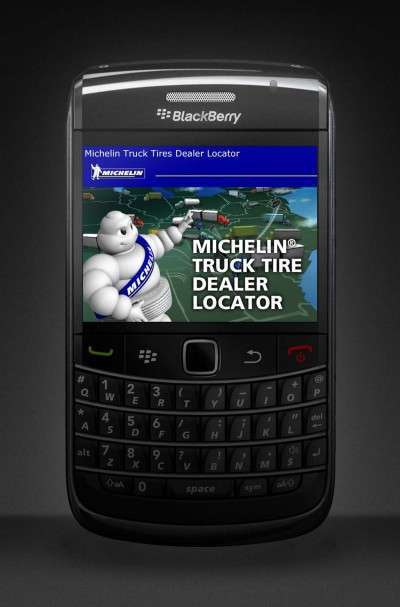 Michelin Americas Truck Tires (MATT) is rolling out a mobile dealer-locator application for BlackBerry smartphones used in the United States and Canada. Michelin says this mobile tire-related application is the first of its kind in the trucking industry.
The new Michelin BlackBerry application joins the existing Michelin ONCall emergency road service (ERS) and online dealer and service locator in Michelin's "Wherever You Go" offering.
"Based on research into the most popular mobile platforms in the trucking industry, we launched the BlackBerry application first," says Jaye Young, U.S. country marketing manager for MATT. "But the Android and iPhone applications are not far behind. It's no secret that today's business runs in real-time, and our customers expect information literally at their fingertips — including information about where they can find Michelin tires."
The BlackBerry application provides the location of the nearest Michelin truck tire or service provider, as well as basic information about that location, all from the handheld BlackBerry device.
Users can call Michelin ONCall ERS directly from the app or search for a provider by category, including emergency road service, travel plazas, onsite tire service or MRT retread providers. The application can provide service providers based on the user's current GPS location or an entered location. It also gives users the ability to call the service provider or save the provider's information to their device's contacts or address book.