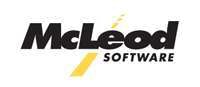 McLeod Software President Tom McLeod announced at the company's annual users conference Sept. 13 that it is rolling out an application that will allow Load Master and PowerBroker customers to use those systems through their iPhone and Android smartphones. McLeod Software offered the application free to conference attendees that met the operational requirements – use of Version 9.1 or later and the Internet Module.
The mobile app is just another of several ways customers can access LoadMaster and PowerBroker, Tom McLeod says. And it's part of the evolution of the company's offerings since 2000 when McLeod Software revamped its whole approach to delivering solutions that is independent of a hardware platform or operating system. It was a major commitment of resources that required a complete rewrite of McLeod's software, Tom McLeod says. But the payoff has been that the customer has maximum flexibility to run LoadMaster and PowerBroker and their associated tools in the environment that makes sense for them, he says.
Another initiative McLeod Software announced is development of tools within its systems that will allow carriers to document their response to and remediation of violations under the Federal Motor Carrier Safety Administration's Comprehensive Safety Analysis 2010 initiative. Tom McLeod told attendees that while he thought CSA 2010 had been a bit overhyped – much like the 1999 Y2K scare – "there will be a period of heartburn while everyone is getting adjusted."
One area of potential growth for the company that Tom McLeod identified was in the area of freight management. In response to customer needs and demands, carriers have diversified in recent years, getting involved in dedicated, intermodal and brokerage. Some have made the move into freight management, taking the role of a third-party logistics company, he said. If a carrier's customer decides to outsource freight management, then it's probably in a carrier's best interest to become that 3PL, he argued. McLeod Software recently acquired iLENS, a system that can handle core freight management functions, such as rating/procurement, auto tenders, performance reporting and LTL optimization.
One reason McLeod Software had a record year in 2009 despite the industry downturn was the attention it paid to brokerage and logistics, Tom McLeod says. Also, the company had good timing in offering new analysis tools just when the industry needed them most.
McLeod Software celebrated its 25th anniversary at this year's users conference.