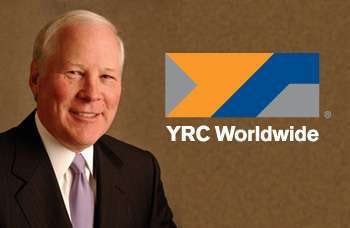 YRC Worldwide Inc. announced Tuesday, Sept. 28, that William Zollars, chairman, president and chief executive officer, has informed the company's board of directors of his decision to retire from the company upon the completion of YRC Worldwide's financial recovery plan. Zollars and the board have agreed that he will retain his current positions through the finalization of the process and until a new CEO is named. The company says it will seek candidates from both inside and outside the organization.
"Upon the successful resolution of many of our recent business challenges, the time would be right for me to hand over the reins to new leadership," Zollars says. "I am particularly proud of all we, as an organization, have accomplished over the past two years. We have faced unprecedented challenges and had to deal with the most difficult economic environment our industry has ever experienced. I am especially grateful to my team and the many stakeholders who partnered with us to put the company on an operationally and financially stable path to recovery. By informing the board now of my decision, we will have sufficient time to identify my successor and ensure a seamless transition to new leadership."
Zollars, 62, was named to his current position in November 1999. Prior to that, he was president of Yellow Transportation Inc., a predecessor company of YRCW. He serves on the boards of Cigna Corp., Cerner Corp., The Business Roundtable, National Association of Manufacturers, United Way of Greater Kansas City, American Trucking Associations and The Carlson School of Management at the University of Minnesota.
"We are grateful to Bill for his exemplary leadership, first directing the company's business expansion over more than a decade, and most recently switching gears to help navigate the organization through its most challenging period," says John Lamar, lead director for YRC Worldwide. "We are pleased that he will remain at the helm through this process as we work together to identify his successor."