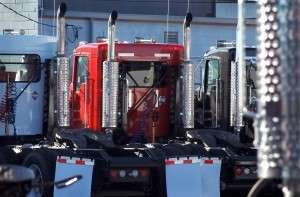 Without exactly embracing the idea, the American Trucking Associations' board of directors backed a national fuel economy standard for trucks as a means of reducing carbon emissions as opposed to less attractive alternatives.
The policy adopted by the ATA board at the association's annual meeting in Phoenix states that "carbon emission reductions achieved through national truck fuel economy standards are preferable to government actions that increase fuel prices in an effort to discourage petroleum-based diesel fuel consumption or mandate the use of alternative fuels."
ATA's policy comes as the Environmental Protection Agency and the National Highway Traffic Safety Administraton are about to propose fuel economy and greenhouse gas reduction standards for work trucks and medium- and heavy-duty commercial vehicles. The regulations, ordered by President Obama in May, would be the first fuel economy standards ever imposed on heavy trucks. Under the presidential order, EPA and NHTSA are to issue the final rule by the end of July.
The EPA/NHTSA regulations are expected to establish fuel economy standards in two steps, the first coming in 2014. For heavy-duty trucks, the rules would establish separate standards for engines and vehicles; the smallest vehicles regulated would be regulated at the chassis level, while medium-duty trucks would be subject to engine regulation and limited vehicle regulation.
Supplier concerns
In sessions at ATA's annual meeting, representatives of leading heavy-duty truck and engine makers said they anticipated that the 2014 standards would be easily achievable using existing technologies. But the anticipated proposed standards for 2017 are potentially thornier, possibly requiring technologies — exhaust waste heat recovery that would basically introduce steam power into the powertrain, for example — that have yet to be proven in a real-world environment, they said.
Truck and engine suppliers are concerned about several elements of what they expect to be the EPA/NHTSA proposal. For example, several expressed opposition to the notion that the engine and vehicle would be regulated separately and favored a total vehicle standard. Moreover, there is no credit given for engine downsizing, noted Anthony Greszler, vice president of government and industry relations for Volvo Powertrain North America.
Another flaw in the government's apparent approach is that it fails to take into account the fuel-saving potential from powertrain integration and automated transmissions, says Martin Daum, president of Daimler Trucks North America.
"I personally would prefer a free market solution where we fight for fuel economy," Daum said.
Although Daimler and Navistar have been at odds publicy on another emissions issue, they firmly agree on this one. "The market will do more for fuel efficiency than any regulation," said Jack Allen, president of Navistar's North American truck group.
The government isn't content to let the market work, and the result will be that truck buyers will have fewer spec'ing options, said Bill Kozek, general manager of Kenworth Truck Co. and vice president of its parent, Paccar. Truck makers will have to shift even more of their product line to aerodynamic styling and eliminate exterior options that produce drag, meaning that the days of the long-hood conventional — at least in over-the-road applications — may be numbered, he said. "These regulations will be the death of the W900L," Kozek declared in the ATA session.
A framework for action
ATA's energy policy offers a framework for assessing carbon reduction proposals that might come from Congress or the Obama administration. Any federally mandated carbon control program applied to transportation fuels likely will increase the cost of fossil fuels, ATA says. But the program should minimize disruptions to the transportation of goods and to protect the viability of the trucking industry. In addition to focusing on truck fuel economy standards, ATA's new energy policy calls for a carbon control program that:
Produces cost-effective, verifiable carbon reductions;
Ensures that revenue generated from motor carriers and other highway transportation consumers benefits highway users;
Ensures that any increased costs are reasonable, predictable and do not increase the volatility of fuel prices;
Avoids diesel fuel supply disruptions and ensure that only on-road diesel fuel that meets the ASTM standard for which trucks were designed to run on is sold in the marketplace;
Maintains a level playing field among freight transportation modes; and
Provides incentives for improved fuel efficiency and availability of alternative technologies.

More than two years ago, ATA unveiled an environmental sustainability plan that included support of "technologically feasible" national fuel economy standards for medium- and heavy-duty trucks. Other elements of that proposal to lower trucking's carbon footprint include:
Federal laws requiring trucks to have speed governors set at 65 mph or below and a national speed limit of 65 mph for all vehicles;
Allowing more productive truck weights and combinations;
Expansion of the EPA SmartWay Transportation program;
Reducing idling by updating the interstate system and reducing traffic congestion; and
Using new technologies to reduce other engine idling.