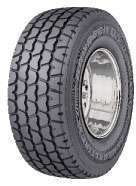 Severe-service wide base
General Truck Tires' all-position Grabber OA Wide Base tire is available in size 445/65R22.5 for fleets operating in severe-service and construction applications such as fire service, waste hauling and concrete mixing. The Grabber OA (Off Road, All Position) Wide Base, designed for super-single fitment for steer and trailer positions, is designed to provide high carrying capacity and has a reinforced shoulder to add protection against curbing and abrasions. The tire is designed to carry up to 12,800 pounds in a super-single fitment, and its 21/32nds of tread depth, coupled with a cut- and chip-resistant tread compound, helps extend tire life. The deep grooves in the tread elements and an aggressive pattern help improve traction on soft soil and muddy roadways. The thick undertread also resists casing penetrations from stones and other debris often found in offroad applications, allowing formultiple retreads. Additional sizes (385/65R22.5 and 425/65R22.5) are scheduled for introduction in 2011.
General Truck Tires
Visit www.ccjdigital.com/info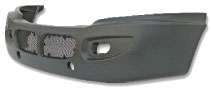 Aerodynamic, lightweight bumper
Hendrickson Bumper and Trim's Aero Guard bumper combines resin technology, injection molding processes and a proprietary design to create a heavy-duty aerodynamic, lightweight nonmetal bumper. Introduced initially for Navistar's International ProStar tractor, the bumper employs heavy-duty structural ribbing and an extra-thick fascia in a unified structure designed to provide cold-impact durability while improving strength, engine cooling and ground clearance. Aero Guard, made from fully recyclable materials, is designed as a molded-in-color two-piece middle-split bumper and to be installed and replaced with no downtime or paint costs.
Hendrickson Bumper and Trim
Visit www.ccjdigital.com/info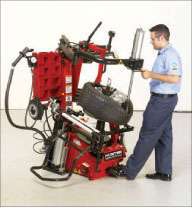 Tire changer upgrade kit
Hunter's bead press arm upgrade kit for its TC3700 and TC3500 tire changers is designed to help service difficult wheel and tire combinations. The bead press arm pushes and holds stiff sidewalls in the drop-center position of a rim as the wheel rotates to help ease demounting or mounting and reduce stress to the bead and operator. The upgrade kit is designed to work with all current and preceding Hunter TC3700 and TC3500 models.
Hunter
Visit www.ccjdigital.com/info

Liftgate for heavy-duty level-ride applications
Waltco has updated its heavy-duty level-ride flipaway HLF liftgate model, which is suited for a variety of truck and trailer designs, including straight trucks, dual-wheel service body trucks, stake bodies, flatbed trucks, dry-freight trailers and refrigerated trailers. An increased lift capacity of 5,000 pounds now is available, in addition to standard capacities of 2,500, 3,000 and 4,000 pounds. A larger standard aluminum platform is 60 inches deep by 84 inches wide, while a heavier, standard 3/8-inch bed extension is designed to offer greater strength. A simplified parallel arm eliminates the sliding parallel arm and springs, helping to ease installation. Grease fittings and maintenance-free bearings are used at all major hinge points. Standard features include power down, two-step dock bumpers, rubber pads and a snubber kit. Suitable applications include general contractor/delivery vehicles, heavy-duty hauling, large-platform material-handling trucks, food and beverage, leasing and rental, and dock- and ground-loading situations.
Waltco Lift Corp.
Visit www.ccjdigital.com/info
Aftermarket bumpers
Alliance Parts now offers a large selection of aftermarket bumpers – including chrome, painted steel and stainless steel – for a dozen truck makes and more than 130 truck models. Alliance offers a bumper configuration tool on its website, allowing drivers to select the shape, size and cutouts that best meet their needs. With a couple of clicks, visitors can create a bumper design that complements their truck and print it out for order at any Freightliner, Sterling or Western Star dealer.
Alliance Parts
Visit www.ccjdigital.com/info
Refrigerated rail units
Thermo King's environmentally conscious SB-210RR+ and SB-310RR+ refrigerated rail units help track unattended cargo and are designed for optimized reliability, performance, fuel efficiency and cargo protection. Longer battery life, 65-amp alternators, electronic door switches and protection packages help to safeguard the refrigeration units from damage in transit. The larger SB-310RR+ refrigerated rail unit contains a specially tuned engine and additional BTU capacity than the SB-210RR+ unit; option packages allow for upgraded alternators, improved telematics and, depending on the package, either noise dampening technology or curbside exhaust extenders. Both Rail Ready units rely on an Electronic Throttling Valve that uses a microprocessor to help trailers get to optimum temperature faster while conserving fuel; the ETV is designed to eliminate temperature spikes for extended product life and help provide worry-free operation for long-distance unattended travel. The units also include a rail-specific heavy-duty fuel processor system to help increase performance and prevent breakdowns; sensors also monitor fuel levels and reduce cost call charges.
Thermo King
Visit www.ccjdigital.com/info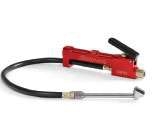 Tire gauge inflator
Snap-on's tire gauge inflator (TGIFS1) has a heavy-duty billet-machined aluminum body, a dual swivel-point hose for ease of use, a 20-160 psi range and a modular design to facilitate easier replacement of worn parts. A double-sealed scale helps avoid contamination from the air supply.
Snap-on
Visit www.ccjdigital.com/info

Limited Quantity labels for hazmat shipments
Labelmaster's Limited Quantity shipping labels for dangerous goods includes the mandatory "Y" that must be used Jan. 1 when shipping limited quantities by air. Additionally, a tabbed Limited Quantity label is suitable when the proper shipping name is required to be on the package of limited quantities. For ocean transportation, the black diamond label without the "Y" symbol is used. The 100mm x 100mm Limited Quantity labels are required for most shipments, while the 50mm x 50mm Limited Quantity labels may be used when the package is too small to hold the full-size label; a Limited Quantity placard at 273mm x 273mm is used for ocean containers. Labelmaster's Limited Quantity paper labels are designed for strong adhesion to corrugated boxes and to resist chemicals and abrasion, while its Limited Quantity vinyl labels are constructed of rugged, flexible vinyl. Limited Quantity Labels are available in paper or vinyl in rolls of 100 or 500 and packs of 25 or 50. The 273mm x 273mm placard is available in permanent or removable vinyl and sold in packs of 25.
Labelmaster
Visit www.ccjdigital.com/info
Thermoplastic hose for trailer grease lines
MAC Trailer now offers thermoplastic hose as standard grease lines on all tipper and dump trailers. The kink-resistant thermoplastic grease line, rated at 3,000 psi, withstands extreme temperatures and features bonded construction, crimped ends, maximum flex life and long continuous length. In addition, the configuration of the grease block has been redesigned to offer convenient access to the operator and has been relocated to the rear of the trailer for ease of maintenance.
MAC Trailer
Visit www.ccjdigital.com/info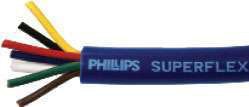 Electrical trailer cable
Phillips Industries identifies its Arctic Superflex electrical trailer cable with dark blue jacketing because it's suited best for fleets running in extreme cold weather conditions. The Arctic Superflex cable – designed to maintain strength and stay flexible in temperatures ranging from -85 to 175 degrees Fahrenheit – is paper-wrapped for ease of stripping and is resistant to abrasions, chemicals, oils and fuel. The cable is available in lengths of 100, 250 and 500 feet.
Phillips Industries
Visit www.ccjdigital.com/info
Light bar message system
Ametek has added the C-COM LMC (CAN-Communicator Lightbar Message Center) to its NGI vehicular instrumentation system. The message center – which can be used independently as part of the C-COM advanced instrumentation system or as a replacement for the NGI lightbar message center – has a large easy-to-read graphics display that provides real-time data information, diagnostics, fault codes, user setup features and maintenance requirements. The message center collects data from the vehicle's J1939 serial communications data bus, from discrete switches and from analog inputs; one of its J1939 CAN inputs can be used as a J1587 data bus input to drive NGI gauges or data bus communications. The message center's user-friendly interface features a full-graphic backlit LCD, three menu navigation switches and a three-button navigation menu, as well as prompts for setup, self tests and diagnostics. The C-COM LMC is designed to withstand harsh conditions typical of offroad environments and is sealed both front and rear.
Ametek
Visit www.ccjdigital.com/info