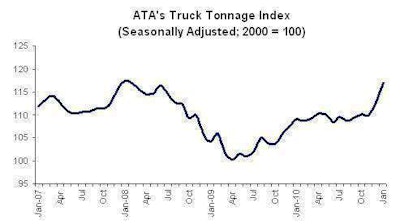 The American Trucking Associations' advance seasonally adjusted For-Hire Truck Tonnage Index increased 3.8 percent in January after rising a revised 2.5 percent in December 2010. The latest jump put the adjusted index at 117.1 in January, which was the highest level since January 2008. In December, the adjusted index equaled 112.7.
ATA recently revised the seasonally adjusted index back five years as part of its annual revision. The nonadjusted index, which represents the change in tonnage actually hauled by the fleets, equaled 105.4 in January, down 2.9 percent from the previous month.
Compared with January 2010, adjusted tonnage climbed 8 percent, which was the largest year-over-year increase since April 2010. For all of 2010, tonnage was up 5.7 percent compared with 2009.
ATA Chief Economist Bob Costello says he was pleased with January's robust gain, especially considering the winter storms during the month. "Many fleets told us that freight was solid in January, although operations were a challenge due to the winter storms that hit large parts of the country," he says.
Costello says the latest tonnage numbers indicate that the economy is growing at a good clip early in 2011 and that he expects a solid first half of the year. "At this point, the biggest threat is the recent run-up in oil prices, which could dampen consumer spending," he says.
ATA calculates the tonnage index based on surveys from its membership. The report includes month-to-month and year-over-year results, relevant economic comparisons and key financial indicators. The baseline year is 2000.