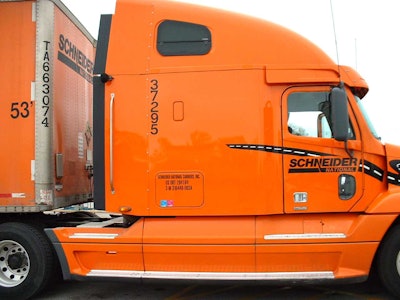 Schneider National announced Thursday, March 24, that it is increasing compensation for its van owner-operators by $0.05 per mile. Under the new lease, owner-operators will earn $0.95 per mile (up to $1.65/mile with short-haul premiums) plus fuel surcharge. Schneider owner-operators will earn $0.92 per mile and an additional $0.03 per mile in a quarterly performance premium.
Schneider, based in Green Bay, Wis., will continue to offer its van owner-operators a choice of lease options: percent of revenue, or mileage-based. Owner-operators with a percent-of-revenue lease select loads directly from Schneider's freight pool (no agents involved). Access is available 24/7, and owner-operators can view available freight days in advance and pre-assign loads for enhanced trip planning.
Revenue opportunities for Schneider owner-operators are $800+ per day. Compensation for Schneider's tanker owner-operators was increased in December 2010 and will remain $1.05/mile. Schneider will provide training to owner-operators with no tanker experience.
"One of the keys to our success for the last 75 years has been the safe, reliable service owner-operators provide," says Marc Rogers, vice president and general manager for Schneider's Van Truckload division. "Owner-operators are savvy businesspeople and know that teaming up with the right carrier is crucial for success. Schneider offers a business relationship with a financially stable company that has a track record of providing good opportunities."
All Schneider owner-operators have access to the resources they need to lower their operating costs through the Schneider Purchase Power Program. The program leverages Schneider's buying power for fuel, maintenance, tires, insurance and more while passing the discounts on to its owner-operators. Schneider also has additional discounts on fuel at major truckstop chains, such as $0.08 off the pump price at all Pilot and Flying J locations.
Owner-operators leased with Schneider also have access to the company's 22 Operating Centers, offering low-cost or free food, laundry facilities, fuel, maintenance, Wi-Fi and other services. In addition, Schneider Finance specializes in new and used truck leasing/purchasing options for experienced and first-time owner-operators.