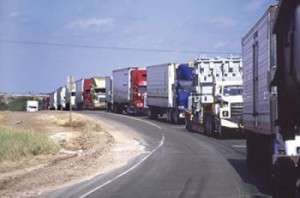 The Federal Motor Carrier Safety Administration on Friday, April 8, released the details for its proposed U.S.-Mexico cross-border long-haul trucking pilot program to test and demonstrate the ability of Mexico-based motor carriers to operate safely in the United States beyond the municipalities and commercial zones along the border. Publication in the Federal Register was set for Wednesday, April 13, with comments due 30 days afterward.
The pilot program, part of FMCSA's implementation of the North American Free Trade Agreement cross-border long-haul trucking provisions, would allow Mexico-domiciled motor carriers to operate throughout the United States for up to three years, while U.S.-domiciled motor carriers would be granted reciprocal rights to operate in Mexico for the same period.
Participating Mexican carriers and drivers would be required to comply with all applicable U.S. laws and regulations, including those concerned with motor carrier safety, customs, immigration, vehicle registration and taxation, and fuel taxation. The safety of the participating carriers would be tracked closely by FMCSA with input from a federal advisory committee.
April 13 Federal Register: NAFTA cross-border trucking program
Mexico-domiciled carriers that receive provisional authority from FMCSA and earn a satisfactory rating after a compliance review, complete at least 18 months of operation and have no pending enforcement or safety improvement actions would be eligible for permanent authority in the program. A Mexico-domiciled motor carrier that participated in the 2007-2009 demonstration project and operated under provisional operating authority in the earlier pilot would receive credit for the amount of time it operated under authority.
Mexico-domiciled carriers in the program would have to maintain a certificate of insurance or surety bond on file with FMCSA that would be underwritten by a U.S. insurance or surety bond company. The motor carrier also would be required to maintain a valid Commercial Vehicle Safety Alliance decal on each vehicle it enrolls in the program, and any vehicle with a diesel engine would be required to have an emissions control label. FMCSA would pay as much as $2.5 million from the federal Highway Trust Fund to equip Mexican trucks with electronic data recorders.
A driver would not be allowed to participate in the program unless he or she could read and speak the English language sufficiently to understand highway traffic signs and signals in the English language, respond to official inquiries and make entries on reports and records required by FMCSA. Any vehicle used by a carrier in the program would be required to display a Federal Motor Vehicle Safety Standards certification label or Canadian Motor Vehicle Safety Standard certification label affixed by the original vehicle manufacturer at the time the vehicle was built.
Mexico-domiciled carriers also would be subject to Department of Homeland Security and Department of Transportation cabotage requirements and would be prohibited from providing domestic point-to-point transportation while operating in the United States.
The initial pilot project sought 100 carriers each from Mexico and the United States to participate, but the program failed to get sufficient participation to form statistically valid conclusions. FMCSA said that a sample size of 4,100 roadside inspections performed on the new pilot program participants will allow the agency to detect differences in violation rates of 2 percentage points or greater with a 90 percent confidence level.
The agency anticipates an average of one long-haul border crossing per week per truck with each Mexican carrier having two trucks participating in the program. It assumes an attrition rate of 25 percent after 18 months in the project and calculates 46 carriers will suffice to achieve a target of 4,100 inspections within three years. If participants don't achieve this level of activity, more carries will be required. If the carriers have more crossings than anticipated, then fewer carriers will be needed.
The U.S. and Mexican governments on March 3 announced an agreement in principle to implement the long-delayed NAFTA cross-border trucking provisions. Mexico is the second-largest export market for the United States, and the American Trucking Associations says it is hopeful that the lifting of the retaliatory tariffs that were imposed after a previous cross-border trucking pilot program was abolished by Congress in 2009 will help the two countries resume more normal trading patterns and increase the flow of commerce between the two countries.
"The American Trucking Associations welcomes the progress that the United States and Mexico are making to resolve their ongoing dispute over cross-border trucking," said Bill Graves, ATA president and chief executive officer. "This proposal requires Mexican carriers to follow all the same rules and regulations that their American counterparts are subject to and takes steps to monitor Mexican trucks to ensure that those rules are being followed."
Graves said ATA expressed concerns to DOT about the U.S. government's earlier proposal to pay for and provide electronic onboard recorders to participating Mexican trucks. "DOT has changed this specific requirement to allow for GPS systems to also be used for tracking purposes to ensure compliance with U.S. cabotage and hours-of-service regulations," he said. "We believe this is a sound change by the administration. This announcement is good news for the U.S. businesses that have been hurt by Mexico's retaliatory tariffs, including the trucking industry, and we look forward to the U.S. finally living up to its commitments under the North American Free Trade Agreement."
But the Owner-Operator Independent Drivers Association described the plan as "the wrong plan at the wrong time for numerous reasons." "It's irresponsible and reckless," said Todd Spencer, OOIDA executive vice president. "The administration must reconsider, or Congress must step in again to force them to do the right thing."
Spencer said most U.S. trucking companies are small businesses that must contend with ever-increasing safety, homeland security and environmental regulations that affect their costs of operation as well as their ability to make a living, but that Mexico does not have an equivalent regulatory regime for its trucking industry and drivers. "The onus is on Mexico to raise the safety, security and environmental standards for their trucking industry," Spencer said. "We should not allow ourselves to be harassed or blackmailed into lowering ours."
OOIDA contends the legality of the original tariffs enacted by Mexico should have been challenged. "Succumbing to Mexico's bullying provides a handy attack plan for them and other governments in future trade disputes," Spencer said. Despite the tariffs, truck-based trade with Mexico surged by 27.6 percent last year to a total of $320.3 billion, and the bulk of this increase was from U.S. goods going to Mexico. "They need to stop placating Mexico's government and start fighting for the Americans they are supposed to represent." said Spencer. "If they follow through with this, the administration will be jeopardizing the livelihoods of millions of Americans."
FMCSA Administrator Anne Ferro told Truckload Carriers Association members last month at TCA's annual meeting in San Diego that the newly revamped program has stronger safety standards than the prior program and is "an opportunity for Mexico to lift the tariffs that have done so much harm to farmers and other industries in the U.S."
FMCSA's plan to pay for the electronic onboard recorders installed on Mexican trucks drew heat from some U.S. legislators and the Teamsters. Ferro said FMCSA feels it necessary to have EOBRs in place for compliance, yet it could not demand Mexican carriers buy their own equipment because NAFTA stipulates that the United States cannot place demands on Mexican carriers that exceed those put on U.S. carriers.
Comments are due May 13. To comment, go to www.regulations.gov; the docket number is FMCSA-2011-0097.